The D.C.-area housing market remains hot, and Cleveland Park residents are among those grappling with its aftereffects. 
Cleveland Park's home prices were up 5.7% compared to last year, with only 20 homes selling last month, realty company Redfin reported. Redfin also found rental prices have also increased 12.4% over the past year. 
Bob Ward, the chair of Cleveland Park Smart Growth, an urbanist advocacy group, said many people want to live in the neighborhood, but prices force renters and prospective homebuyers to look elsewhere. 
"I know many people who rented in this area and want to take the next step with their families but can't afford it," Ward said. "So, they look at other places in the city where it's not as expensive to live as here." 
Ward said the rise in housing prices in the area, and nationally, comes down to something simple: supply and demand. 
"You got demand, and you're not changing the supply equation," he said. "Rents will go up when there are not enough places for people to live to meet the demand of people wanting to live there." 
According to data from realty company Long and Foster, the District's housing supply remains incredibly low as demand remains high. The median price for a home in D.C. is currently at $620,000, a 2% increase from last month. In Cleveland Park, the median price is at $420,000, according to Redfin.
Jessica Lautz, the deputy chief economist and vice president of research at the National Association of Realtors, said it's very difficult for homebuyers to find a property because of limited inventory, posing realtors and buyers with a problem. 
"A realtor's job is becoming difficult because they need to be able to find a buyer the perfect property," Lautz said. "The market right now makes it difficult because buyers may not be able to actually afford the home they want given the rising rates." 
According to new data from the National Association of Realtors, the number of homes sold in the United States dropped by 21% over the past year. That's on top of an 18% decline the year before, indicating the housing market continues to slow down amid rising price tags. 
Avi Adler, the president of the Greater Capital Area Association of Realtors, said realtors in the area are extremely busy even though supply is lower and interest rates are higher. 
"Despite having less inventory and higher interest rates, realtors have to work as hard," Adler said. "You still have buyers looking for homes and sellers trying to sell in a competitive market."  
The Greater Capital Association of Realtors serves more than 11,000 realtors and affiliate members in Montgomery County, Maryland, and Washington, D.C., according to the organization's website. 
Adler said one of the biggest factors contributing to the rise in prices is the lack of inventory, causing prospective homeowners to not venture into the current housing market. 
"There are fewer buyers in the market due to higher rates, but there are even fewer sellers," he said. "As a result, you're seeing in the area properties that are selling above list price."
Last month, the D.C. Office of Planning introduced newly approved design guidelines for Connecticut Avenue, a major thoroughfare for the area. The guidelines set a framework for integrating mixed-use development, with the goal of supporting housing at various income levels and household sizes.  
The guidelines are part of Mayor Muriel Bowser's goal of constructing 36,000 new affordable housing units citywide by 2025. Almost 30,000 units have been built since the plan was announced in 2019, according to the mayor's website.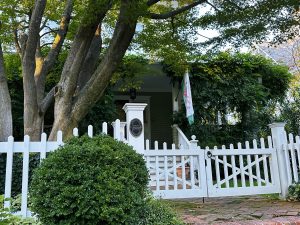 "Renters with extremely low incomes have struggled for a long time to find affordable housing. That problem has really been exacerbated in recent years," said Andrew Aurand, the senior vice president of research at the National Low Income Housing Coalition.
According to its website, the coalition pushes to achieve a racially and socially equitable public policy that ensures people with the lowest incomes have quality homes. Just this month, it released a database that tracks how governments use their federal funding for rental housing in their communities. 
Aurand said affordable housing programs are not adequately funded, leaving millions of renters in desperate need of assistance. 
"The private market is going to fail those renters due to lack of funding," he said. "They don't adequately serve those renters because we need to put more resources into those programs."
Members of the Advisory Neighborhood Commission for Ward 3 did not respond to requests for comment. 
Frederick Gonzalez, a college student who just moved to Cleveland Park, said he is affected by the surge in prices as a renter, even seeking help from his family to afford rent in the area.   
"Rent is crazy here," Gonzalez said. "My parents have to help me with part of it because I just cannot do it on my own with how expensive it is." 
The proposed guidelines from the Office of  Planning say Cleveland Park's population has grown at about a third of the rate compared to the rest of the District and is increasingly out of reach for a growing range of household incomes, with the demographic being overwhelmingly white and wealthy. 
Ruben Tapia, a resident who just moved out of the area, said he decided to move due to his apartment building's increasing rent. 
"Rent keeps increasing and minimum wages do not," Tapia said. "I earn an hourly, minimum wage and couldn't keep up with prices. So, I decided to leave." 
Lautz said residents can encourage state and local governments to reevaluate laws, such as density restrictions, to curb the rising issue.  
"I do think there is a role where we can encourage local governments to reevaluate local laws to build more properties," she said. "Looking at that can be quite helpful, as well as looking at adaptive reuse."
Adler said he hopes interest rates will come down in 2024, as this would bring a housing market where buyers and sellers would engage in larger numbers. 
"Washington D.C. is a competitive, transient market since a lot of people come in and out of the area," he said. "Lower rates are a key factor in seeing more engagement and a more dynamic market."  
The Office of Planning previously told The Wash that zoning changes would be initiated in the neighborhood to encourage developments.