Tom Lebert, 23, has lived in Cleveland Park for seven months. When he moved to northwest D.C., the former Capitol Hill resident quickly noticed a difference between his new and old neighborhoods: a lack of coffee shops. 
After reading comments from other Cleveland Park residents on the internet, Lebert realized he was not the only one who wanted a cafe close by.
"I wanted to get out there and say there's demand for a coffee shop," Lebert said.
In September, Lebert started a Twitter account called 'Cleveland Park Needs a Coffee Shop.' On it, he now interacts frequently with local Advisory Neighborhood Commissions, people who live and work in Cleveland Park and even the regional chain Compass Coffee.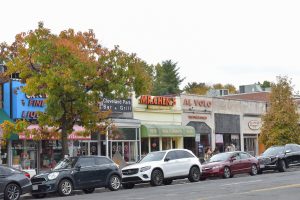 "His Twitter account has really caught on because there's such a high demand for [a coffee shop]," said Bob Ward, Cleveland Park Smart Growth chair.
Cleveland Park was once home to multiple coffee shops — including the first Starbucks on the East Coast, which closed in 2011. 
For Lebert, the closest coffee shop is a Starbucks in Van Ness. The trip is about 12 minutes one way, which Lebert said is not feasible when going out on his lunch break. The closest independent cafe to Lebert is further north in Van Ness, requiring an even longer bus ride. 
Alongside a convenient caffeine fix, Lebert said a nearby coffee shop could also offer an alternative workspace in a city full of teleworkers. As of August, over half of the District reported working from home at least part of the week, according to the Rockefeller Institute of Government.
Such a workspace would benefit Cassandra Hetherington, manager of the District Bridges Cleveland Park Main Street program. Hetherington does not have an office in Cleveland Park and said she works out of whichever business lets her stay and use its internet when in the neighborhood.
"Every person that talks about what Cleveland Park needs, [a coffee shop] is really the first thing that they say," Hetherington said.
Lebert said he hopes the movement has started conversations on how to bring new businesses to Cleveland Park, which has seen multiple neighborhood shops close recently. 
"The coffee shop is part of this broader goal of bringing some growth and life to Cleveland Park," Lebert said. 
The neighborhood has multiple available lots well suited for a cafe, partially due to said recent closures, according to Lebert and Ward. These spaces are all on Cleveland Park's main street near the Cleveland Park Metro station.
A few examples include the recently closed Al Volo restaurant space with its large outdoor patio. The former California Tortilla shop inside the historic Sam's Park and Shop also has both a patio and a large indoor seating capacity.
The lot once home to St. Arnold's Mussel Bar is another potential location with its large windows and seating options both indoors and outdoors. The retail space currently being added to the Macklin apartment building will include a public seating area "perfect" for a coffee shop, Ward said. 
"We have no shortage of places to put a coffee shop," Ward said. "We just need an intrepid investor who's willing to take a risk on Cleveland Park."
While the neighborhood is open to whichever coffee shop comes first, there is a preference for a local D.C. brand. Lebert said it would fit well in the neighborhood, which is already home to many locally owned shops and restaurants.
"So many of the best coffee shops in the city are run by people who come from the city, live in the city, and that would be nice to see," Lebert said. 
While some of Cleveland Park's restaurants do have coffee on their menus, Lebert said these offerings are not the same as a sit-down cafe. To him, the desire for a full coffee shop is also about "so much more than just the coffee."
Lebert said a coffee shop is an important "third place" — a term in sociology referring to a social setting outside the home or work — where people can work, meet with friends and further connect to the community. Studies have found these third places increase civic engagement and establish a sense of neighborhood belonging.
"A coffee shop really is one of those things that can bring a community together," Ward said.
These benefits may soon be coming to Cleveland Park, as local officials take more interest in the calls for a cafe.
Tammy Gordon, the now-uncontested ANC 3C06 candidate, is running on a platform that includes bringing a coffee shop to Cleveland Park. A resident of the community for over a decade, she wants a local cafe just as much as her neighbors.
"We're all wanting to walk up the street and get a great latte during the day," Gordon said. "That's just not something that really is offered."
Gordon said her approach to bringing a coffee shop to the neighborhood would be two-fold. She plans on working with ANCs and the broader District government to make Cleveland Park as "business friendly as possible." This includes advocating for legislation and zoning that attracts business owners to the neighborhood.
Gordon said her experience in public relations and marketing within the restaurant industry could also help secure a coffee shop in the community.
"One of the best things I can do is be an evangelist for the Cleveland Park neighborhood," Gordon said. 
This includes utilizing her contacts in the hospitality industry and publicizing how much the neighborhood wants a coffee shop. Gordon said she could connect business owners to landlords, the main street association or other ANC commissioners to "help make their entry into Cleveland Park easier."
"We're really looking for that kind of business to come in and invest in our community and we want to invest in them," Gordon said.