When World Pride comes to D.C. in 2025, organizers hope to make the international celebration memorable. The typical annual celebration of Pride each June will be scaled up to support massive crowds participating in parades, conferences, sporting events, and more.
The festivities are scheduled from late May to early June 2025. The international LGBTQ pride festival is the second to be hosted in the United States and is expected to bring millions of participants to the D.C. area for the duration.
The bid to host World Pride in D.C. was pitched by Capital Pride Alliance, a local group that plans and hosts the annual Capital Pride events. While planning has begun in full force for 2025, Capital Pride Alliance first wants to continue creating meaningful annual Pride celebrations in 2023 and 2024.
"And then, in 2025, Capital Pride will become World Pride. And it'll also be the 50th-anniversary celebration of Pride here in D.C.," per the Executive Director of Capital Pride Alliance, Ryan Bos.
"Items specific to World Pride right now involve mapping out our fundraising strategy and identifying major partners," Bos told The Wash. Bos added that many of the partners expected to participate are groups already engaged in the annual celebrations during Pride month in June.
The first World Pride to be hosted in the U.S. was in New York City in 2019 and celebrated the 50th anniversary of the Stonewall Riots in New York. New York hosted five million people over the course of its events.
Capital Pride Alliance is prepared for the expected crowds. Bos said, "D.C. is a municipality [designed] specifically around being able to manage the increased crowd of people coming in 2025."
World Pride will feature scaled-up versions of the annual Capital Pride events. June 2022 Pride Month included arts events, a pool party, a concert festival, a block party, and the parade, which takes a 1.5-mile route around Dupont and Logan Circles.
One of the annual events that will be scaled up for 2025 is a series of sports league events. The District has a lively intramural LGBTQ sports community where members play kickball, bocce ball or dodgeball, or participate in other group activities like climbing and billiards.
All of the LGBTQ leagues in D.C. are under the association of Team D.C., a local charitable organization dedicated to LGBTQ community education and sports participation.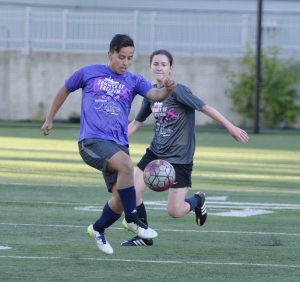 Team D.C. hopes the international crowd brought to Washington by the World Pride festivities will help bring more international and emerging sports to LGBTQ leagues in the area.
"We're going to use this as an opportunity to bring in some new and emerging sports that are looking for a toehold," said Team D.C.'s Executive Director Brent Minor. He discussed bringing in "other niche sports, like Quadball, Curling, or Table Tennis," and other sports popular overseas, like Dragonboat Racing, Cricket, and Badminton. Minor said they want to try to help people discover new things they may not normally be exposed to. "We want to give visibility to sports that have a very large appeal outside of the United States."
Team D.C. also wants to have sporting events encouraging visitors and D.C. residents alike to branch out and try new things.
"We want to make things as accessible as possible and let people try stuff," Minor said. "We may have a demo day where people can try throwing a football, or let people experiment in sports they may not normally participate in."
Minor said that, in planning events and anticipating crowd sizes, Team D.C. hopes their planned participation will continue to bring in a different type of crowd both annually and for 2025's festivities.
"I know that sports is a highly visible part of this event, and sports brings in a different crowd. You want to have something for people to do."
The excitement about the expected crowds and level of involvement is shared across groups involved in the planning.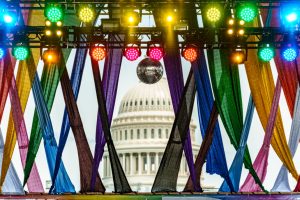 One of the events planned for World Pride in 2025 is a Human Rights Conference organized and produced by the Center for Black Equity and other groups. Kenya "Garçon" Hutton, the Deputy Director of the Center for Black Equity,  hopes the conference will be able to showcase local issues felt in D.C., like housing crises, and racial, health, and social equity on a global stage in 2025.
Hutton and his team have attended and supported other global conferences to gain expertise on the best way to host their own.
He said this conference during World Pride will be reminiscent of those and of "making sure we address and talk about issues being faced by queer and trans community members around the world."
The Center for Black Equity has affiliate partners all over the world. "We're going to be really leaning on those partners at the Center for Black Equity to give us the topics that they feel need to be addressed and talked about on this global platform for World Pride."
Although local organizations are pressing forward with plans for 2025, D.C. Mayor Muriel Bowser's office has yet to release any details about the planning process. In an email to The Wash a spokesperson stated, "We currently have nothing to announce."