Libraries are more than a place to rent books; they are a place to hold their communities together and provide critical resources, from free computer access to banned books.  
Libraries have played a key role in providing access to reading materials that are educational, diverse and creative. Not only do they allow the general public to freely borrow books, but most libraries feature fun community events and educational programs that provide opportunities to learn important life skills. With book banning rising throughout the nation, local libraries are having to support their communities even more with their resources. 
According to a July 2021-June 2022 study done by the free speech advocacy group, Pen America, there have been around 2,532 instances of individual books being banned. In the first eight months of 2022 alone, the American Library Association has recorded 1,651 unique titles that were challenged. This is already an increase from the previous year, marking it as the highest number of banned books tracked since the last twenty years. The majority of the banned books are written by or tell diverse stories and have been the target of multiple groups since 2021. 
At the end of 2021, the ALA recorded the top five most challenged and banned books in libraries, schools and universities. On their list, the first three books, Gender Queer by Maia Kobabe, Lawn Boy by Jonathan Evison, and All Boys Aren't Blue by George M. Johnson were predominately targeted for "LGBTQIA+ content, and because it was considered to have sexually explicit images." The reasons for the fourth book, Out of Darkness by Ashley Hope Perez, was due to depictions of abuse and the last book, The Hate U Give by Angie Thomas was banned for violence, anti-police messaging and indoctrination of a social agenda. 
George Williams, the media relations manager for the D.C. Public Library, said one of the ways the local libraries show support is by participating in Banned Books Week, an event that celebrates literary freedom. Libraries nationwide can participate in Banned Books Week as they share and promote stories with readers.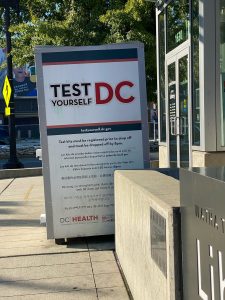 Most of the programs that are offered in the D.C. Public Libraries are designed to instill community camaraderie and a love for reading that goes beyond banned books. Williams pointed out some of the resources at the Watha T. Daniel/Shaw location that do this include access to computers and wi-fi, study rooms and a supply of multiple books, audiobooks and movies. During the COVID-19 pandemic, the Watha T. Daniel/Shaw library was able to offer contactless book pickups and provided COVID tests to those who needed them.
"It's important to note," Williams said. "A library is relevant and important even if it doesn't offer programming." 
Williams said that a priority of the Watha T. Daniel/Shaw library is to teach literacy at a young age. Events such as the two-year running Evil Laugh contest, the Dinosaur Roaring contest and librarian-led story times are a few of the many ways librarians make books appealing to children. Early literacy, according to Williams, helps children progress in their education while also helping them realize that reading can be for pleasure.
President of the American Library Association, Lessa Peyalo Lozada, agrees that encouraging literacy for all ages is important. Lozada said that literacy at a young age is also "foundational to a productive & democratic society," and should be encouraged.
"Literacy and learning labs are common, but not as common as we would like them," Lozada said about the services that provide educational opportunities for the public.
According to Lozada, the libraries prevalent today have grown community hubs that offer services and resources when people need them. Libraries encourage people to learn about essential life skills, while also allowing them to have hard conversations, such as discussing banned books.
Lozada described the process of getting a book banned. It starts when an organized individual challenges a book, either in a school or public library. While each library is different, the overall process is similar in that the challenged book will be read and reviewed by either librarians or a board of trustees before making a decision. 
Lozada said that she's noticed most of the challenged books are LGBTQ stories and stories written by people of color. She said that she finds banning books to be a disservice to the community as a whole because it silences diverse books and doesn't give all people the chance to tell their stories.
"The most important thing is for folks to recognize that the library is for everyone," Lozada said. "If you don't see yourself in the library, your library workers are there to listen and make you feel seen."