The Adams Morgan Business Improvement District said it has no plans to resume the Reimbursable Detail Officer Program, which coordinated off-duty officers with MPD on weekends outside of businesses requesting their services. Executive Director Kirsten Barden said in an email, "Nightlife on those nights has not yet returned to pre-pandemic levels."
Adams Morgan's nightlife at one time brought large crowds to the neighborhood along 18th street on weekends. The Adams Morgan Partnership Business Improvement District was founded in 2005 and began coordinating MPD's reimbursable detail officer program with the goal of improving safety in the neighborhood. The Covid-19 pandemic prompted the BID to end its use of the program as the city shut down. Nightlife restrictions have since been lifted, and the BID says it has no plans to resume its use of the RDO program.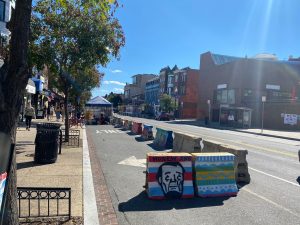 In the BID's five-year Business Plan for 2022-2026, they mention discussions of hiring a daytime RDO to patrol public parks and supplement MPDs daytime officers but say no decision has been made. Representatives of the BID were not available for an interview by the time of publication.
David Peruzzo owns dual bar and restaurant establishments, Pitchers and A League of Her Own. Peruzzo said he caters to LGBTQ+ clientele and is the only gay bar on 18th street.
Peruzzo said the program was something he would look into soon when his business started getting busier.
"We don't really need it right now because we're not that crazy," he said. "Our customers also don't like cops a lot. So it's very hard for us to have one stationed outside our establishment the whole night."
Peruzzo said he used the program when he worked in Dupont Circle. He said he didn't go through a BID at that time as they didn't have one. When asked for his reaction to the BID's discontinued coordination of the program in Adams Morgan, he said he could still go through MPD directly.
"It might be a plus because if you have a BID, they'll do some of the paperwork for you," he said. "But I mean, it's as much as filling out a form."
The Adams Morgan BID coordinated off-duty officers through the MPD program to ensure officers stayed on their detail and were replaced if an officer took an arrest, Barden said in an email. The BID also tracked trends in crime to see what kinds of arrests were made each night, she said.
"For accountability, we had to coordinate it. We only paid for the coordinator and one sergeant who supervised," Barden said.
He said he hadn't had much involvement with the BID as his business is three years old, and spent half of that time during covid. He also said much of what the BID does hasn't applied to his business.
"It's hard for me because I am the only gay bar on the street, and I feel like Adams Morgan itself is very different," Perruzzo said. "So when the BID does things, it's stuff that doesn't really apply to my bar, so I don't participate that much."
Brian Vasile owns Grand Central, a bar and restaurant on 18th street. On Monday, they launched the District's first independent sportsbook. As part of attaining his class B license to open the sportsbook, the city required extra security for his business.
Vasile served on the BID's board from 2007 until 2012, when he left to open another restaurant in Bethesda. He said Grand Central has always used the RDO program since 2007 and that he goes through MPD directly for this.
"I just know that we hire RDOs and they always do a great job. We love to have them," he said.
Adams Morgan's nightlife relies on tourism from both outside the District and from other parts of the city.
Joe Lapan, the co-owner of Songbyrd Music House, and Birdland records, which until recently was based out of Adams Morgan, says the neighborhood today faces increased competition around its nightlife.
"I mean, when I was a younger person, you would either go out in Adams Morgan or like maybe Georgetown or Dupont Circle," Lapan said. "Now there's like 10 times that many."
Lapan was one of several business owners that criticized the Adams Morgan BID in a hearing earlier this year. His testimony mainly focused on how the BID measures its return on investments.
"It's more important than ever that like a neighborhood that wants to be a successful business neighborhood have like a sort of focused strategy and a way to differentiate itself and promote itself," Lapan said.
He said he believes in many ways the BID was a response to the problems of Adams Morgan at that time when the neighborhood's nightlife scene posed problems around safety and cleanliness.
"In other words, I feel like, you know, 15, 20 years ago, you needed somebody to coordinate security and cleanup, and all the things that resulted from having almost too many people," Lapan said. "As it's evolved to me in the last five to ten years, you have a new set of problems."
Lapan said he believes much of the BID's focus remains on those problems, which he does not see as core to solving the issues of Adams Morgan today.
"It's almost like we need to kind of get some people back to Adams Morgan," Lapan said.
On May 6, 2020, the city's ABC Board reduced ABRA's funding for the RDO program to zero percent, according to records from the notice of emergency rulemaking. ABRA's Chief of Staff Jared Powell said in an email that the ABC Board restored funding when restrictions for alcohol businesses were lifted. He said ABRA's involvement with the program is limited to funding and that ABRA pays 65 percent of the costs while the requesting party is responsible for the balance. The BID sent invoices each month to businesses requesting an RDO.