New signs at the revamped Franklin Park declare camping is prohibited — a warning to the unhoused people who used to spend their nights there. The park, located along 13th and 14th Streets between I and K Streets NW, reopened Sept. 24 after a $21 million renovation which began in July of 2020.
"That last day was very emotional," said Reginald Black, executive director of the People for Fairness Coalition, an advocacy organization working toward ending housing instability in the District. His organization provided support inside the park during the weeks before the closure, making sure each resident had access to the resources they needed before removal. In the latter part of July last year, he said, only a few residents remained in the park.
"There were people who wanted to kind of resist and fight the closure. But at that point it was a done deal," he said.
Black experienced homelessness himself on and off from 2008 to mid-2019. He said it was "heart-wrenching" to sit with people while they had their last meal in the park they called home, especially because the park once was a hub for distribution services and housing insecurity outreach.
"Faith based organizations and friends and different organizations would come together," he said. "Every week, they would come together in the park to make sure everyone had clothes, to make sure that they had hygiene products, masks, food." Now, Black said, it's going to be hard to provide those services downtown.
Franklin Park first opened in the 1850s, but its last renovation was in 1935.
The new renovation is the result of a partnership between the National Park Service, the city and the DowntownDC Business Improvement District, a private non-profit working to enhance the vitality of the neighborhood.
New features of the space include a storm water management system that will catch runoff, public restrooms, ADA-compliant sidewalks, a children's garden area and an outdoor restaurant. The park, and its facilities, closes nightly at 9 p.m.
"We knew that if the D.C. Government could renovate Franklin Park, we would be able to turn this park into something special for residents, visitors and workers. And that is what we've done," said Mayor Muriel Bowser in a press release. "This is the type of park you would expect to find downtown in our nation's capital."
The DowntownDC BID will operate, program and manage the park, but NPS owns the property, giving the U.S. Park Police jurisdiction of the area.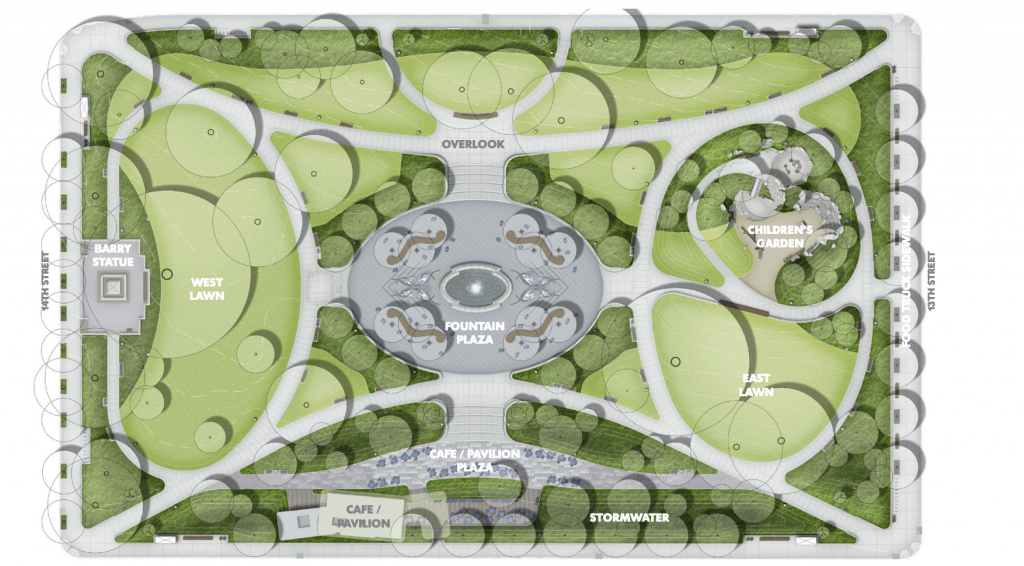 NPS has a long-standing "no camping" rule for many of its urban parks, but during the pandemic it allowed camping in some of them. Now, as the pandemic relaxes, NPS is beginning to reinforce those "no camping" rules once again.
Jeff Reinbold, the superintendent of National Mall and Memorial Parks, told reporters during a ribbon cutting ceremony for the park on opening day that NPS would work closely with the BID in handling unhoused people, but said the U.S. Park Police could remove anyone trying to camp in the park. "We do have the legal authority to do that, but that is not our desire," he said.
BID ambassadors and security guards will be stationed at the park overnight, said Neil Albert, president and CEO of the DowntownDC BID. The eight overnight ambassadors are trained in dealing with unhoused people and will provide any resources necessary to those who seek to enter the park at night.
"Sleeping in a park is unsafe for people experiencing homelessness and for the community," Albert said. "We also believe that our parks should be available for use by everyone."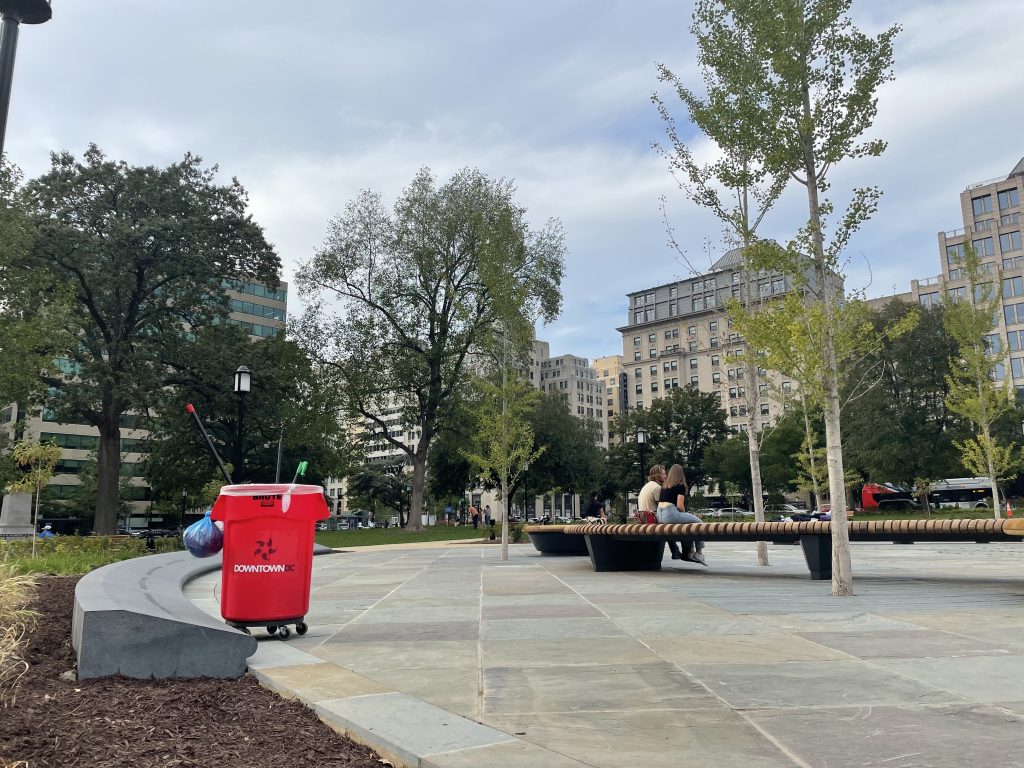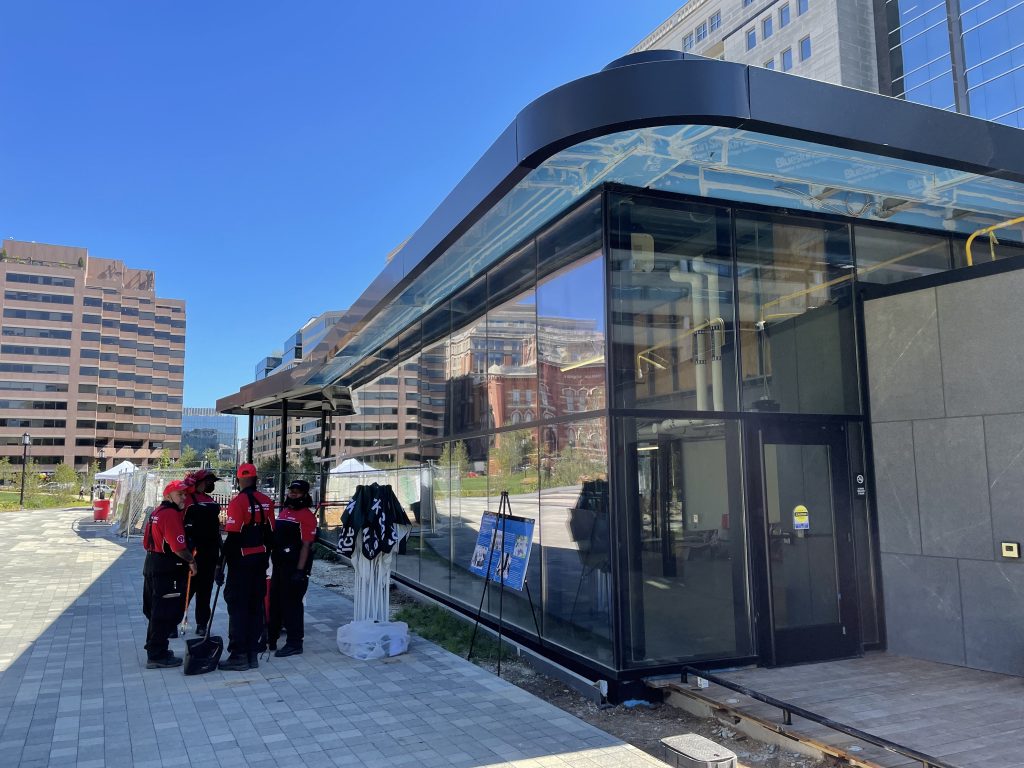 NPS told The Wash in an emailed statement that while it has not been notified of anyone attempting to sleep in the park since it reopened last week, it is committed to connecting people living in encampments with resources and housing.
But, Black said, people experiencing homelessness were not given a voice in the decision making process regarding the park a year ago and they still don't have a clear stake.
Restrictive rules involving who can provide services to people experiencing homelessness downtown, where those services can be provided and where people living outdoors choose to find shelter on their own is "basically a total criminalization of all the different things that unhoused people participate in when they're just trying to survive," Black said.
On any given night there are 5,111 unhoused people in the District, according to the Community Partnership for the Prevention of Homelessness, an independent non-profit corporation serving as a focal point for efforts to reduce and prevent homelessness in the city.
Yariella Phillips, 47, lives in Northeast D.C. and comes downtown often. She said the city invested a lot of money into the park, so it is probably "enforcing this rule because they want to keep this a safe, clean, beautiful space."
But, Phillips said she thinks the District has to give unhoused people "another viable option."
The city recently launched a pilot program to clear four encampments across the city by offering housing to residents who apply. Those particular tent encampments would be removed, but rather than sending those living there to shelters, people would go directly from their tents to an apartment. Some encampment residents say, however, that they are still waiting to move in or haven't received any information at all, despite two clearings going underway on L and M Streets NE Monday.
The D.C. Department of Human Services estimates there are at least 119 encampments across the District, with about 327 tents.
Black said these clearings will force the displacement of residents who do not know much about the program, do not necessarily trust it or would prefer to remain in the tented communities they live in.
"The fallout of Franklin Park's closure led to an encampment increase in certain areas," Black said. "It was directly tied to that displacement that happened over a year ago in that park."
Now that encampments in other public spaces across the city are being cleared, residents who choose not to join the pilot program will not have Franklin Park as an option.
The DowntownDC BID said it offers walk-in services on weekdays from 9 a.m to 5 p.m. at its Downtown Day Services Center. It also hosts a Weekend Homeless Services Program along Vermont Avenue on Saturday's and Sunday's from 10 a.m. to 6 p.m.
Gregory Chudy oversees McKenna's Wagon, Martha's Table's longest running program. It is a volunteer-led mobile food service providing roughly 225 meals a night just a few blocks away from Franklin Park, on 15th and I Streets NW. He said clearing out these communities isn't really getting at the root of the problem, "which is the high cost of housing."
"I mean, I can barely afford rent myself," Chudy said. "Maybe it's not aesthetically pleasing or unsightly, or it might bother people, but unless you're gonna get to the root cause of the problem, just moving the tent community isn't gonna solve anything."
He said the recent uptick in cracking down on unhoused communities in the District is an indication that they will not be received well in redeveloped areas.
"This is a city-wide problem," Black said in agreement. "We need a city-wide solution."