The DowntownDC Foundation announced last month that Amazon will be the official sponsor of Franklin Park. Local activists criticized privatization of this public space, but visitors voiced support for investment in the community. 
The announcement comes after the reopening of Franklin Park drew criticism because of their restrictions toward unhoused people in the park. Franklin Park had previously been home to many unhoused people before the renovations last year. 
The recent upgrade to this 5-acre space in the heart of the downtown neighbourhood totalled $21 million. It is a 10-minute walk from one of the busiest metro stations, Metro Center, and has seating space, a children's playground and will have a restaurant for residents and workers to enjoy.
Aaron Hao, a local advocate, said the restrictions against camping "are really separating the homeless people and homeless services" from the park. The park is also enforcing a rule that any gathering of over 25 people must apply for a permit, which limits local organizations in their ability to set up donation events. 
Amazon will sponsor Franklin Park's Greenery and Beautification projects for the first year of operations. The company's responsibilities include tree maintenance, lawn and turf care, seasonal plantings, and community programming. 
Despite repeated requests from The Wash, the DowntownDC Foundation, the Franklin Park manager, and Amazon failed to provide a specific figure of what this sponsorship cost Amazon or any terms that were agreed to.
In the announcement, Rachel Rose Hartman, executive director of DowntownDC Foundation, said, "it's the success of public-private partnerships such as this anchor support from Amazon that will ensure Franklin Park's future for all to enjoy."
Privatizing public spaces comes with benefits and downfalls. Many parks benefit from funds that otherwise the city would not be able to drum up on its own, and the parks are often better maintained and more frequently visited as a result. However, inviting private interests into public spaces can also mean they have their own expectations when it comes to recognition and accountability. 
Amazon has been criticized for the treatment of its workers for long hours, warehouse employee injuries and insufficient pay.
"Amazon is bad. I don't think we need any of Amazon's money in our public spaces," Hao said in an interview. They have also been vocal about this issue on Twitter, expressing outrage at the announcement.
DowntownDC BID Announces Amazon Sponsorship for Franklin Park

Privatized parks. Anti-homelessness. Aggressive security. Permits. No mutual aid. Sanitized consumption spaces.

This is the future they want. Business Improvement Districts (BIDs) are poison. https://t.co/T8oGIDK39s

— Aaron the Anthropologist (@Anarchopology) October 27, 2021
Some visitors are supportive of the project since it brings in investment to public spaces.
Anna Solidair, an Amazon user and Franklin park visitor, said, "I'm pro businesses coming and helping the community, especially underserved communities like there are here in D.C., Black, people of color… I think everybody should." 
About Amazon, she said, "I know there's good and bad like anything. But I mean, that's a good thing that they've invested in the park."
The DowntownDC Foundation supports the DowntownDC BID by connecting private interests with philanthropic missions in the downtown area. Amazon has been expanding its connection in the DMV since the decision to build its second headquarters in Arlington, Virginia. Jeff Bezos, the executive chairman of Amazon, also bought The Washington Post,  located directly across the street from Franklin Park. The Franklin Park sponsorship is the most recent investment that Amazon is making to strengthen their involvement in the DMV community.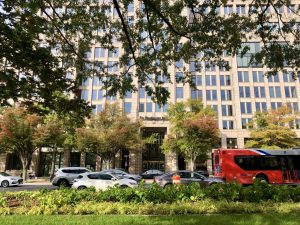 In the announcement, Brian Kenner, director of public policy at Amazon, said, "We're growing roots here in the DC region and in partnership with the DowntownDC Foundation, we're excited to support the improvement of Franklin Park for all the members of our community."
Kenner previously worked in the mayor's Planning and Economic Development office. The decision to build a second headquarters in Arlington came in late 2018, and Kenner was brought into Amazon in mid 2019. 
Hao, who has been a critic of BIDs in D.C., said it is unusual that a large company like Amazon is sponsoring a project like this; it is "normally local companies within the BID boundary" that are involved in deals like this. 
Park visitor Karen Mankin said she would have assumed investors in public parks would be local businesses, but it doesn't change her mind about Franklin Park.
"It's still to the benefit of the community, so I guess if they're going to sponsor something, why not a park?" Mankin said. 
Private investment in public parks has been successful in other cities. Atlanta's Piedmont Park had success with private investment. Before the investment, the park was serving only local residents. Since investment, visitation has gone up every year. In 2019, 4.3 million people from all over Georgia visited the park.