Astros lead series 3-2 going into tonight's game.
Outside the Nationals stadium in southeast D.C. Sunday evening, a sea of red "W" hats flooded along the street leading up to the security detectors. Most of the crowd were buzzing with excitement, hopeful to see a historic win from the district's premier baseball team. But one scattered group of fans wearing orange jerseys had different hopes.
A number of Houston Astros fans attended the fifth game of the World Series on Sunday, some living in the area currently and some traveling from Texas. They rooted on their favorite team as they beat the Washington Nationals, in a series that the Astros now lead 3-2.
Houston native John Heard spoke with The Wash prior to the game. He said seeing an Astros win would be especially significant to him. A lifelong fan of Houston teams, he worked in the Houston Astrodome, the first domed stadium of its kind, when it opened in 1965.
"It's a great vibe here in D.C., I'm really impressed with the Nationals fans."
Heard admitted that most people have been cordial, despite seeing a Nationals fan and an Astros fan in a heated argument the day before.
"Yesterday there was one squabble but it was broken up pretty quickly," Heard said. "The mood might be more intense after tonight though, depending on what happens."
Chris Young, a diehard Astros fan, would have made the trip anywhere regardless of who his team was playing against. He was surprised by the goodwill of Nationals fans.
"The Nats fans have been really gracious, especially last night which was a brutal game," Young said. "The energy is a bit different tonight though because it's all tied up. There's two awesome pitchers so it could go either way."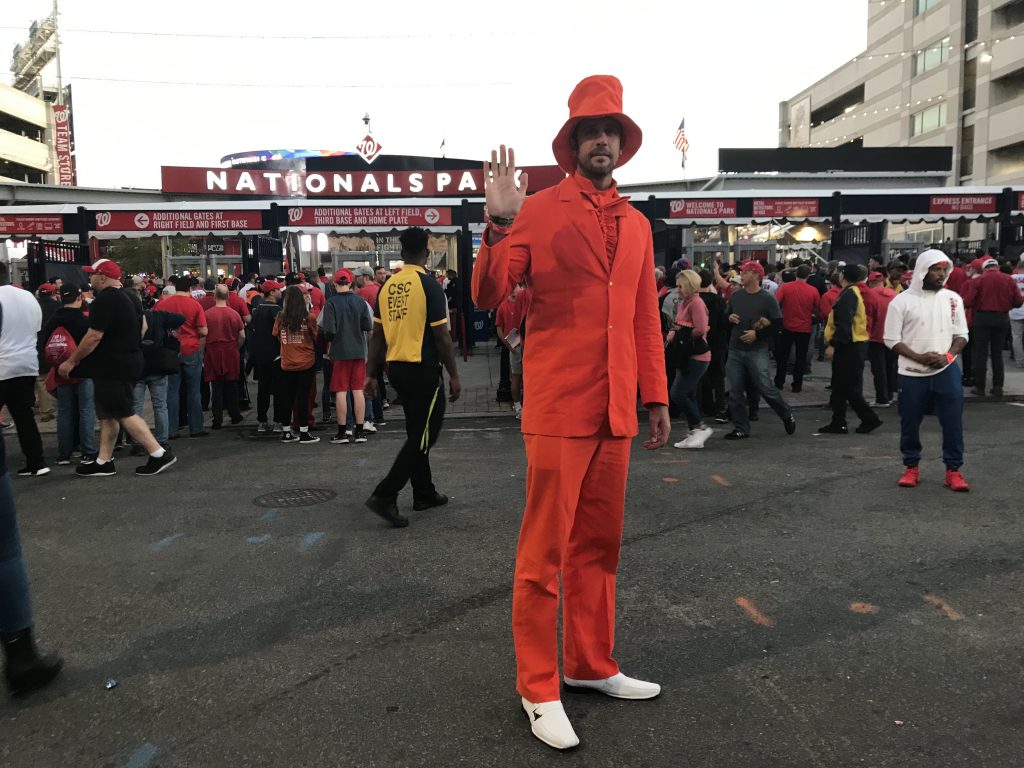 Freddy Granados, another Houston native, made the trip to D.C. intent on seeing an Astros win. He stood outside the stadium before the game in full Astros garb, and also brought a tricycle emblazoned with the orange Astros logo for his fellow Houston fans to get a photo op with.
"There has been no trouble, nobody has made any mess with me or talked smack," Granados said.
For Hillary Ruiz, who was born in Texas but now lives in Virginia with her husband, an Astros win would make her the happiest person at the school she works at. 
"I'm the only Astros fan among all my students and colleagues," Ruiz said.
For some Astros fans, the opportunity to see their favorite team play in the nation's capital also served as a reason to visit D.C. attractions. Jill O'Neill and her husband had always wanted to take their three kids to see things like the National Mall and the monuments, so when their home team made it to the World Series, she saw it as the perfect chance.
"We came up from Texas on Friday and have been enjoying all that D.C. has to offer, like the museums and the Lincoln Memorial," O'Neill said. "Even if we don't win, the kids have really enjoyed their trip."
Similarly, Houston native Amy Johnson and her husband got the opportunity to visit the White House.
"The timing worked out perfectly. It was a great excuse to come up for the weekend not only to see the game but the whole city," Johnson said.
David and Melinda Taylor also took time off from work in Houston to attend the game, but admitted that they would be disappointed if they came all the way just to see their team lose.
"We're gonna win!" Melinda Taylor declared. "It's all or nothing." 
Johnson was similarly hopeful, but also said she is superstitious and did not want to jinx the Astros chances.
"The Nationals are doing better than we expected," Johnson said. "But I'm sure our guys will pull through."