Loud popping sounds echoed the neighborhood and alarmed its residents on Sept. 19. Blue lights shined as police cars arrived guarding the crime scene, with residents calling family members and wondering when they would be able to go back inside.
In less than a minute six people were victims of a drive-by shooting around 10 p.m. in a Columbia Road apartment complex courtyard. Five victims were men and one was a woman, one man was killed while the others had non-life threatening to critical injuries, according to police.
Partly in response to high-profile violent crimes like this one, DC Metro Police and Mayor Muriel Bowser announced they would start deploying approximately 45 additional officers every day in October with a total of 115 officers granted extra overtime. The projected cost will be roughly $125,000 per week.
The MPD told The Wash that it has used the increase in officers to locate violent offenders, recover extra firearms and keep the District safer, with overtime expanding field operations by 27%.
Residents are unsure if more police officers are the answer
Brittany Gibson, 22, is a new resident of Columbia Heights. She told The Wash there are a lot of things that could be done nationally that would help gun violence in areas like Columbia Heights.
"When I'm thinking of the U.S., especially in urban cities I am thinking of gun violence," Gibson said. "I don't blame it entirely on the local level, police or municipalities but I blame the federal government a lot."
Gibson has multiple feelings toward the recent crimes in the neighborhood, noting that shootings happen all over the U.S, compared to other countries around the world.
"This is kind of the price you pay if you want to live in a city center or ungentrified urban area, so you have to be street smart," Gibson said. "I'm not going to walk on the block that has the social housing project late at night, by myself with my headphones on."
Gibson believes the MPD should be more strategic with their methods, instead of throwing bodies at the problem.
"When it comes to local violent crime more police officers is not the answer. Unless you are talking more about a community policing model where you don't have police officers in their cars patrolling, but people walking the streets and figuring out what the community needs to feel safe," Gibson said.
Gibson thinks officials should provide offenders with programming and jobs to get them off the streets.
The Wash interviewed a resident that did not want to be identified because he is scared from the shootings but said, "years ago Columbia Heights was a comfortable and family-friendly but now we have to worry about our families."
MPD's solutions for violent crimes
"Public safety must be a District-wide priority, and it starts with building and keeping trust between our police and the communities they serve," Bowser said in a press release several weeks after the Columbia Heights shooting.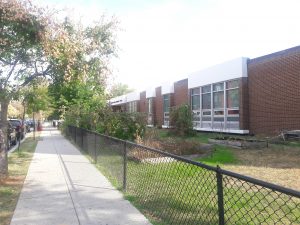 MPD detectives are still following up on leads from the incident and there are multiple active investigations. Illegal gun recoveries have increased District-wide, especially the third district with a recent report of 128 recoveries this year. Last year officers recovered 80 illegal firearms.
The department already has officers working near the 14th Street shopping center on bicycles, segways and foot beats. MPD will have a major increased deployment on the 1300 block of Columbia Road NW.
Neighboring communities like Shaw have also seen an increase in shootings and theft crimes. At an emergency meeting on Oct. 10 officials proposed that the system create serious penalties to stop violent crimes.
According to Lamar Greene, assistant chief of police for the Metropolitan Police Department, the population grew in the district by 100,000 residents between 2010 and 2018. Calls for service have also grown with over 125,000 additional priority calls.
"Behaviors are not being changed and people are going back onto the streets, offenders are going to re-offend," Greene said at the recent emergency community meeting in Shaw.
The Wash ran the number and violent crime is up.
MPD's crime chart shows an increase in violent crime in the third district from 454 in 2018 to 610 this year. Assault with a dangerous weapon is at 61 crimes compared to 41 last year due to a lack of penalties for the offenders, according to Greene.
"Behaviors are not being changed and people are going back onto the streets, offenders are going to re-offend."

The Wash gathered data from MPD's crime map of the third district. pic.twitter.com/uwN5bOn6L2

— The Wash (@authewash) October 15, 2019
The Metropolitan Police Department Captain David Sledge responded to residents who believe officers are not the solution by stating, "that officers scare criminals away" and reduce crime.
The department is hopeful that visible officers and community engagement will have a positive impact on the District.