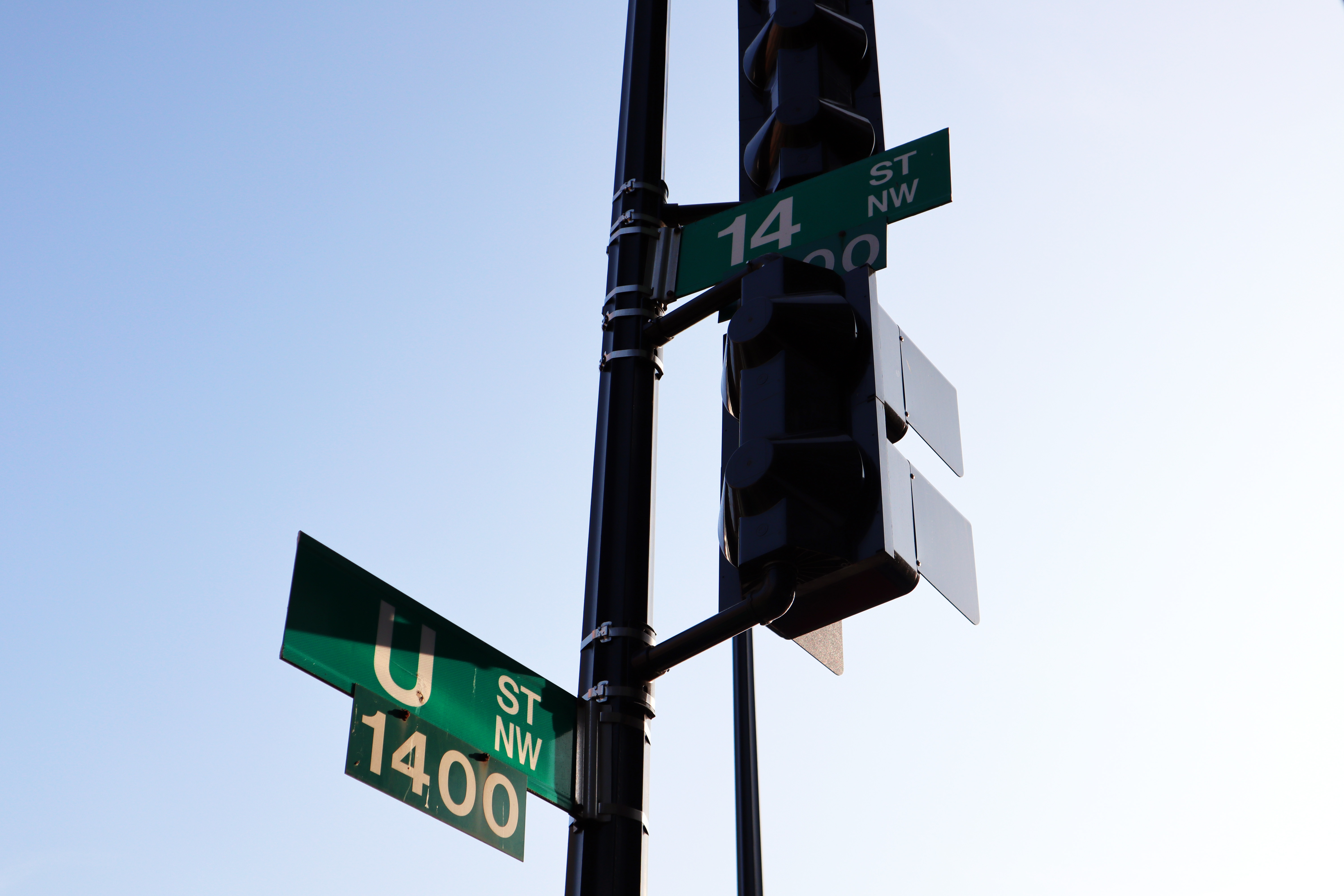 Within a thousand feet radius of the Franklin D. Reeves Municipal Center on 14th Street NW, nine bias-related crimes have taken place since 2012. They range from threats to assault with a deadly weapon, targeting people for their race, gender identity and sexual orientation. Once a month, this is where the DC Anti-Violence Project meets to combat Washington D.C.'s burgeoning problem with hate crimes.
Data from Metropolitan Police Department shows that 14th Street NW is a hub for hate crimes in the city. Mapped, this data reveals the extent of discrimination on our streets. On a street level, pins with details of the crimes litter most street corners in heavily trafficked areas, and zoomed out, the pins nearly fill in the shape of the District.
MPD released their latest data on bias-related crimes in Washington in June, revealing a continuation of a trend beginning in 2015. In 2018, the number of hate crimes in the District reached a new crest, with 60 crimes committed against people for their sexual orientation, 49 for their ethnicity/national origin and 39 for their race. Based on the June data, 2019 is on track to meet or exceed those numbers.
The National Coalition of Anti-Violence Programs, a national group bringing together local organizations aimed at reducing violence towards the LGBTQ+ community, recognizes the need for more prevention programs for marginalized groups. In their recent report "Why It Matters," they explain the importance of violence prevention programs for the LGBTQ+ community: "Few national violence prevention or intervention organizations highlight the needs of LGBTQ victims and, while some federal agencies include LGBTQ populations among their concerns, federal laws do not recognize LGBTQ relationships or families."
In Washington, local organizations are connecting with law enforcement and the community as a whole to stay ahead of hate. Lt. Brett Parsons, Commanding Officer of MPD's Special Liaison Units, has been with MPD since the early 1990s. He oversees the police units who work closely with marginalized groups in the city, including the Asian-American, Deaf and Hard of Hearing, LGBTQ+ and Latinx communities.
Lt. Parsons says it's impossible to fully unravel why hate crimes are increasing, but there may not be an actual increase in the crimes themselves —  it's possible that the upward trend is due to more people reporting their experiences, he suggests. In 2015, MPD retrained every officer on how to respond to bias-related crimes and incidents, so the reporting officers are now able to better recognize the characteristics of a hate crime — and, therefore, report them more accurately and often.
"We are amongst one of the only police departments in the country that has such a robust and active effort pursuing bias-related crimes," Lt. Parsons says. "Pursuing those reports, educating our community, educating our officers, and then also how we respond to them afterwards."
MPD places a special emphasis on maintaining good relationships with communities particularly vulnerable to hate crimes, Lt. Parsons said.
The Department of Justice's Hate-Bias Task Force is a key group in these efforts. The Task Force serves as a collaborative space for law enforcement to work with local organizations to combat bias-related crimes. For the LGBTQ+ community specifically, the Violence Prevention and Response Team is a coalition between MPD's LGBTQ+ Liaison and community organizations, such as the DC Anti-Violence Project, Rainbow Response Coalition and HIPS, among others. According to the Department of Justice, VPART was created to "address, reduce and prevent crime within and against the LGBT community."
Aside from law enforcement and community organizations, several local government agencies are making changes to improve the climate and prevent hate crimes. The DC Office of Human Rights, for example, has worked with other local agencies to respond to hate crimes since 2017. They also hope to improve the District for marginalized groups through their own campaigns, such as the Street Harassment Prevention Act.
This act defines street harassment as "disrespectful, offensive or threatening statements, gestures or other conduct directed at an individual in a high-risk area without the individual's consent and based on the individual's actual or perceived protected trait identified in the DC Human Rights Act of 1977."
The office has identified high-risk areas for harassment, implemented a public education campaign and holds meetings for the Advisory Committee on Street Harassment.
"We continue to meet with residents, faith leaders and activists to address the harm and trauma caused by such toxic events," Office of Human Rights Director Mónica Palacio said in a statement.
One of the signs for the office's new #NoStreetHarassmentDC campaign is stationed outside the Reeves Center. At the start of the last DC Anti-Violence Project meeting, the activists passed around a picture of the sign, pleased that it had been placed where many had personally experienced harassment in the past.
Then, they began planning their next event, "Taking the Stage, Taking a Stand," an expressive show geared toward giving survivors a platform.
As the conversation drifted away from past trauma, they turned their attention to a new topic: empowering survivors.