It sounded like thunder.
That's what Charles Coleman said he remembers about the night he awoke to gunfire echoing against terraced homes two weeks ago near his home on Shepherd Street NW.
They startled him and his wife from their bed and stirred a frenzy of barking dogs, bedroom lights and sleepy eyes peering past curtains into the early morning darkness.
"They just kept going, 'pop, pop, pop,' and it seemed like they wasn't going to stop, " Coleman, 70, said. "Boy, was it loud."
It was shortly after 1 a.m. on Monday, Sept. 16, according to a Metropolitan Police Department report on the incident. Twenty-two hours later, at 11 p.m. that same Monday night, it happened again — gunfire tore through the still evening air, a stranger, neighbors say, to the quiet, leafy Petworth neighborhood near a retirement home for veterans.
"They just kept going, 'pop, pop, pop,' and it seemed like they wasn't going to stop. Boy, was it loud."
All told, 40 shell casings were recovered at the scene of both shootings near Fourth and Taylor streets. There were no reports of injuries, but a home in the 4000 block of Fourth sustained significant property damage, police say.
The two, back-to-back incidents have erupted a simmering controversy among residents in that area about what they see as a growing trend of crime and violence and what police and city officials can and will do about it.
Coleman and others say they've grown accustomed to a lifestyle far removed from the seemingly constant clash of gang-related violence to the south and east. Petworth, Coleman said, had its fair share of crime years ago, but not anymore.
"Back in the mid-'90s, sure, D.C. was the murder capital of this country, but, things changed and it got real quiet," he said. "It's been peaceful, until now."
Two shootings, 24 hours, one house
Fourth District MPD Cmdr. Randy Griffin says the Sept. 16 shootings were likely tied to a single Fourth Street townhouse — the same residence that sustained most of the damage that night.
Witnesses of the second incident say a small, white SUV pulled up in front of the home at about 1:06 a.m. and its occupants began firing at a group of people in front of it with a semi-automatic handgun before peeling away.
Hours after the second round of gunfire had been heard, police installed a lightower near the intersection at Fourth and Taylor, and police cruisers could be seen parked at least a block away from every street entrance to that part of the neighborhood.
There was numerous rounds of gun shots over night near 4th and Shepherd. I didn't get any updates from the District so I am piecing together information from neighbors. Will have more soon including new/different responses from MPD and the District.

— Jonah Goodman (@ANCJonah) September 16, 2019
Griffin said he intends to keep that level of police presence up for a while, if, at the very least, to put residents' minds at ease. But the lightower and extra surveillance is, admittedly, a temporary fix, the commander said, as resources already stretched thin can only support four or five officers on a single city block for so long.
"We're going to have to rely on residents to call in and keep us informed," he said. "Too often we hear complaints about drugs or violence after something like this has happened. We need to hear about it beforehand to put a stop to it."
The shootings appeared to be "targeted attacks" upon a resident or residents who live in that house, Griffin added.
More gun fire just now. This is absolutely unacceptable. District leadership has known of this issue for years, there are increased MPD patrols because of last night's shootings, and this happens again.

— Jonah Goodman (@ANCJonah) September 17, 2019
MPD executed a search warrant on the property a day after the two shootings, but all that was uncovered were several rounds of unspent ammunition.
Neighbors claim the house is part of an active drug market, though, and that's precisely what has many of them so upset.
Residents want more
Advisory Neighborhood Commissioner Jonah Goodman hosted a nearly two-hour-long community meeting a week after the shootings where some residents called on the MPD to do more about places they know can harbor criminal activity.
Several residents reported witnessing what appeared to be drug sales in broad daylight near the Fourth Street home and groups of young people carrying weapons in and out of it.
But without direct evidence of guns or drugs inside the residence, Griffin said, there's little his officers can do with that information. He urged neighbors to remain vigilant and to call in whatever they witness.
According to Goodman, though, residents don't feel like their voices are being heard by the police, whether they call in information or not.
A December 2017 shooting behind a daycare in Petworth wrought a similar neighborhood response, he said. Residents met with the police and cleared the air with some of their concerns.
Since then, the MPD commander, captain and police service area lieutenant who spoke to residents have all since left Ward 4, according to Goodman.
Griffin and the other replacements are fine officers, he said, but they don't yet understand the problem areas in the neighborhood.
"The new team is highly responsive, but admitted they didn't think this area was a 'hot zone' nor did they have any information on past shootings or MPD responses to address this area," Goodman said.
In yet another shooting in Petworth last year, Goodman said residents were informed that an MPD camera near the scene did not have the ability to move and did not witness the crime.
The same camera once again came into focus last week. It's located less than a block away from the scene of both shootings, but, this time, Griffin said the camera can reposition; it simply wasn't pointing in the right direction to see the white SUV, its occupants or any of the individuals who were targeted.
"We need to create an environment where the expectation after these events is better dialogue and transparency," Goodman said. "We currently are at the far extreme where nothing can be shared publicly and different people and agencies have different pieces of information."
Attorney general steps in
When neighbors have called in to MPD, sometimes their complaints haven't turned into formal crime or incident reports.
That's a problem, says Monique Cobb, an assistant attorney general in the Office of the Attorney General of the District of Columbia.
Cobb is trying to help the residents near Taylor and Fourth streets bring an end to the crime affiliated with the 4000 block house.
She needs whatever evidence she could bring in front of a judge under Washington's little-known Drug-, Firearm-, or Prostitution-Related Nuisance Abatement Law.
The statute allows her office and community members to file lawsuits against property owners who are using their space to sell, store or manufacture illegal drugs; unlawfully store or sell guns; or facilitate prostitution.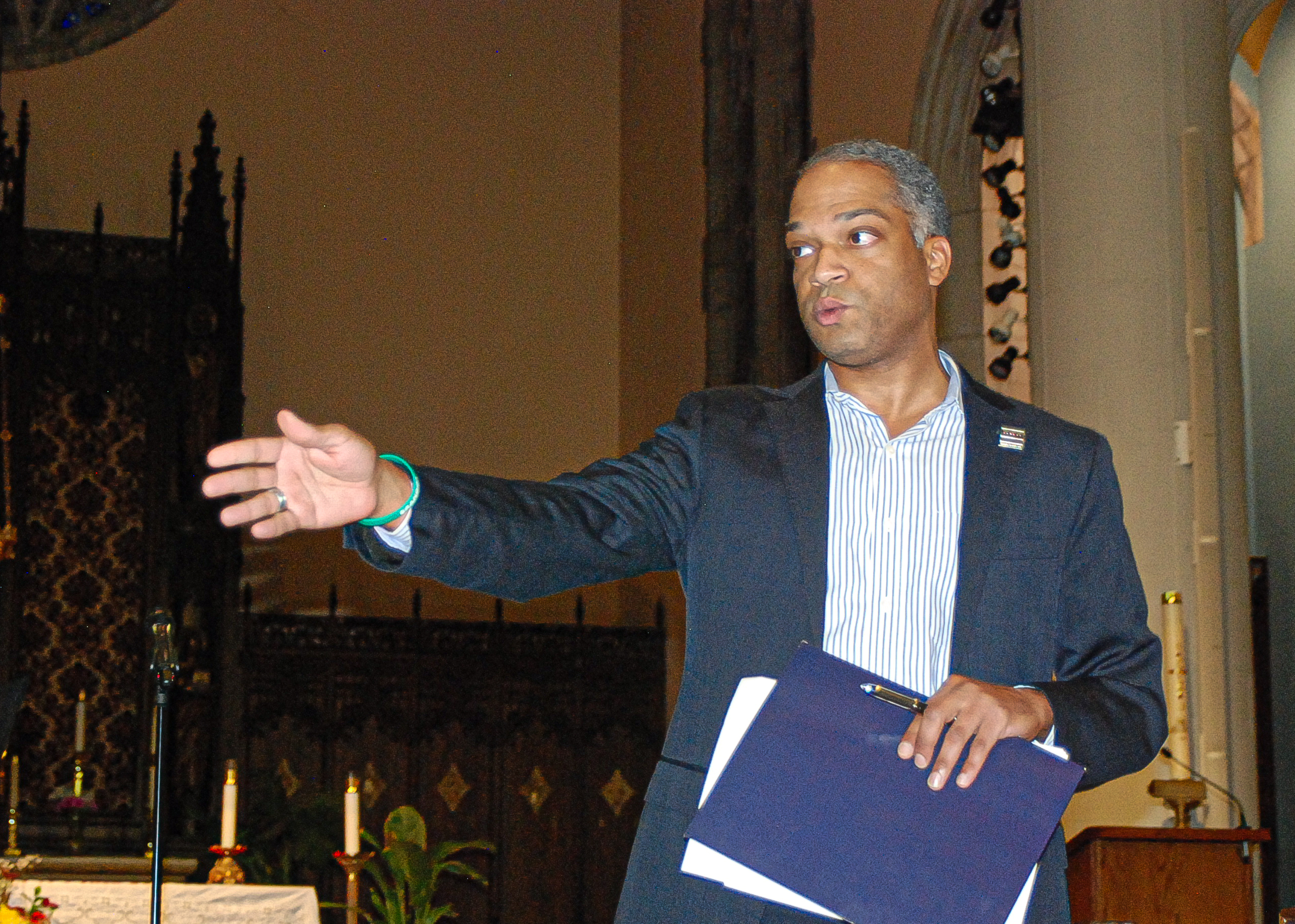 In this case, Cobb said, residents near the home believe that there is, at times, firearms being stored inside. The ammunition police uncovered last month could be useful in court, she said, but it's not enough; the law clearly states that "one or more guns" must be uncovered.
"I hate that, because I know of a lot of properties where there are a lot of shootings, and I'm, like, well, we need to go in and do something," she said. "But we may not have jurisdiction, because the statute clearly defines what we can and can't do."
Goodman has encouraged neighbors to be mindful of when and what information they bring to the police, not only in order to aid them in making arrests but to bolster the neighborhood's case in evicting problem residents.
What's next?
Linsay Videnieks, 42, and her husband have lived in their home in the 4000 block of Illinois Avenue NW for nearly two years now.
They moved there partly because of the safe, quiet neighborhood that it was, she said. The two September shootings have thrown a whole new wrench into that equation.
Over the summer, the couple had a new infant child, so it wasn't all that unusual for them to be up and caring for the baby at 1 a.m.
"We just suddenly heard close to nine or 10 shots and my husband called 911," Videnieks said. "The next night, we heard shots again, and we also called it in. I don't know what to say — it's usually a very safe neighborhood, at least, we thought."
Charles Coleman said he and his wife have spent evening meals out on their Shepherd Street porch for years now, ever since they both retired.
The recent spate of shootings has the couple rethinking that, though, Coleman said.
"It just doesn't feel safe anymore," he said.