The 2020 COVID-19 shut-down left over 20 small businesses in National Landing struggling to keep their doors open, but one shop owner hopes that the arrival of Amazon's second headquarters will be the spark his business needs to survive.  
Nov. 15 marked the 50th anniversary for the Crystal City camera shop Metro Camera, and its owner, Jake Levonian, is hoping Amazon's arrival will give his business the spark it very much needs. 
Started in 1972, Metro Camera once had five locations spread across the Washington, D.C. area. But, the rise of digitalization and the COVID-19 pandemic left Levonian with only one store left.  
Both the worldwide shipment of film cameras and digital cameras are at record lows since their inventions, according to Statista a company that tracks market and consumer data.
 With the sharp decline of camera purchases worldwide, Levonian's last surviving shop sits in the Crystal City Shopping mall attached to the Crystal City Metro Station.  
"I feel like I'm traveling back in time," Arlington resident Chris Gordon said. Gordon was referring not to just Metro Camera, but the entire Crystal City Shopping mall. 
Gordon walks past Metro Camera on a weekly basis going to the Mt. Vernon Trail and the Amazon Fresh grocery store. But Gordon never walked inside of Metro Camera.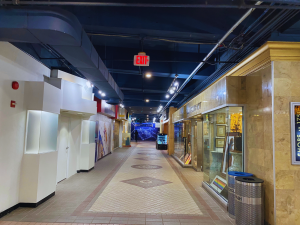 "I never felt the need to go," Gordon said. "A lot of the stores down here feel kind of odd and out of date." 
Gordon said he did buy his Halloween costume this year from Total Party right by Metro Camera and went to the Dunkin Donuts in the Crystal City Shopping mall as well.   
There are a total of 20 shops in this section of Crystal City Shops. Businesses ranging from a Commuter Store to a military gift store called Ship's Hatch all exist in this area of Crystal City.  
Metro Camera is one of the shops that sit along the direct pathway from the Metro station to the Virginia Railway Express station.  
Levonian repeated, "it will take time," when asked if the addition of Amazon's second headquarters has increased his business. 
As of last year, Amazon added 3,500 new jobs to the area and will include up to 2,500 more jobs by the completion of the construction, according to a Nov. 15, 2021, Amazon infographic. 
The entrance of Metro Camera is filled with Washington, D.C. souvenirs.  
These souvenirs range from magnets with different name options to a signed family portrait of the former First Family, the Obamas. 
Towards the back of the store are the things that make Metro Camera a camera shop. 
Levonian sells vintage cameras as well as prints passport photos, develops film, and–what he said is the most popular request–enlarges images.  
As more commuters pass Levonian's shop, he said he expects the number of his customers will increase as well.  
"Hopefully, when Amazon moves in completely things will be completely different," Levonian said. "That's what we're all waiting for." 
Not many people shop in this mall, according to JBG SMITH security guard Jermaire, who declined to share his surname.
 "A lot of people walk through here on weekdays coming and going to the Metro and VRE stations, but there are very few that go into the stores," Jermaire said.  
The area around Metro Camera has already started to look different. Back in October Alamo Drafthouse opened up several feet away from the shop.  
Before the pandemic, Levonian had a staff of two, but after reopening he could no longer afford his staff leaving him to be the one opening and closing the shop six days a week.  
"Before I used to have two employees working here, " Levonian said. "But after COVID I could not afford to keep them, so now I'm by myself here." 
As a result of Levonian working alone, he said he changed the shop hours to something more fitting to his schedule. The shop was originally open from 9 a.m. until 5 p.m. but is now open from 11 a.m. until 6 p.m. 
The National Landing Business Improvement District recognized the challenges small businesses like Levonian's faced due to the pandemic and has provided $200,000 in direct grants to restaurants and businesses through initiatives like Love Local, according to BID President Tracy Gabriel in an email. 
"Small businesses are the backbone of the National Landing community and are an essential ingredient in building our area's unique identity and a vibrant and equitable future," Gabriel said in an email. 
Metro Camera's survival story wasn't the same for some other businesses in Crystal City Shops. 
 A puppet shop called Puppet Heaven never returned after the pandemic.  
Also, the shop right next door to Metro Camera, DC Men's Wear is having a going out-of-business sale.  
Signs saying things like "EVERYTHING MUST GO" and  "LIQUIDATION SALE" cover the entrance of the shop.  
The owner of DC Men's Wear declined to comment.  
Crystal City, a neighborhood that once was filled with government contractors working at the Pentagon is now, along with Pentagon City, expects to have 8,500 or more residents and 35,500 more jobs by 2040, according to an Arlington County webpage.   
Those that will be impacted most by this transition are small businesses, as more than 90% of Arlington County's businesses are considered small businesses, according to the director of media relations for Arlington County Cara O'Donnell. 
Also, coming to Crystal City in 2028 is a 1,300-foot pedestrian bridge connecting Crystal City to the Ronald Reagan Washington National Airport.