Virginia Railway Express is extending its free rides connecting Northern Virginia to D.C. for one more month.
The free rides will be limited to Zones 1-3. The three zones include six VRE stations: Backlick Road on the Manassas Line, Franconia-Springfield on the Frederick Line, Alexandria, Crystal City, L'Enfant, and Union Station.  
After October, riders in National Landing can expect to pay upwards of $6.35 for a single ride compared to the Metro rail cost of $2.40 for a ride from Crystal City to Union Station.   
"Once the period ends, fares will go back to what they were in August," VRE Public Affairs Administrator Karen Clarkson said. "The staff is not recommending any increases in passenger fares, but it will be up to our operations board to make the final decision come December." 
Arlington resident Kerry Cannella rides the VRE from Crystal City to Union Station. When asked if he would continue to ride the VRE after it's no longer free, Cannella said, "I don't know."  
Using the Metro, Cannella has to transfer to the Red Line to get to Union Station, and both the Blue and Yellow lines will take him there from Crystal City. 
"I don't mind taking the Blue Line," Cannella said.  
"The only difference is that those using the Blue Line will have a slightly longer trip," Metro Media Relations Manager Sherri Ly said via email. 
Until May 2023, trains will be routed through the Rosslyn tunnel rather than the more direct connection across the Yellow Line bridge, according to Ly.  
VRE was impacted by the pandemic, and it lost thousands of its daily riders over the past few years. In June 2019, VRE had a daily average of 20,000 riders. In June of this year, VRE had a daily average of 5,009 riders.  

Last month's nine-month closure of the Metro Yellow Line and eight-week shutdown (the closure was extended to Nov. 5th) of Metro stops south of the airport gave VRE the opportunity to create "full platforms" once again, according to Clarkson.   
"The decision to suspend fares will make VRE a more attractive and viable option for Metrorail riders," VRE said in a July press release.  
Jimmy Mandilk, an Arlington resident, found out about the VRE through the September promotion, he said. When the Yellow line closed, Mandilk decided to start riding the VRE. 
"I hadn't even thought about taking the VRE," Mandilk said while waiting at the Crystal City train stop. "Then I saw an ad saying the VRE is free, and I was like, where does the VRE go? And that's what led me to realize that I live not far from a VRE station."  
On the flip side, VRE offering free rides encouraged D.C. resident Alex to travel to Virginia.  
"Going down to spend money in Virginia because the VRE is giving me a free ride!" DC resident Alex posted in a tweet on Sept. 8th.
The free rides are not the only thing to attract new rides to the VRE. 
VRE is great, Cannella said while standing on the Metro platform at Crystal City. "I feel like the VRE is a lot nicer."   
VRE saw its daily ridership go from 5,000-5,500 in August to around 6,000-8,000 and sometimes even more in September, according to Clarkson.  The rail line doesn't know the exact number of people that get on at the Alexandria and Crystal City station since it's not required to report those numbers to the National Transit Database, according to Clarkson.   
"Anecdotally, we have seen very full platforms at Alexandria," Clarkson said. "We've seen an increase in ridership at Crystal City, but they are not reflected in those numbers." 
Metro's Ly did not comment on how Metro's daily ridership in the National Landing area is impacted by the closure, but she did say those still choosing to ride Metro can expect "a slightly longer trip."   
Metro also offers free shuttle rides from Crystal City and Pentagon City to the L'Enfant Station in D.C. between rush hour times, which are 6:24 a.m.- 9:12 a.m. and 3:24 p.m.- 7:24 p.m.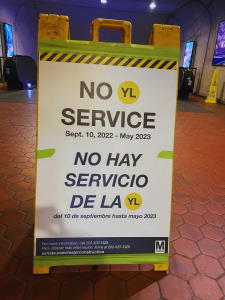 The VRE runs during similar times in Crystal City and Alexandria, as the VRE does not run between 10 a.m.- 12 p.m. and after 8 p.m. 
The Blue Line will continue to only go out to Ronald Reagan National Airport until Nov. 5th. In the meantime, buses will continue to replace the train from Ronald Reagan-Huntington during Metro rail hours, with bus pick-up starting at the Crystal City Station. 
Last month, freight rail unions threatened to strike but reached a tentative agreement on Sept. 16th.  
If union members don't ratify the agreement by Oct. 15th, VRE has the potential to shut down since it runs on track owned by CSX and Norfolk Southern, according to Clarkson.  
Will riders continue to take the VRE when the Yellow line opens back up in May?   
"I will probably switch back to the Yellow," Mandilk said. "The VRE is more convenient, and it's also more expensive."