Election day in Arlington County kicked off on a crisp sunny fall day with over 50 polling locations spread throughout the county.  One particular polling site, Crystal Plaza, had an unusually low turnout, though.  
The traffic outside of Crystal Plaza looked as if it was any other day. There were no lines outside the building that morning, and only one election volunteer was standing outside offering sample ballots to those walking in to vote.   
Crystal Plaza resident Christina C. said she didn't even notice any unusual traffic while walking her dog. She asked that we do not publish her full name.  
Crystal Plaza is the only apartment complex polling site in Crystal City and one of only three in the county.  The other apartment-based polling sites are Bennett Park in Rosslyn and The Bartett in Pentagon City. 
It is not Crystal Plaza's first time hosting a polling site.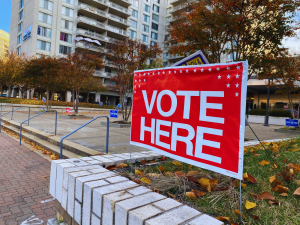 The voting site at Crystal Plaza is also unique because it is only a seven-minute walk from the Crystal Square Five polling site that sits outside the Crystal City Metro Station.  
Crystal City resident Tieranee Stevens, when asked why she chose the Crystal Square Five polling site over the Crystal Plaza location, said it just felt more accessible with it being right by the Metro. 
Stevens said she voted immediately after exiting the Metro Station.
In addition to being further from the Metro, Crystal Plaza sits along a street loaded with construction.  
The apartment complex is located on South Clark Street, a street with a giant hole and vehicles and supplies for the construction of a new apartment complex nearby. The construction also means the apartment complex has one entrance closed off.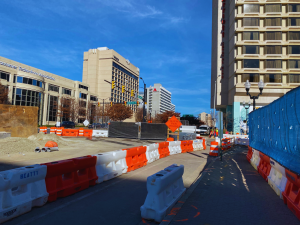 Crystal City resident Junkwi Keng had issues finding his way out due to all of this construction. 
Keng, who arrived at 7:45 a.m. to vote, was left outside after voting, waiting several minutes for an Uber driver to tell him the street was shut off. Keng walked to the nearby Marriott Hotel in order to access the Uber.  
The street was not in fact closed off, but those unfamiliar with the area could find it very confusing.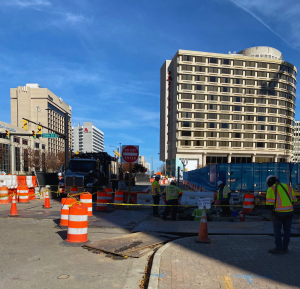 "I wish they could have offered voting at a nearby library instead," Keng said, not knowing about the Crystal Square Five polling site. 
As a result of all these factors during the morning, a lot more voters were present at the Crystal Square Five polling site compared to Crystal Plaza. 
Residents of Crystal Plaza saw no issue with their apartment complex being a polling site for the day.  
"I think it's pretty clutch," Christina C. said.  
Christina and many other Crystal Plaza residents were able to vote at the convenience of their own building then head to work immediately following.  
Christina said two weeks prior to election day, people were outside of Crystal Plaza advertising the election as well as registering residents to vote.   
Both polling sites will stay open until 6 p.m. and the latest reporting was done at 1:30 p.m.  
Crystal Plaza management declined to comment.