Dupont Circle residents Daniel Low and his wife Meiling Chen prepared to visit the neighborhood's sprawling farmers market in the early hours of Sept. 12, eager to beat the throngs of crowds in search of fresh produce.
When they stepped outside, the couple noticed a package sitting on their doorstep— the box ripped into pieces and all of its contents removed.
"The package that was stolen was delivered about a half-hour before we went to the market," said Low. "In the past, the delivery man had usually rung the doorbell when he delivered packages, but he stopped doing that, so sometimes there are packages out there that we don't know about."
When Low began to review footage captured by his Nest doorbell camera, he was able to catch a glimpse of the person that made off with one of the newly married couple's wedding gifts, but the description of the thief wasn't the only thing Low gleaned from the camera.
It turns out, video footage captured the couple falling victim to three different porch pirates in a matter of weeks.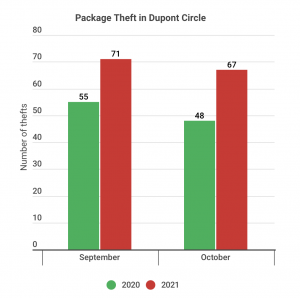 The Wash conducted an investigation into package thefts in Dupont Circle neighborhood using data from Open Source DC, and found that thefts are up by more than 40% in the area compared to the fall of 2020. The Metropolitan Police Department expects these numbers to continue to rise as the neighborhood enters the holiday season, leaving residents seeking a solution to the nation-wide issue.
'The best time to be a crook'
Houses jam-packed with glittering gifts. Mailboxes stuffed with holiday cards. Porches cluttered with last-minute presents. Americans send more packages between Thanksgiving and New Year's Day than any other time of the year, and more deliveries mean more opportunities for mail theft.
"Everyone's walking around with their face covered up; this is like the best time to be a crook," said Lt. Farid Fawzi, who patrols the Dupont Circle neighborhood for the MPD. "Guys put the mask on and pull a hoodie up and suddenly now we see are just a set of eyes like in the movies."
Shoppers became more vulnerable to mail theft when millions turned to the digital marketplace to purchase goods and gifts at the start of the pandemic, which resulted in more than 5.5 million Americans falling victim to mail theft during 2020's holiday season alone.
Now, a year later, the threat of another stolen holiday season for Dupont Circle residents could be costly.
While some online retailers offer reimbursements for customers whose items are stolen, many are left to recoup the cost of the items themselves. One Dupont Circle resident reported having $1000 worth of goods stolen from packages in her apartment's lobby in Oct., and has received just $200 in refunds.
Companies today typically offer tracking information for shipped goods that alert customers when their items have been delivered, but Fawzi said that sometimes, porch pirates are one step ahead of residents.
"[Thieves] watch the delivery driver exit their trucks, walk up to the house, throw an item down, jump in their truck and take off," said Fawzi. "By the time you get that notification, somebody has already picked your package up."
Low said that after falling victim to package theft on multiple occasions, he no longer has items sent to his home. Instead, he has packages delivered to his nearby office, which monitors incoming mail and requires a signature to retrieve items.
Fawzi urged other Dupont residents to do the same.
"You have to use common sense, and you should exercise the same amount of caution you would if you were leaving a gold brick on the seat of your car," said Fawzi. "No matter how valuable the package is… the criminal just sees a box that could be potentially filled with something."
Although CNBC reported that online retailers pocketed more than $8.9 billion in sales on Black Friday this year alone, the holidays can drive some Americans to take desperate measures to stay afloat.
"When some people see a package, to them, it's solving a problem," said Patrice Webb, who lives at the intersection of North Dupont and U Street. "It might be monetary, it could be psychological."
Since Webb purchased her home in the neighborhood in 2011, she has spoken to a number of neighbors about the issue of mail theft— something she's witnessed firsthand on numerous occasions.
She found many of the porch pirates targeting houses on the block were a part of the community and lived in low-income housing units in the neighborhood. Oftentimes these residents lack resources, Webb said, which keeps them in the cycle of poverty and drives them to commit crime.
"We don't have appropriate affordable housing and we don't educate well," said Webb. "So here we are in 2021 living in these affluent neighborhoods, going out to dinner, online shopping… but those in need are invisible."
Researchers attribute high rates of package theft in the area to its compact density and its residents' clashing income demographics, and a new study using crime data from the FBI found that those living in the nation's capital are the most vulnerable demographic in the country to be targeted by porch pirates.
Dupont resident Ivor Gullivor, who has lived in the neighborhood for more than a decade, said buildings without concierge desks are more vulnerable to package theft, as there is no one to oversee incoming deliveries and those who enter the building.
After a slew of package thefts at his apartment complex, Gullivor, who at the time sat on the apartment's board, was in search of a cost-effective solution to the problem.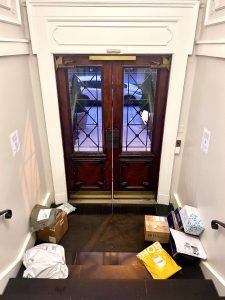 "A lot of these buildings have glass front doors," said Gullivor, which allows porch pirates on the prowl to see packages sitting unwatched inside the building. "People will ring the doorbell impersonating an Amazon delivery man or follow someone inside the building and begin to slash packages open."
When Gullivor's apartment complex swapped its door to one with frosted glass, he said the problem ceased almost immediately. It's been almost two years since the change, and Gullivor said the building hasn't had a reported theft since.
The solution to the package theft problem must be a multipronged approach, according to Dupont residents, who say making simple changes to safeguard deliveries is just one step toward preventing stolen mail.
"I love my neighborhood, and [package theft] is a stressor for sure," said Webb. "But at the same time, until our society fixes our s—-, frankly, it's par for the course."