Travis Elliott stood on his front stoop and watched concernedly as a crew of firefighters crawled up a ladder to the roof of his next-door neighbor's three-story house.
"We thought our house was going to go on fire and we had to get out," Elliott said.
Elliott had been in his living room shortly after 1 p.m. on Friday when he noticed smoke emanating through the walls of his house. He quickly dialed 911 and then ran outside into the cold November air. When he looked up, he was startled to find smoke pluming out of his neighbor's windows and roof. 
The fire broke out at 2016 First Street NW in the Bloomingdale neighborhood and quickly spread throughout the structure. The house is just one of many in a row of dwellings that line the street. However, due to a prompt response from the fire department, the fire did not spread to the other houses within the row.
"We had a lot of smoke," said Elliott. "But we don't know what the damage is yet, so we're going to wait and see."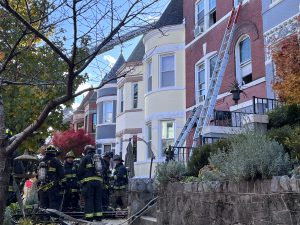 The entire 2000 block of First Street NW was closed to traffic as droves of firefighters swarmed the area and numerous fire and EMS trucks flanked the street.
DC Fire and EMS Public Information Officer Vito Maggiolo was proud of the department's quick response. He said the department received a phone call at 1:19 p.m for a report of a structure fire. Smoke was billowing out of the building when the department first arrived. A team of firefighters attached hoses to hydrants and extended ladders to the building's second and third floors. A department lift carried a firefighter to the roof.  Windows were smashed on the third floor to accommodate the hoses as firefighters worked swiftly to extinguish the fire within.
"We found fire in the walls between the second and third floors, so we engaged in what we call an interior attack, where we go inside and attack the fire from the inside, opening the walls and ceilings, exposing and extinguishing the hidden fire," Maggiolo said. 
The department successfully executed a working fire dispatch, which included 12 pieces of equipment and 60 firefighters.
No injuries occurred as a result of the fire, but six adults have been displaced. Maggiolo said the displaced persons are being assisted by the American Red Cross and the District of Coliumbia Department of Homeland Security. 
The cause of the fire has yet to be determined, but Maggiolo said a thorough investigation is currently underway. 
Update Working Fire 2000 block 1st NW. #DCsBravest located fire in walls 2nd & 3rd floor 3 story occupied row house. All visible fire extinguished. Opening up & checking for hotspots. No injuries reported. pic.twitter.com/vNHnLG7Fli

— DC Fire and EMS (@dcfireems) November 26, 2021
Just down the street, Bloomingdale resident Daniel Donavan was pacing in front of his apartment building located on First and U Street NW. He hoped to get into his car and leave, but the barricade of fire trucks blocked him in.
"I just have no idea why they need this many trucks," Donovan said. "My car is like, right there, and there's no shot I can move it even an inch."
Donovan was preparing to leave his first-floor apartment when he noticed the massive number of fire trucks driving down the street. 
"I had the door open actually, just trying to get fresh air and saw the lights. I didn't think much of it, but then I did smell a hint of smoke and that's when I came out and all the trucks were here,"  Donovan said.
Donovan said the neighborhood had seen its fair share of ambulance activity in the past, but he has never seen this level of fire and EMS response before. He was pleased to learn that none of his neighbors had been injured as a result of the fire.