Researchers have developed a tiny pacemaker that can thread through an artery and into a baby's heart, avoiding a painful and complex open-heart surgery. They have also improved a technique to destroy painful bone tumors in kids without radiation or an incision. A new research institute and outpatient center for kids with rare pediatric diseases is set to open next year.
All of this progress happened in the heart of D.C., but it was funded in large part by a government in the Middle East.
The Children's National Medical Center, a leading pediatric hospital headquartered near the Columbia Heights neighborhood, has received more than $180 million from the United Arab Emirates and its ambassador, Yousef Al Otaiba, over the past decade, according to the hospital.
The latest pledge of $30 million this year is set to revamp a part of the former Walter Reed Medical Center, into a cutting-edge pediatric research institute. Plans for the 12-acre lot, located in Bethesda, Maryland, include a new research lab and an outpatient center for children with rare genetic and metabolic diseases.
But it comes in a context of greater scrutiny towards charitable donations in general and towards the United Arab Emirates in particular, as lawmakers in Congress have increasingly called for an end to a Saudi-led military campaign in Yemen that was backed by the UAE. A U.N. report last year found that Saudi Arabia and the United Arab Emirates had committed war crimes, including the bombing of medical centers in Yemen.
The oil rich gulf nation — with a population less than Michigan – is the 6th biggest spender on foreign lobbying, according to the transparency organization, Open Secrets, but this tally doesn't count donations to think tanks or charities, which don't have to register as foreign agents.
Experts say that these gifts are often just as much about exerting influence as the lobbying.
"When you give a lot of money to a giant hospital, you get invited to the board dinners, the wine tastings," said Daniel Schuman, the policy director for Demand Progress, a government reform advocacy organization. "You network with the people who are well networked."
Ben Freeman, the Director of the Foreign Influence Transparency Initiative at the Center for International Policy, said that he didn't see anything wrong with donating to a hospital but that it was a way of exerting soft power. He called the UAE "one of the savviest" foreign governments in terms of its outreach in the United States. "It's not just about lobbyists. They know it's very beneficial to your cause if you make these charitable commitments," he said.
It's this savvy that may have helped the UAE keep its insider status, even after several legal firms, academic institutions, and think tanks dropped accounts with Saudi Arabia in the wake of the Khashoggi murder, according to a report by the Center for International Policy. In fact, Otaiba has cultivated a close relationship with the Trump administration through the president's son-in-law Jared Kushner.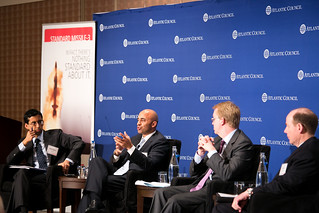 The UAE Embassy did not respond to a request for comment before publication. Otaiba told the Washington Post in April that the donation to the hospital was not motivated by tactical political reasons.
But hospital fundraising has put the UAE ambassador in contact with some of the biggest movers and shakers in the city.
In 2014 Ambassador Otaiba and his wife, Abeer Al Otaiba, a trained civil engineer who directs a high-end fashion-line, raised nearly $10 million hosting the annual fundraising gala for the children's hospital alongside Brett Baier, Fox News's chief political anchor. Lawmakers and think tank heads also attend the annual galas.
The Otaibas have a personal connection at the hospital as well. Their infant daughter underwent lung surgery in 2013. (At that time, the UAE had already directed $150 million to the hospital).
The donation to the hospital may also be part of a broader plan to build links between U.S. hospitals and the gulf state to improve care for Emirati citizens. The UAE has signed agreements with at least seven hospitals to ensure that Emirati citizens receive quick care with the help of translators, according to a press release from the UAE embassy. More than 100 Emirati patients receive care at Children's National every year, largely paid for by the government.
Many U.S. hospitals, for their part, have begun aggressively recruiting international patients, who are often willing to pay full price, and some, such as the Cleveland Clinic, have even opened up branches in the UAE, which is rapidly becoming a destination for medical tourism of its own and has identified healthcare services as a key element in diversifying it economy.
So far, hospitals have not received much pushback for accepting donations from foreign governments.
Recent scandals over charitable donations have tended to focus on particular individuals, like Jeffrey Epstein, a convicted pedophile who committed suicide in a New York prison in August, and serial rapist Harvey Weinstein.
When criticism has touched on foreign governments, Saudi Arabia, has been the main target. In the wake of the murder of Jamal Khashoggi, the Bill & Melinda Gates Foundation cut ties with a charity chaired by the Saudi crown prince, and New York art museums said that they would not use money from the Saudi prince's foundation for a programs on Middle Eastern art.
But it can be challenging to figure out what to do with government money. Many governments around the world have some policies that could contradict with the reported aims of their foreign charity. Doctors Without Borders has rejected funding in the past from the European Union over their asylum policy, for example.
Ethicists say that one test of whether to accept potentially controversial charity donations has to do with how close they are to the programmatic work, and concern from open government advocates in D.C. has tended to focus on donations to think tanks rather than donations to hospitals or disaster relief.
Schuman argues that it makes a difference whether the aid comes from a pluralistic democracy—where power is more diffuse and there may be some distance between the aid agency and the national leadership—versus a monarchy or oligarchy with almost "no difference between the country and its rulers."
"I guess you have to do a moral calculus: how many people burned to death is worth a new burn unit," said Schuman, who argued that it would be better to live in a system where hospitals and universities are funded by the public system, not wealthy donors or foreign governments. "How much can you buy expiation for their sins?"