Emily Thomas, like many of her neighbors, walks her kids to school each day along Lincoln Road Northeast in Eckington. 
But what should be a pleasant — and safe — walk to school often leaves her feeling anxious all because of dangerous intersections and speeding cars along the residential road.  
The mile-long stretch is dotted with five schools and a host of playgrounds and recreation centers. Thomas and some of her neighbors have complained about the stretch of road for years. But after so much inaction — from city agencies, countless studies and slow-moving bureaucracy — they've decided to take action on their own. 
 "With the recent tragedies around the city with young children being struck by vehicles, the urgency has become so much more apparent and we've really stepped up our efforts," she said. 
Last month, Thomas and other Eckington residents banded together to form The Lincoln Road NE Pedestrian Safety Project to improve safety in the area. The safety project aims to make Lincoln a less dangerous thoroughfare by creating cost-effective solutions. Thomas said implementing all-way stops and raised crosswalks would alleviate some of the danger for pedestrians. Though Lincoln is the project's main priority, Thomas said fixing intersections along North Capitol Street is also necessary. 
Lincoln residents say road safety has been an issue for a long time 
Pedestrian accidents aren't new along Lincoln. 
According to Vision Zero data, there have been seven car crashes on the road since January. One of the crashes included a pedestrian just last month. 
Thomas said at a recent community meeting, one neighbor said her mother was struck by a car on Lincoln years ago. 
"Making our streets safer for all of us while we walk around and enjoy the city just makes good sense to everyone," Thomas said. 
Proponents of the new project say excessive speeding, blind spots and inconsistent traffic patterns in major intersections are the main issues. Last week, the project sent over 90 individual requests to DDOT and ANC 5E members for raised crosswalks, all-way stop signs and other safety measures. 
Thomas said many drivers use Lincoln Road NE as a shortcut to avoid the intersection of North Capitol Street and Rhode Island Avenue. She said Lincoln's wide roadway design allows cars to speed through neighborhoods, putting pedestrians at risk.
"And while most of us are mainly pedestrians, we are drivers too. We want drivers to be safe and we want to be safe while we are driving our families around our neighborhoods too," she said. 
Over 1,800 students commute to the schools on and adjacent to Lincoln each day. When kids are in the area, the speed limit on Lincoln is 15 mph. But the project hosted a community walkthrough last week, and cars were clocked going well over the speed limit, even with kids around.
30 mph on Lincoln rd. In theory it's posted for 15 mph when kids are present (and they were). pic.twitter.com/rWRf5zHM9S

— Fix Dave Thomas Circle (@FixCircle) November 1, 2021
DDOT has mentioned Lincoln Road in MoveDC, a long-range transportation plan in the city. But Thomas and other project members fear the safety issues on Lincoln won't be resolved for years. 
"If DDOT would make this their first priority and actually follow through on it, that would go a long way to making us safer and restoring community trust in the department," Thomas said.
The project's emergency plan includes adding two radar speed displays on Lincoln, trimming or cutting down foliage and adding crossing guards during school commuting hours. For main intersections like where Lincoln Road crosses Rhode Island Avenue Northeast, the plan suggests adding speed cameras and raised, brightly painted crosswalks.
"These roads are designed to get traffic moving as quickly as possible through our neighborhoods, with little or no regard for pedestrians," Thomas said.
Danger for North Capitol Street pedestrians and drivers
Like Lincoln Road Northeast, North Capitol Street runs through Eckington. The street has been a hotspot for accidents — from fender benders to fatal wrecks. Since 2017, eight people have been killed in car accidents in the Eckington and Bloomingdale area of the corridor, including five pedestrians. 
@capthegap_DC Another in a long list of reasons why this project is imperative for the safety and reunification of our neighborhoods https://t.co/5kab6FfaKW

— Joseph Smallwood (@j_smallwood) August 16, 2021
Although countless studies have already been done on North Capitol, D.C. Mayor Muriel Bowser recently approved another $1 million study on North Capitol Street to make it a safer thoroughfare. 
The new study will test the feasibility of the North Capitol Street Deck Over Project, a plan that focuses on leveling the highway underpasses and transforming them into a green space. The project would fill in the underpasses of North Capitol between V Street and Seaton Place. 
Proponents of the project like the Bloomingdale Civic Association support the project, as it would reconnect neighborhoods like Bloomingdale, Eckington, Truxton Circle and Edgewood, since North Capitol divides them. Though the underpass would be filled in, drivers will still be able to drive along at-grade lanes along North Capitol 
In an August press release, Ward 5 Councilmember Kenyan McDuffie said he requested and received $1 million for the study in the 2022 fiscal year budget.
"This analysis will help determine the best way to connect Ward 5 neighborhoods, address traffic and safety concerns and improve the quality of life for residents," he said. 
Eckington Civic Association President Connor Shaw and Ward 5 activist Nick Sementelli have a different vision for North Capitol Street. They are advocating instead to bring the entire corridor up to street level, filling in all the underpasses which would reduce speed and traffic. Filling in the underpasses would also restore east-west access along the corridor. Their plan also prioritizes pedestrian accessibility and dedicated bus lanes. 
Shaw and Sementelli said the deck over project's vision for a park is too narrow of a plan for the corridor and limits options for the future. The deck over would only cover a block of North Capitol, while Shaw and Sementelli's idea covers the entire North Capitol Street corridor.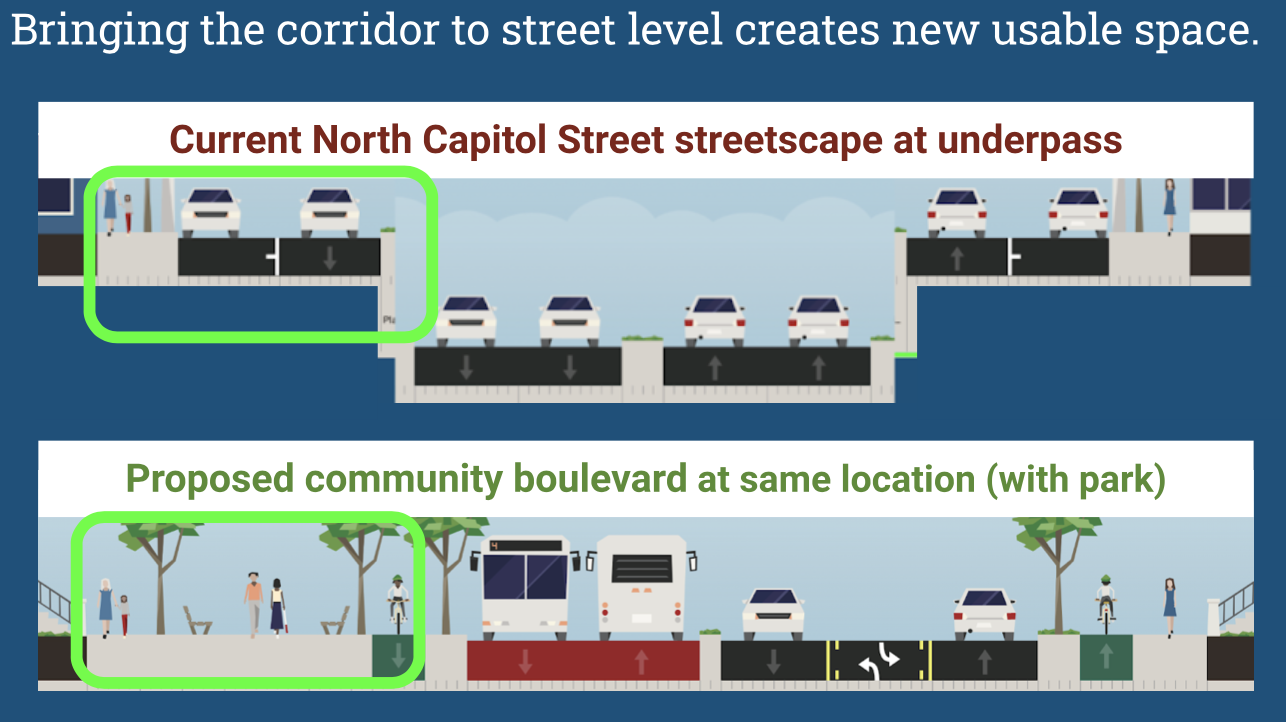 "I've been in and around that street for a very long time," Sementelli said. "I had always been aware of the incredible danger of the street, certainly hearing cars speeding through the underpasses there, seeing wrecks and crashes on the regular."
Sementelli took interest in the efforts to make North Capitol Street less dangerous when he and a few neighbors dug up previous studies done on the street. He said the studies never came to anything. Sementelli said DDOT and the NoMa BID outlined nearly 60 recommendations in a 2019 study that would make the street safer. He noticed only around 12 of the recommendations had been done, nearly a year after the NoMa BID and DDOT study came out. 
Both Sementelli and Shaw said the current highway-like design of North Capitol is responsible for high speed and accidents.
"Our focus is turning this street from what is and is intended to be a highway for commuters," Shaw said. We want to turn it into a street that serves the neighbors that live here, has slower speeds, and has more sidewalk space."
Both the deck over and community boulevard projects seek to ameliorate the danger of North Capitol's intersections and underpasses. But Sementelli is confident in his proposal.
"We're going to have this once in a generation opportunity to transform North Capitol Street and really look holistically at how to improve safety and how we can deliver a more sustainable future for residents," he said. 
For Thomas, she wants to see continued support for neighborhood safety. 
"We have grandparents who want their grandkids safe when they visit, and our neighbors who aren't parents want their friends, families and neighbors safe too," she said. "We've had nothing but support from all of our neighbors."