Population growth in the District's Ward 6 has made it the epicenter of what could be a political fight over voting boundaries. D.C. Council members are working to redraw the lines of Ward 6 which could also affect bordering Wards 7 and 8.
Redrawing voting boundaries, or redistricting, is done to redistribute populations for equal representation. This is required by federal law after the release of the latest census every 10 years. However, this often has a negative impact on communities because it changes which representatives residents vote for, making some people concerned about the new boundaries.
"My community is really on the chopping block," Sondra Phillips-Gilbert, a nine-year resident and homeowner in Ward 6 and also an ANC commissioner. She told The Wash she's passionate about the potential changes to her neighborhood. "I gotta fight to stay and keep my community in Ward 6."
The Census data showed a total population of 689,545 in April 2020, an 88,000 person increase over the last 10 years in D.C. The census reported that Ward 6, which includes parts of the Capitol Hill, Navy Yard, and NoMa neighborhoods, accounted for nearly a third of the city's growth.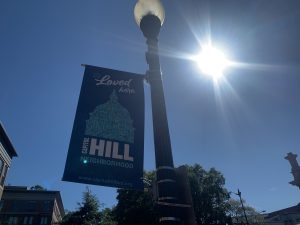 "Our population has exploded over the past decade as more people recognize D.C. as one of the hottest places in the nation," Mayor Muriel Bowser said in a released statement. "People know that D.C. is a welcoming and diverse hub of opportunity – a place that has something for everyone."
The City Council's Redistricting Subcommittee, consisting of at-large Councilmembers Elissa Silverman, Christina Henderson and Anita Bonds, will be the ones to make recommendations on new ward lines. These recommendations will also include how Advisory Neighborhood Commissions (ANCs) are represented.
"Redistricting is a legally required process and the essence of that legal requirement is to balance the population," Will Singer, legislative director at the office of Council member Elissa Silverman said. "This is just about the political boundaries that make up the wards."
With the 2022 election cycle around the corner, some residents have raised concerns about what this means when voting for council members or ANC representatives. Amanda Farnan, communications director for Council member Christina Henderson, said that all redistricting will be finalized before the June 2022 primary elections.
"There is one main idea of not diluting the voting power of any board, so that will be kept in mind, no matter what redrawing habits," Farnan said. "When folks go to vote in their June primary, they will be voting for the council member who represents them, even if they have changed boards or anything like that."
Phillips-Gilbert is concerned how redistricting will affect her underserved neighborhoods. She says the city council is going to take what she calls, "the easy fix" and cut communities into to the "haves" and "have nots."
"I want to make sure we are fairly represented; that the council doesn't use an easy fix, cut us and put us in Ward 7 on top of another underserved community," Phillips-Gilbert said.
Phillips-Gilbert says she has seen the political "games" that are played when it comes to redistricting during her time as a commissioner.
"I want the politicians to be responsible and help the people that really need the help and I just have not witnessed much of that in all of my nine years as an ANC Commissioner and a homeowner," Phillips-Gilbert said. "I am hoping to turn this around and again out of all the commissioners I am the one Black person, I represent a small community and I do not want to see us move towards [ward] 7, but to remain with those who have the influence who can help us improve our lives here."
Phillips-Gilbert is testifying on Wednesday in front of the subcommittee to speak on behalf of Ward 6.
Singer says that the council members know not everyone will be happy with redistricting, but their goal is to remain transparent and make sure everyone's voices are heard.
"Councilmember Silverman wants to make sure that residents know that redistricting is happening, why we are doing it and what the goals are so people aren't surprised and wake up one day in a different ward than they were before," Singer said. "I understand people having an emotional connection to their ward, but at the end of the day, there are elected officials whose job is to listen to you, and that is going to be the case before and after redistricting."
The decision on where precisely the lines are being redrawn is still in the works, but residents of the area can utilize a mapping tool created by the subcommittee office to provide their input on how they think their wards should look. Members of the public can also sign up for redistricting training.
"I think, you know, we are all neighbors in the district, so no matter if you are in Ward 6, 7 or 8, Ward 5 or even 3, just because your ward changes, doesn't mean your community changes," Farnan said.
From now until May 2022, the sub-committee will host task force meetings, public boundary hearings and draft the ward redistricting bill for a final vote in June 2022, making the new ward redistricting lines official if passed.
"The folks who want to get involved and who want to have their voices heard, they have the opportunity to and at the end of the day, we want to make sure everyone has continuous ward lines, but also feels proud of where they are living in D.C.," Farnan said.