The Capitol City Circus School held its final performance of the show "Monster Mash" this past Saturday evening—a Halloween-themed ensemble involving colorful costumes and a spooky soundtrack.
The Capitol City Circus School teaches a variety of aerial arts, trapeze and acrobatics, with its performances usually showcasing its students' skills. The Monster Mash show, however, consisted entirely of school staff.
Lindsay Schukosky, a coach at the school and performer at Monster Mash, said the show was the first of its kind.
"This is our very first staff show. A lot of our shows have students, which is fun, but this one was just all staff," she said.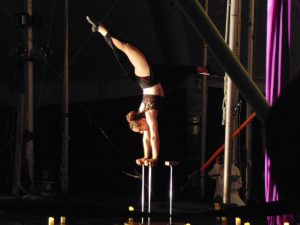 The Monster Mash show involved a series of performances, each with their own monster theme, costuming and form of acrobatics. The performers stepped into the roles of mummies, vampires, witches and skeletons.
The Capitol City Circus School holds classes for children and adults, and accepts people of all experience levels. It also offers workshops for large groups and parties.
Schukosky said she has worked with the school for four years now, and that she has enjoyed every minute.
"I'm one of the newer people, and I'm a mom," she said. "I just started and it's just amazing. I love it here. I love it, they've trained me to do so many things. I get to coach and perform and play with friends. It's so fun."
Schukosky said the school was open to anyone who was interested in learning and highly recommended that new people join.
"I was a gymnast in college, and then I took 15 years off to be a mom and do all that stuff, and then I decided to get back into it. I just started over, and it was so wonderful," she said. "Bring friends, anyone can do it, all levels. Anyone is welcome, and we support everyone. We'll help you, and it's a wonderful community to be a part of."
Audience members reacted to the performances with great enthusiasm, with one person comparing the performances to a much more famous production.
"We were at Cirque de Soleil last Friday. We came [to Monster Mash] this week and it was definitely just as exciting," said Chris Parkison. "The amount of athleticism and artistry was really amazing. I was just really impressed with what they were able to do."
"I thought the show was great. It seems like a lot of the performers had a lot of excellent athleticism and really showcased their character and artistry. It was well done," said another audience member, Morgan Bailey.
Schukosky said that anyone who missed the Monster Mash performance this weekend can attend the Circus School's student show tonight or Thursday.