Ethan "Stratus" Yankel, a professional video game player on the Washington Justice, DC's Overwatch League (OWL) team, described how even though he couldn't "hear" the home crowd through the soundproof headset he wears on stage when he plays, he could certainly "feel" them.
"The only thing that you'll feel is the rumbling. When they start to go crazy, your desk starts to rumble a little bit, and you're like 'Oh, no!'," Yankel said jokingly.
Yankel said that despite the muted sound, the energy of the crowd still affected his play.
"You get hyped when they get hyped. It's a huge mood swing. The mood swings with you," Yankel said.
The crowd was a key experience for the Washington Justice's inaugural homestand, where one team hosts several others at a venue over the course of a weekend. Teams are featured from locations such as Paris, London, and New York. The idea of the homestand is to help fashion a city-wide identity for each team in their respective home areas.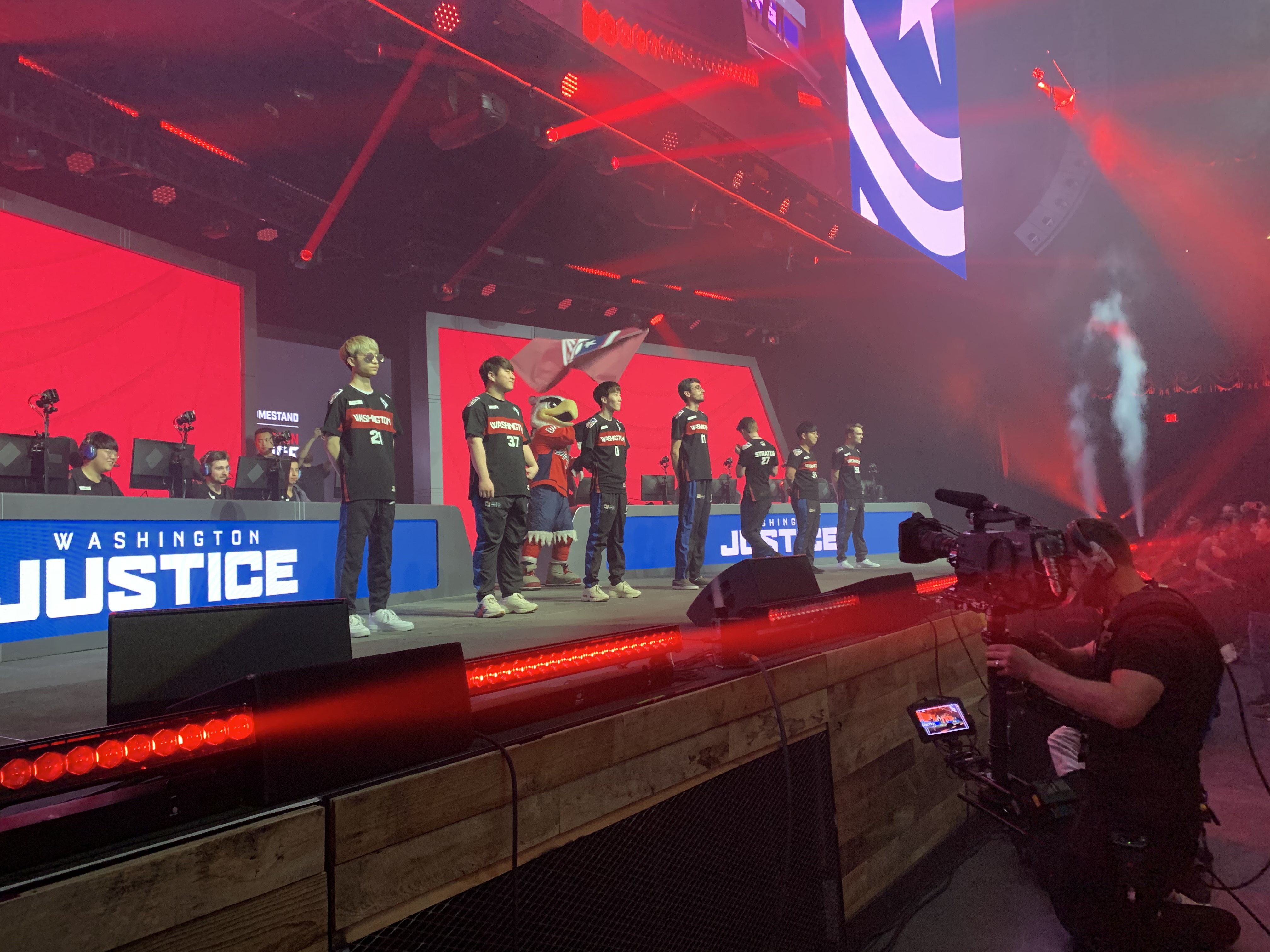 There were dance contests, giant beach balls, and even a fan who proposed to his girlfriend at the event.
The Justice play Overwatch, a team shooter game that has six players on each team take advantage of characters with unique abilities to capture objectives in a variety of game modes.
Jack Fagan, a fan who played the beta version of Overwatch before its official release, was struck by the energy in the venue and said it was "insane."
"It feels as if I'm at a concert, which is just such an amazing thing to think of a bunch of people playing video games can be such a high level of entertainment," Fagan said.
Pulled from traditional sports, this is the first year that the Overwatch League has used this homestand system. Previous homestands have been hosted in New York City, Dallas, and Philadelphia.
The City-Based Model
Mark Ein, founder and majority owner of the Justice, heavily emphasized how important these homestands were for growing the esport and appealing to both new and old fans, as well as to the OWL in general.
"The reason I was drawn to Overwatch as sort of our first anchor investment in esports is because I believe that the city-based model is the best on-ramp to esports that esports can build because it's a model that traditional sports fans, not just esports fans, understand. So I can tell people that really are new to esports, 'Do you want to come watch Washington kick Paris's butt tonight and cheer for them loudly?' People get that, no matter what," Ein said.
On Saturday, the method seemed to show it was working as throngs of fans booed the Paris Eternal and roared as the Justice took the stage among a sophisticated light show, complete with ribbon dancers who twirled in the air, suspended high above the stage.
Ein took his cue from traditional sports and his experience as owner of the Washington Kastles, the World TeamTennis franchise he founded in 2008. He said that traits like crowd enjoyment and sales were measures of success, but he said that he still wanted to have "something for everyone."
Ein referred to what the best organizations in sports were doing well, along with how he wanted to mimic those strengths.
"They're just making it a world-class entertainment experience, not just a world-class esports experience, and I think the best sports teams and sports events, that's what they do. They make it an experience more than just the sporting event itself," Ein said.
The Washington Justice and the Overwatch League took advantage of the Anthem's high-tech setup, made for concerts and outfitted with a lot of the technology that made running such a high-intensity esport completely possible.
The Justice went whole hog in projecting that "home game" feeling from crowd contests to local advertisements with players. There was even a "founding father" as OWL caster Brennan Hook took to the stage as "Brenjamin Franklin."
The "Actual Sports Vibe"
It was the home game spirit that fans identified when they walked into the venue. Garen Anderson says that Overwatch, for him, is a family event—he, his wife and his two children take time to play together at home. He also went with his family to the 2019 OWL Grand Finals in Philadelphia and was impressed by the way the DC event was translated from such a large scale to a small scale.
"The overall experience is, I didn't think they would be able to take the bigger event where you get 30,000 people showing up and condense it down to six, but they did. Yesterday was amazing," Anderson said Sunday.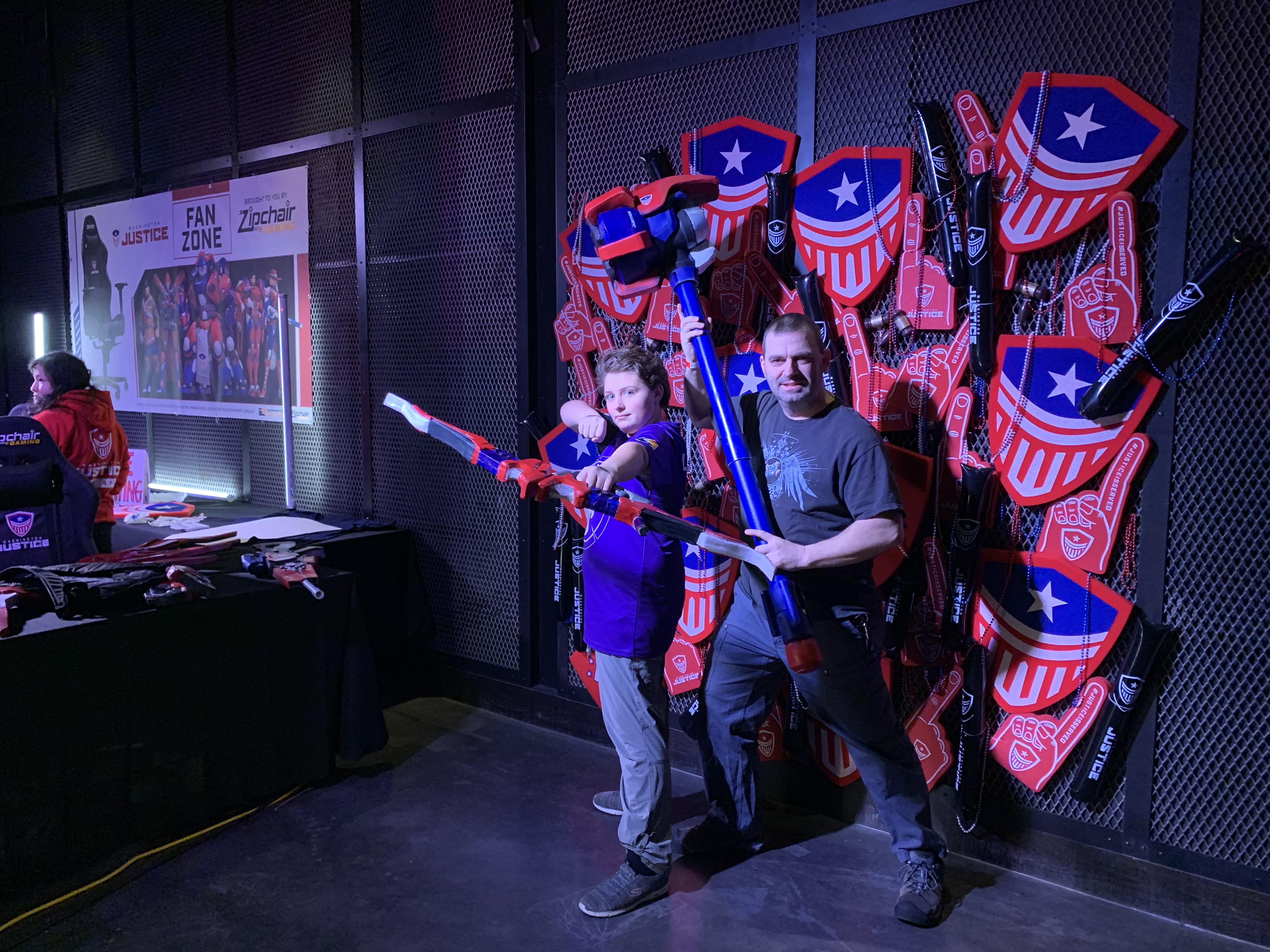 Jon Spivey traveled from Baltimore and participated in one the crowd hype initiatives–he performed the dance of one of the characters in Overwatch, a massive gorilla named Winston, who does the twist.
Spivey says that the experience was a lot of fun, and he's happy with how far esports, in general, have come. He says he's used to going to Ravens games and the excitement there and said it was approaching that "actual sports vibe."
Spivey also noticed that the focus was getting the hype from sporting events, as well as the factor of players being able to interact with their fans.
"That's what I think has been really cool about these homestands, is the teams will be able to interact more with their fans and that gets the audience into it, which just feels more like an actual sport that way," Spivey said.
As the fans grow accustomed to the homestand system, so do the players, who now have to travel not just across the United States but also to other countries later in the season, all the while contending with different home-field advantages.
Daniel "Funnyastro" Hathaway has had the experience of the homestand on both ends as a visitor to Washington and a home team in Philadelphia. He plays for the Philadelphia Fusion, who knocked off the previously unbeaten New York Excelsior in a tough match on Saturday.
"The hype when we're walking out is so important. Before the match, when you get to see the crowd when you're walking on stage, and there are people cheering for you, it does help, for me at least, but once we get into the game, it isn't a massive difference," Hathaway said.
Despite the rush, he still doesn't think he needed the hype on Saturday, as the match against the then-unbeaten Excelsior was enough for him to get hyped on his own.
"I think I played exactly the same. Maybe when there's a smaller crowd and we're playing against a worse team it'll be different, but I'll just have to see," Hathaway said.
The Justice will have four more homestands during the season. The next Justice homestand will be hosted again at The Anthem on Saturday, March 7 and Sunday, March 8.