The Department of Public Works is slacking on their chore list. Advisory Neighborhood Commissioners, along with residents, have taken on the role of nagging parent, repeatedly asking for the same job to get done. Yet, the box next to "street sweep 15th Street NW" remains unchecked.
Lucia Edmonds, a resident on the lane was met with piles of leaves and dirt when she returned home from her two-month vacation a few weeks ago. She revealed that she allowed the mess to remain for a while, while she called in to 3-1-1. Despite calling several times to request that her street be cleaned, no one ever answered. Finally, Edmonds was forced to take matters into her own hands. Going outside herself, she ended up filling an entire large black garbage bag with debris.
Edmonds said that what most confuses her, is that every day, she receives a notification on her phone that DPW is coming to clean her street, yet, no one ever shows. DPW's disregard for 15th Street she said, is causing other people to be less careful about what they throw on the street.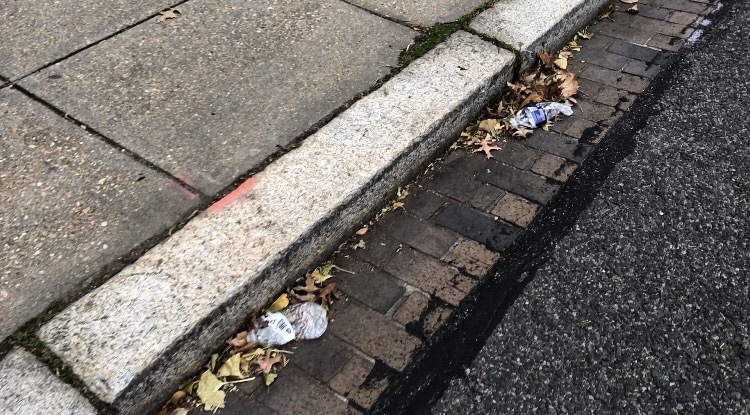 "Today on the sidewalk in front of the house next door to me, was a bag of dog poo. I don't think they would do that if the streets were clean. I think that having dirty streets invites more dirt," she said.
According to Edmonds, the lack of street sweeping is a hazard to older individuals such as herself as the leaves can be deceptive. When stepping down from the sidewalk, she told The Wash that she mentally anticipates it to be so far down, but then ends up stepping much farther down.
Edmonds said that she plans on showing up to an event the mayor is at so that she can bring the issue to her attention since no one seems to be responding. In the meantime she reached out to her neighborhood's ANC for help.
Here's the problem. D.C.'s street sweepers already ended their routes for the winter on October 31, and won't be starting back up again until March. Therefore, the accumulation of debris that was requested by the ANC to be picked up while the sweepers were still operating might be left sitting for another five months.
Commissioner Aaron Landry of Dupont Circle said that along with hearing complaints from residents who live on 15th street, he also hears them from those who live on neighboring streets. But even they aren't the only ones noticing it. Landry said he also reads frustrated tweets from bicyclists. Many felt that the purpose of a bike lane was to keep them safe, but one that was not swept, was doing the exact opposite causing them to lose balance and almost wreck.
After speaking with two contacts from the Department, Landry said he found out that the street wasn't being prioritized due to limited recourses.
Landry revealed that the primary issue lies with how the street is constructed. In addition to having no curb, the parking spots have traffic moving to the right of them and a bike lane to the left. Taking in the size of the machines, the narrowness of the bike lane makes it difficult for street sweepers to clean in between and around vehicles. As a result, DPW has to do it the old-fashioned way manually using rakes and leaf blowers to then haul the litter away in a truck.
As stated by the Environmental Protection Agency, this task, though possibly burdensome for DPW, is essential to reduce runoff. Last year according to DPW, over 4,300 tons of pollution were collected off of D.C. streets. This same pollution EPA said would have ended up in local bodies of water if not swept up.
On its website, EPA states that stormwater runoff is one of the main causes of water pollution. When it rains, the water can't absorb into rooftops or the concrete road. Instead, it flows over these impervious surfaces collecting all the trash as it goes. Never having the chance to filter out the pollutants, the contaminated rainwater streams into storm drains which later transfers to natural bodies of water.
This is why EPA states that late fall sweepings are especially essential before winter rains.
Landry said the ANC continues to push the street maintenance department for solutions. He reminded The Wash that the ANC is simply a neighborhood volunteer body, while DPW on the other hand, are the workers paid with tax money.
DPW confirmed to the ANC that it is aware of the requests to get debris around the 15th Street NW area cleaned up, but has not yet released a timeframe for completion.
Despite D.C.'s street sweeping vehicles going into hibernation for the winter, the city could still clean 15th street with a shovel and broom since it has to be done manually.