The deadline is looming for a group of local activists collecting signatures for their petition to recall Jack Evans, the longtime Ward 2 councilmember who has been enmeshed in a growing ethics scandal since December 2018.
With only a month left, the Committee to Recall Jack Evans has collected 85% of the signatures required by the DC Board of Elections. As of October 10, the Committee had collected 4,270 out of 5,024 needed signatures.
Titled the Ward 2 Citizens Recall, the petition seeks to remove Evans from his position through a special election. In order to accomplish this, the Committee must collect 10% of Ward 2 resident signatures by November 18.
Passionate volunteers have been diligently trying to collect signatures all throughout Ward 2, setting up tables around grocery stores and at the Dupont Circle farmers' market every Sunday.
Kris Furnish is one of those avid volunteers and explained why she got involved with the Committee.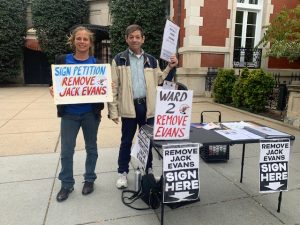 "By doing the petition, it gives the voters a voice, especially in DC where there is taxation without representation. I'm just tired of seeing money run politics, and people get left behind," she said.
Many of the petition signatories echoed Furnish's frustrations and blamed Evans for not hearing them.
"Jack Evans does not listen to the people, he does not hold events, he's not accountable, he's just interested in protecting his developer cronies, he has stayed in the way of affordable housing. With him out of the way, a lot more can get done in the city and make the city work best for everyone," said Chris McCoy, a Ward 2 voter.
Andrea Levy said she signed the petition because of Evans' actions.
"I just don't like the behavior of Jack Evans, plain and simple," she said.
According to the Washington Post, Evans was in hot water for using his political power to lobby for his own consulting firm, NSE Consulting. The DC Board of Ethics and Accountability slapped Evans with a $20,000 fine in August.
"This is an issue fraught with strong feelings on both sides," Denise Snyder, executive president of Foggy Bottom West End Village, wrote in an email to The Wash.
Barbara Kahlow, secretary-treasurer of West End Citizens Association, said that she was not aware of any members that had signed the petition.
"Jack Evans is and has been a wonderful councilmember for the city as a whole and for Ward 2, including Foggy Bottom-West End," Kahlow said.
If the Committee meets their goal, the question will be put on the ballot. If it passes, Evans is at risk of being recalled and removed from the upcoming June primary, where he has at least six challengers.
One of his challengers is Patrick Kennedy, commissioner of Advisory Neighborhood Council 2A. He has been involved with the ANC since his college days at George Washington University over seven years ago.
He said although he has a good working relationship with Evans, the recent scandal has really "jeopardized trust."
"People are ready to move on for something new. Jack is an institution; he's been here for a long time. Even the people who support him want to move on. My hope is that he will not seek re-election," Kennedy said.
The Committee to Hold Jack Evans Accountable, led by Adam Eidinger, filed the recall statement to the DC Board of Elections on April 12.
The DC Board of Elections is an independent agency that is responsible for voter registration, ballot access and administration of elections. The Board issued the official recall petition on May 20.
The Office of Councilmember Jack Evans sent an email to The Wash writing "the councilmember declines to comment and the office is not releasing a statement."