Politics is in Quentin Colón Roosevelt's blood, literally. He isn't just interested in public service; he's the great-great-great-grandson of Theodore Roosevelt, the iconic cartoonish statesman who served as the 26th President of the United States. No wonder he's looking to study public policy in college and has already become involved in electoral politics in Washington, D.C.
At just 18 years old, Colón Roosevelt sits on the hyper-local Advisory Neighborhood Commission 3D03, which covers the Spring Valley region just west of American University. Just like his ancestor — who remains the youngest person in history to assume the presidency at 42 — he made history in November as the youngest elected ANC commissioner in the District's history. 
"I want to be the change I want to see in the world," Colón Roosevelt said. "I think we definitely need more young people involved right now. We have these octogenarians controlling everything; it's unbelievable."
While Colón Roosevelt slightly exaggerates the degree to which elected officials are older than the average person, his characterization of American political society is largely accurate. The average age of a United States senator is 65, while governors are only slightly younger, on average, at 62. In the United States House of Representatives, the average age of members is 58. 
"They're not going to be living for much longer," Colón Roosevelt added of the country's older elected officials. "Unfortunately, we are going to have to deal with the consequences of their actions and inactions."
Colón Roosevelt, and some of his youthful contemporaries, are trying to change that narrative. In fact, Maxwell Frost — who is slated to become the first Gen Z member of Congress when he is sworn in on Jan. 3 — set up a 30-something-person group chat on Twitter called "Gen Z Wave" for up-and-coming young elected officials, including Colón Roosevelt.
"It's a really nice group," Colón Roosevelt said. "Everyone's really nice to each other."
Two municipal sources told The Wash that the D.C. Board of Elections does not keep records of ANC commissioner ages; the Virginia House of Delegates likewise does not require candidates for office to submit their ages since the minimum age for serving in the legislature is 18, which is the voting age. 
In fact, Colón Roosevelt was not even 18 years old when it came time to vote in the 2022 primary elections, but he was permitted to cast a ballot since he would be of voting age by the time the general election rolled around. 
Recently, a member of Foggy Bottom's ANC — a George Washington University student named Margaret McDonald — resigned in August citing academic commitments, according to the commission's chair, Joel Causey. Since she is no longer elected, McDonald could not be contacted for comment. 
In any event, youth is creeping into elected office, whether at the local or state level; alongside Colón Roosevelt, ANC 2E has a college-aged commissioner, so too did ANC 3D, the region containing American University's campus. In legislatures across the country, younger lawmakers — many of whom come from activist and grassroots backgrounds — have assumed elected offices.
This youth is being embraced by some older members of the District's political community, including commissioners in Colón Roosevelt's ward.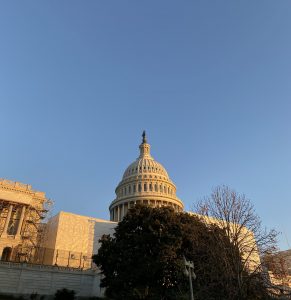 "Young people have an energy and an altruism and an idealism that is vital and needed and hasn't been jaded yet," said Peter Lynch, 37, a Ward 3 commissioner who teaches English at Montgomery Blair High School in Silver Spring, Md. 
Added 76-year-old commissioner Randy Speck of Chevy Chase DC, whose wife taught Lynch when he was kindergarten: "We have a lot of young families, and I just think it would be useful to have that perspective on the commission."
Connie Flanagan, a professor emerita at the University of Wisconsin-Madison who studies youth political participation and civic engagement, said political networks — like the one with Roosevelt and Frost — are key to helping young people get involved and successfully run campaigns. 
"It has to be through networks that they make connections that teach them how to do it and support them in doing it," Flanagan said. "Whether you win or lose, you're learning how the system works."
According to the Institute of Politics at the Harvard Kennedy School, youth voter turnout has been steadily increasing in recent years, with voters aged 18 to 29 generally breaking more for Democrats (55%) than Republicans (38%) in generic polling. Gen Z, which spans birth years from the late-90s to 2010, is expected to become a crucial voting bloc in upcoming elections.