The District Department of Transportation is right in the middle of a multi-million dollar street improvement project along 16th St. aimed at improving bus ridership, on-time reliability and increased pedestrian safety 
The irony of the plan is some community members believe, during the ongoing construction phase, the DDOT is actually making the situation more dangerous. 
According to a DDOT study, the intersection of Pine Street, Sacred Heart Way and 16th Street was designed to allow vehicles to turn right without reducing their speeds. But pedestrians and cyclists crossing Pine Street on the east side of 16th Street face a safety hazard, the study said. 
The DDOT said that a left turn at 16th St. was required to reduce the danger to pedestrians. Review of the study shows that eliminating the left turn risks causing pedestrian casualties. To go through the church drivers have to make a sharp right turn which makes it hard to see people walking. 
Parents are worried about children near the intersection
On Pine St. and Sacred Heart Way there are orange cones lined up by sidewalks as cars drive by. The Sacred Heart church takes over the block with a park attached to it, on the other side of 16th St. is Sacred Heart School on Park Rd. NW.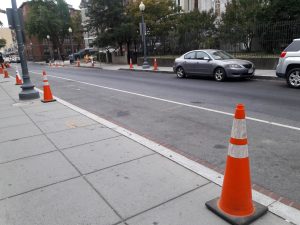 Multiple do not enter signs line the area to ensure that the tight, narrow street is a one way street. However, a sharp turn is permitted onto Sacred Heart Way and Pine St. with parking spots lined up near the church. 
Law enforcement regularly circle the area for parking and speeding violations near the church, the lights flashed as a car went over the 25 mph speed limit.
Many residents have concerns about the traffic that is being generated from this project, increasing the chances of pedestrian fatalities.
Christine Miller attends the Sacred Heart church and is an ANC1 commissioner. The DDOT plans to remove left-turns for northbound traffic on 16th St during rush hour. The change would bring in a lot of traffic near the church's playground; something Miller believes could cause challenges for pedestrians to cross.
The playground was recently fenced off with children playing on the red, blue and yellow slides and playing area. Benches, bicycles and tennis courts also surround the church and playing area. 
"Does it take into account of people who don't pay attention because life gets in the way," Miller said. "We are dealing with directing traffic near a park with children."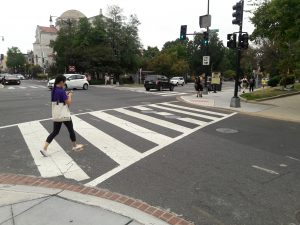 Miller said that the project is directing 50 cars or more to small roads that are already congested which she has recommended against.
"The original plan was to create solutions within that north and south corridor to make it safer for pedestrians," Miller said. "In their effort to fix traffic, they have actually created rather dangerous areas for pedestrians."
This main corridor is set up for heavy traffic but the heavy traffic flow to high density pedestrian areas like 16th causes accidents, Miller said.
"The big concern is are they neglecting the unintended rippling effects in this attempt to accommodation commuters and bus lanes?" Miller said.
Community members demand answers about the bus lane project
According to Miller, this area is a Hispanic populated community and thinks DDOT should accommodate Spanish speakers because they want a more collaborative understanding of what's happening. One example being that Miller thinks the DDOT should provide the information in Spanish.
"When this initially become an issue I tried to work with them, but hoisting this onto the community without issues being addressed is really concerning," Miller said about the DDOT.
Residents around the church are unhappy with the traffic being rerouted through their community and have requested an update on DDOT traffic efforts. A letter written by Miller requests for DDOT to release a traffic study of Park Road NW, detailing the mobility issues between 14th and 16th St. 
The ANC1 has identified issues like traffic backups, lack of mobility, reduced pedestrian safety and increased automobile traffic and would like DDOT to provide substantial solutions.
According to DDOT, 16th St. has over 20,000 riders each day making it the highest region of ridership.
Zach Rybarczyk, transportation commissioner of ANC1, said that pedestrians and cyclists are vulnerable road users that need infrastructure to protect them from larger vehicles.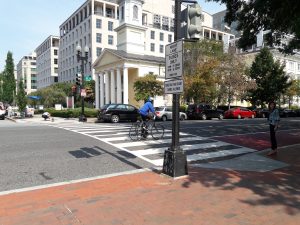 "Safer street design is the best way to achieve protection for pedestrians, along with improved enforcement and education," Rybarczyk said.
According to Rybarczyk, 16th., 14th St. and Georgia Ave., all have extreme bus ridership numbers causing conflicts between vehicles and pedestrians crossing streets.
ANC1 also worries about the high number of senior living facilities and schools in Columbia Heights, as they require extra protection when navigating the streets.
The bus lane project is set to be completed by this year but still needs work done
DDOT implemented a transit priority planning design in 2016 after a year of planning to improve transit travel time and performance but work still needs to be done.
According to design plans DDOT had only completed 30% of the project in 2016. The DDOT projected the completion of the project by the end of this year. 
The Wash tried to get in contact with the DDOT but have yet to get a response. Multiple attempts have been made to speak with their representatives to get comments on the community's concerns.
The Wash would have liked to get information on where the project is now, how the DDOT has responded to the community's concerns and what DDOT is doing to fix these issues.