For many Americans, October means the beginning of the fall, chilly weather, and colorful leaves in their backyards. Nonetheless, the 10th month of the year also signifies another important milestone in American culture: back-to-back NHL and NBA debuts.
On top of the millions  following the two energetic seasons from their living rooms, an average of 1.3 million hockey and basketball fans attended home games last season in Penn Quarter. The Washington Capitals of the NHL and the Washington Wizards of the NBA represent Washington, D.C.; both playing in Capital One Arena. The Capitals' average regular season home attendance surpassed that of the NHL; drawing 2,732 more fans each game while the Wizards of the NBA fell short by 10.5% on average, according to the NHL and ESPN .
Capital One Arena is the district's main entertainment venue; each team hosts 41 home games for regular seasons and other music and sports events. NHL and NBA franchises make over $1.3 million in ticket sales per game on average, according to Team Marketing Report.
It is not only the immense arena that benefits from the support of passionate fans and visitors. Penn Quarter and Chinatown neighborhoods border the arena with their various local restaurants and shops.
The 2022-2023 season brings hope to the neighborhood. The past two and a half seasons have meant confusion, economic loss, and financial hardship as pandemic-related restrictions and closures resulted in empty restaurants on what-would-have-been crowded game days.
Devlin Barry, owner of Eat Brgz on 7th Street, whose Chinatown location started operating in late April, said that he had observed "good times and bad times."
"At the end of last season, it was very busy, so I think it should be fine this season and we should get a nice lift in business," Barry said.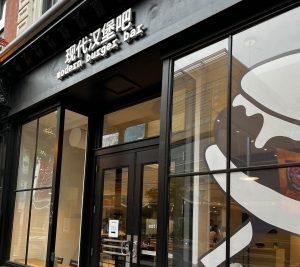 It is difficult to say who makes more profit when the Capitals and the Wizards borrow the arena, but already-high food prices inside the arena lead some fans to look for alternatives in the neighborhood.
Only one block west from the arena, Pizza Pi is a casual pizza restaurant with a bar. Pizza Pi is a unique spot for game goers that want to be close to the arena.
"We are going into the unique time of the year where it is the NBA season and NHL," Pizza Pi general manager Jessica Swann said. "So we get to see fans from both teams which gives a good amount of diversity in our fanbase and our business group."
The 2020 season fell short with only a few regular season games remaining when COVID-19 was declared pandemic. The following shortened season was almost fully played without fans in the arena and the 2022 season attendance numbers still did not reach pre-pandemic level.
The district, along with major cities like New York City and Boston, imposed a vaccine mandate to enter public places such as restaurants and sport events. Mayor Muriel Bowser announced that vaccine and mask requirements would be lifted last February, a policy that could lead more fans to the arena, though D.C. has a high vaccination rate.
"The big hurdle was always the restrictions and the requirements changed pretty quickly and often, which it was just difficult to keep up with," Swann said. "So we took a big hit in the last two years just as everybody else did, but thankfully, we were able to stay open and continue to build back where we were before the pandemic."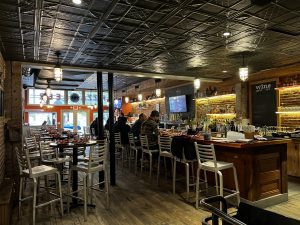 Pandemic restrictions took a significant toll on district businesses. While customer-facing industries recovered quickly as of June 2021, other small business revenues dropped by 57% compared to pre-pandemic levels, according to the D.C. Chamber of Commerce.
"We haven't been able to see a true full Caps game day in a while," Swann said. "But even last season, as the season progressed, we started to see a lot of regulars, more and more people were coming out, more and more people were going to the games."
Local fans and visitors do not face pandemic-related restrictions as the district and the United States no longer observe a vaccine mandate or proof of negative COVID-19 test. Positive Impacts of the removal of restrictions should reflect Penn Quarter businesses.
"Going into 2023, we have high hopes that we are going to get as close back to pre-pandemic volume on those Capital One events as we can," Swann said.