The pandemic has disrupted the academic and social routines of everyone around the country. But mental health clinicians remain committed to helping their clients adjust and adapt to shifting changes caused by COVID-19. Since the start of the pandemic, the Latin American Youth Center (LAYC) in Columbia Heights has noticed an increasing demand for counseling services. 
LAYC is an organization geared toward helping youth transition to adulthood by providing them with a variety of bilingual resources, services and opportunities.
In a recent October update from LAYC on its website, clinicians have provided 1,756 counseling sessions and 683 case management sessions to 274 youth — 109 of whom are newly enrolled.
Before the pandemic, LAYC only recorded the number of youth enrolled in their sessions. 
The Wash spoke to four people associated with LAYC to get a better sense of how young people are adjusting to virtual counseling during the pandemic: two mental health clinicians, a parent of two children participating in counseling as well as a client currently attending virtual counseling sessions during COVID-19.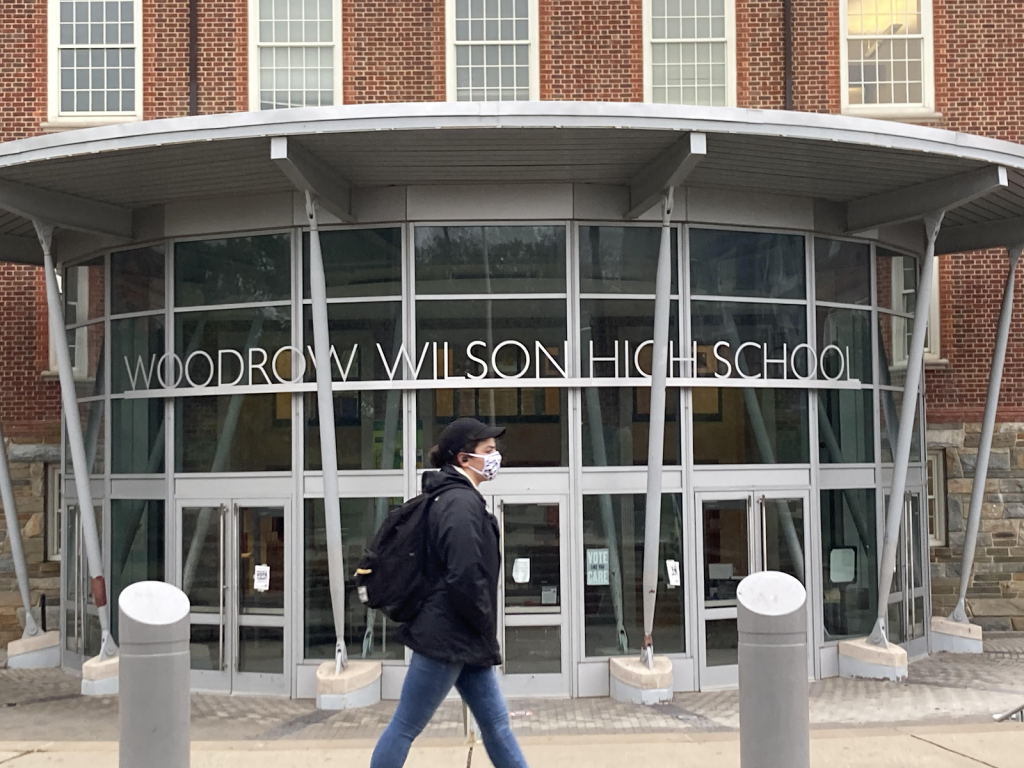 'Accessibility'
Taylor Pinckney is one of the therapists at LAYC. She, along with the other school-based mental health counselors, work in the public school system to provide individual and family services to students and the school community. 
"I'm super happy to know that our numbers went up because people are actually seeking out services during this time of need," Pinckney said. 
Pinckney provides therapeutic services to staff, students and families at Woodrow Wilson High School, a partnership created by LAYC as part of a 2019 initiative. 
At that time, the Department of Behavioral Health (DBH) identified schools in the D.C. area with the highest need for mental health services and partnered with organizations like LAYC to help meet the growing needs of students.
LAYC has partnerships with seven schools in D.C.: Cardozo Education Campus, Woodrow Wilson High School, Anacostia High School, Paul Public Charter School, Ballou High School, Brightwood Education Campus and Kramer Middle School.
Pinckney said she thinks the increase in youth participation is due to the "accessibility" of the services now that telehealth is the only option for clients. 
"Because students and clients don't have to leave their home, it's more accessible to them," Pinckney said. 
Before the pandemic, LAYC was only seeing clients from ages 12-21. But LAYC has since decided to expand their age group, now offering services to youth as young as 6. Youth who are uninsured or covered by medicaid qualify for the mental health services as long as they are D.C. residents. 
'It feels more robotic'
While there are some clients who prefer virtual counseling and have adapted to telehealth services, the transition for others has not been easy. Henry is an 18-year-old college student studying liberal arts. 
The Wash is only reporting first names of clients receiving counseling in order to protect their identities. 
Henry discovered LAYC's counseling services when he was in high school. At the time, he was looking for an outlet to express himself.
"I still get to hear someone's voice, I still get to see someone's face but it doesn't feel real," Henry said about his video sessions. "It feels more robotic." 
Henry said he understands the importance of following social distancing guidelines and wearing masks. But he's struggling with not being able to go out in public and talk to his friends in person. 
"I do feel more lonely."
While he is grateful he can still interact with people virtually, Henry said he misses his in-person counseling and craves the physical experience of sitting down and speaking face-to-face. "It feels more interactive because you get to do things with the person instead of sitting around and staying in one place," he said. 
According to Centers for Disease Control and Prevention, many young adults' social, emotional and mental health has been impacted by the pandemic. The CDC lists changes in routines, breaks in the virtual classroom, missing significant life events and loss of resources as having a tremendous effect on the lives of children and young people. 
Pinckney, the school-based therapist at Woodrow Wilson High school, said there are times when case managers may go out and provide in-person services while also respecting social distancing guidelines. But since most of the counseling sessions are conducted through a video call, counselors are trying to find ways to make sessions more creative and interactive. 
Like Pinckney, Anna D'Avanzo is also a member of the Social Services team at LAYC. D'Avanzo is a bilingual mental health counselor who, before the pandemic, would regularly see clients at the LAYC office in Columbia Heights. 
D'Avanzo agreed with Pinckney that the accessibility of virtual counseling sessions is more appealing to clients. It can be easier for some children to do online counseling sessions from home because parents might not be able to take their children to the appointments. Before the pandemic, D'Avanzo said she observed a higher "no show" rate. 
She has found more ways to keep her clients engaged during virtual sessions through the use of online games like Connect Four, UNO and using visual aides like a "feelings wheel" to help youth communicate their emotions. D'Avanzo had one client make a fidget object to help him concentrate in class.
'An opportunity to connect'
D'Avanzo said the pandemic has affected the coping skills of some of her clients. Many of them are 12 to 16-year-old students stressed from virtual learning and not being able to attend school. Parents have also grown frustrated due to their children not performing well in class.
"They don't have access to their normal coping skills, you know, aren't seeing friends regularly, they don't have the routine of getting up and going to school," D'Avanzo said. "I think there's just a lot of frustration with doing online learning. Just learning in general is more difficult and they are not engaged in their schoolwork."
D'Avanzo's said because many of her clients don't see people during the day, the youth she works with are struggling with loneliness and lack of motivation to participate in normal day-to-day activities. Now that the pandemic has taken away opportunities to play sports or hangout with friends, it's becoming harder for children and young adults to go for a walk or do activities that would normally appeal to them. 
"I think that I'm one of the only people they talk to regularly. So I think it just gives them the opportunity to connect with someone," D'Avanzo said. 
Because of the pandemic, some of D'Avanzo's counseling sessions have been shortened to fit the needs of her clients. A few of her clients who have attention deficit hyperactivity disorder (ADHD), struggle with concentrating during virtual learning and online counseling sessions. 
Unlike Pinckney, who has noticed improvements in her clients, D'Avanzo has not, instead pointing to a slight regression. 
"It's just harder for them to engage in things that were helping them before," D'Avanzo said. 
A parent's perspective
Lisa is a single African-American mother of two girls, Lauren, 16, and Kendall, 13. Both daughters receive counseling sessions from LAYC. 
Lauren has been going to counseling for a few years while Kendall has been going for almost a year. Sometimes Lisa will sit in on the counseling sessions.
At the time, Lisa didn't take Lauren's request to go to counseling seriously enough. Lauren had told her mother she wanted counseling because she needed to speak with someone — someone who wasn't her mother. But Lisa had told her daughter that she didn't need counseling, that she was fine.
Counseling sessions have now revealed to Lisa that Lauren was suffering from depression, anxiety and panic attacks.
"Honestly I feel bad now looking back because me being busy and a single parent, I didn't really take her seriously and I really just kind of brushed her off," Lisa said.
Misunderstanding and fear can lead to judgment and prejudices when someone is unfamiliar with the mental health challenges people face. According to the National Alliance on Mental Illness, people who experience mental health conditions often face rejection, bullying and discrimination.  
It was only when Lauren broke down in front of her mother that Lisa began to look for counseling options, which is how she discovered LAYC's community-based mental health services.
Later, Lisa observed a shift in her youngest daughter's attitude, Kendall, who had become more quiet and began to stay in her room more often. Lisa then decided it was best to reach out to LAYC about Kendall potentially receiving services too. 
Lisa said because of her daughters going to therapy, she now understands the negative stigmas associated with the mental health community and she would encourage anyone to go to counseling. "I grew up thinking that, you know, if you needed counseling, you were crazy," Lisa said.  She had been taught that if she was struggling internally with something, she should "just deal with it." 
Lisa saw an improvement in both Lauren and Kendall's moods from going to counseling. Lauren became more open about the internal struggles she was dealing with. "Counseling has helped her become more confident and come out of her shell," Lisa said, about Lauren. Meanwhile, Kendall's outgoing personality has returned. 
But since the pandemic, and the need for virtual counseling and virtual learning, Lisa has seen a split between her daughters. Lauren, who Lisa said had always wanted to be homeschooled, has adjusted well to being home full time and keeping up online. But Kendall is still struggling with the transition.
"Kendall is the opposite of Lauren. She's been going out of her mind being stuck at home every day. She wants to see her friends. She hates going to school from home," Lisa said. 
LAYC will continue to offer telehealth services for students and families throughout the pandemic. When D.C. starts to fully reopen, there is the possibility of returning to in-person counseling sessions but LAYC will wait for the city to signal that it is safe to do so.