Dramatic new developments at Union Station will reshape the future of the transit hub and its surrounding areas. The station is set to have a major facelift with improvements to existing facilities and some new additions to its exterior.
The Federal Railroad Administration, the Union Station Redevelopment Corporation and Amtrak, under the umbrella of The Station Expansion Project led by architecture firm Beyer Blinder Belle, plans to revamp the visitor experience at Union Station and the surrounding neighborhood areas. 
Their hope is to provide a bigger space to improve customer "capacity, reliability, safety, efficiency, accessibility and security, for both current and future long-term railroad operations at this historic station."
The major purpose of Union Station's restoration is to ensure longevity in railroad services, meet emergency evacuation requirements, and achieve ADA accessibility while preserving its historical value. 
The estimated $7 billion revitalization of the 70,000 square-foot Claytor concourse will relieve the congested disarray and provide natural light on boarding levels. The project will also include new entrances at First and Second Street NE and a new Metrorail staircase provided by WMATA.
Passenger amenities will include more lounge space and restrooms for passengers on the Amtrak gates and a new Acela express fleet. A new bus facility and parking garage, as well as new 30-foot-wide platforms, are also among the improvements.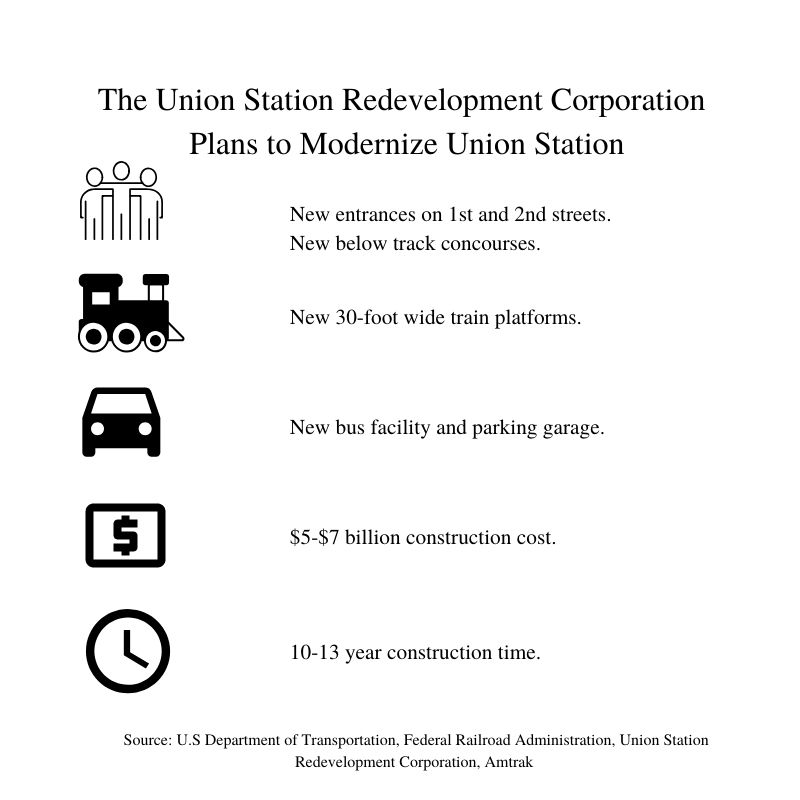 H Street Bridge Replacement Project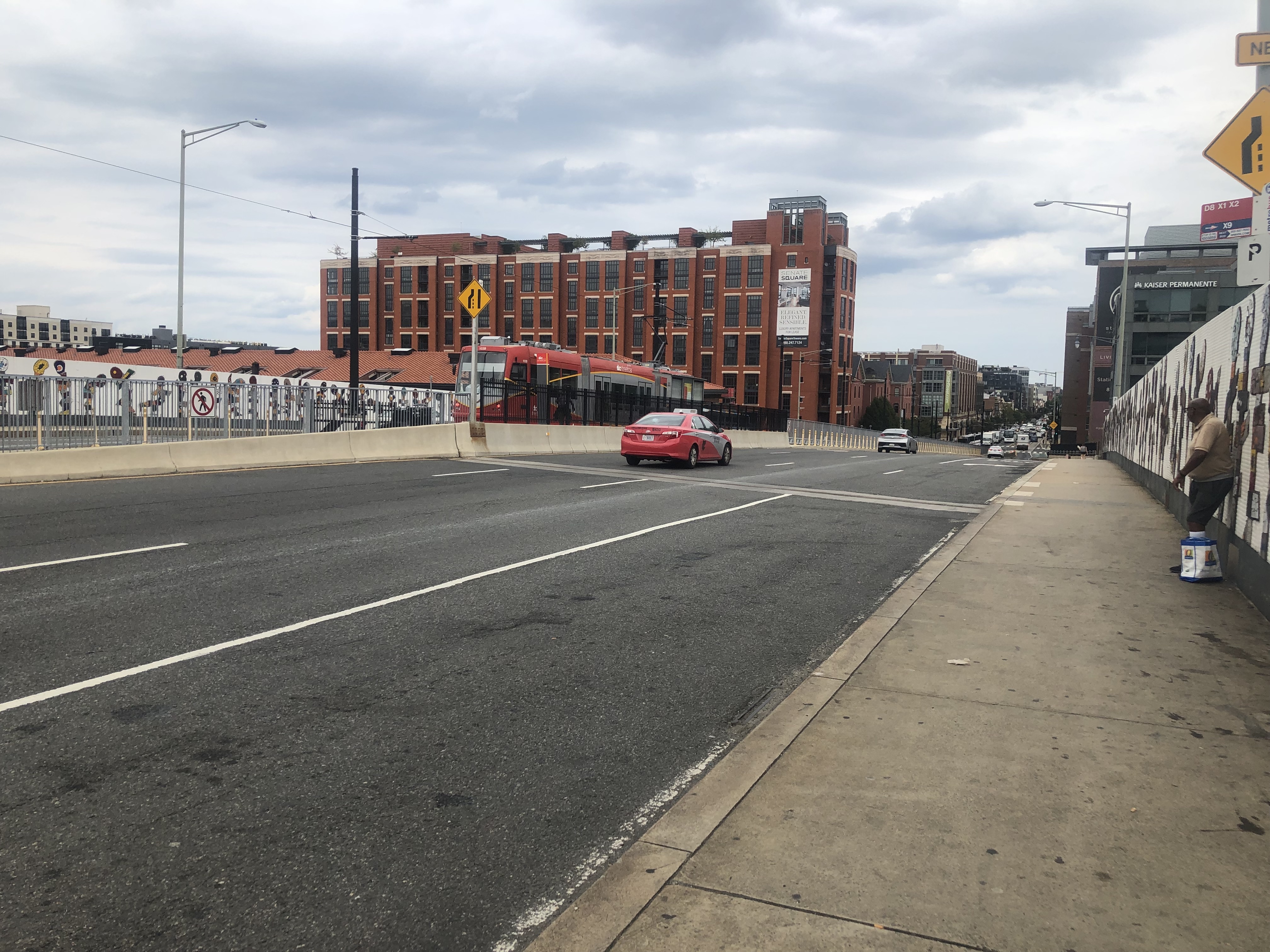 The H Street 'Hopscotch Bridge', north of Union Station, will be redesigned by the District Department of Transportation to align with the needs of Amtrak's future railroad plans. The new bridge will serve as a link to Union Station, however, the design still needs to meet the needs of other modes of transportation including buses, streetcars and rideshare vehicles like Uber, Lyft and taxis. 
Construction and engineering on the bridge is needed to replace supports and decks that are old and deteriorating to build a stronger foundation. These plans will temporarily halt residents' access to the streetcar on the bridge, however, it will be replaced after construction with two sets of tracks and closer to the station. 
The Burnham Place at Union Station
In a collaborative effort with Amtrak and the Union Station Redevelopment Corporation, real estate developer Akridge has a plan to create a 3 million-square-foot commercial center over Union Station's railyard. Burnham Place is set to include hotels, parks, plazas, residential and office space. 
The proposed vision for this project will give visitors accessibility from H Street NE and NoMa, provide running, biking and walking access and triple the capacity of passengers at Union Station. 
ShaLon Baranes Associates Architects, Thornton Tomasetti and the Laboratory for Architecture and Building are a part of the development team for this new project. 
Residents, commuters react
Union Station's expansion will affect commuters that travel through the station and residents that live in the surrounding neighborhoods including NoMa, Capitol Hill and the H Street corridor. 
ANC 6C chair Karen Wirt efforts to address the plans for Union Station are well documented. She has reached out to leadership associated with this project addressing the possible burdens it will have on the community. In her letter to the director of DDOT back in 2018, Wirt expresses that she believes they are not successfully coordinating with other agencies involved in the project "to inform an appropriate design given the needs of future developments and the concerns of neighborhood residents."
Last week, neighbors gathered at a hearing at Northeast Library to hear updates about the project and address their concerns. 
Mark Kazmierczak, member of ANC 6C Transportation and Public Space Committee, said he is supportive of the expansion of Union Station. However, he is concerned that it will cause greater traffic in the area.
"Given the amount of parking they are proposing for this, I think it's going to encourage a lot of cars to drive when it's not necessary and it's going to create a lot more traffic in residential neighborhoods around Union Station," Kazmierczak said. 
At the meeting, a representative from Burnham Place developer, Akridge, was in attendance to discuss and show residents 3-D models of different alternatives of the outcome of the expansion and Burnham Place development. 
Akridge representative David Tuchmann said at this point in the process the next steps are prioritizing the needs of all parties when developing Burnham Place. 
"Our analysis is that let's figure out with a clean slate how do we serve the rail and the neighborhood needs and then get outer vehicles to and from the station."
Many residents like Kazmierczak are excited for the development of Burnham Place, however, he said the developers are only focusing on the logistical needs of the train stations rather than the greater vision of the area. 
"I do like the idea of having a world-class destination train station area; a place that is beautiful and that people want to go. I think this is a great opportunity to create something like that but I'm worried that the people in charge aren't really focused on that aspect of it," he said. 
Greater connectivity is what residents are hoping for with this project. Due to Union Station's current disconnect with the perimeter communities, many people in the District drive to the station. Residents are hoping that this new project offers a more walk-friendly environment to reduce congestion. 
Kim Lehmkuhl has lived in Capitol Hill for five years. Living blocks away from the station, she is there often to catch the Metro. She takes Amtrak on occasion and said the improvements to the train facility will be an upgrade.
"As far as Amtrak and MARC, the boarding and offboarding experience is a bit confusing the way the tracks are set up now, signage is crappy, the tracks are narrow. When you're arriving unless you're near the front of the train it's actually kind of hard to tell you're even at a station." Lehmkuhl said.
She said the development of Burnham Place would be a great addition to the community.
"Having an actually walkable and bikeable green space on H connecting that corridor across North Capitol would be really great," she said. 
The Wash talked to commuters that travel through Union Station from other states about the new developments.
"Anything that is less chaos in Union Station I'm a fan of," Madelyn Madewell, traveler from Central America, said. She said that Burnham Place would cause a "ton of traffic" and "huge mistake."
New York commuter, Jennifer Itzkin, agreed. "I can only imagine that it will only cause more traffic which they don't need. 
Representatives from the Union Station Redevelopment Corporation, the Station Expansion Project and their partners will continue to work with residents and people affected by this issue to enhance public participation on this issue.