It's a beautiful day at the S Street Dog Park: full of dog owners throwing balls for their pets, exchanging wet kisses near park benches, and watching games of chase-the-tail.
Rays of sun beam down warming the dozen of dog owners that smile and laugh as they watch their pets play tag with their furry friends. What many of these owners may tend to forget is that the place they unleash their dog to finally run and play after being cooped up in the apartment all day requires maintenance.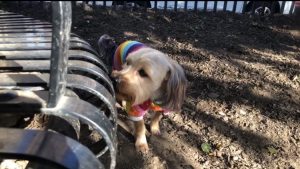 The repairs needed at the dog park on S Street are a huge ongoing concern for Dupont's Advisory Neighborhood Commissioners. In their latest ANC meeting, a 7-0 vote was taken to send a letter to the Department of Parks and Recreation to urge them to replace the park's turf. In the sent document, they directly indicated the reasons for why they are desperately pursuing repair: "There are dozens of holes in the turf and it is beginning to completely degrade in places."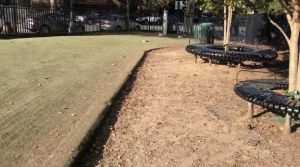 Mike Silverstein, the advisory commissioner who has been leading the effort, said that the park is more heavily used than ever anticipated. Originally designed for up to 20 dogs, Silverstein told The Wash that especially around five p.m. when everyone is off of work, the park is packed. Over time, this high-traffic use has led to the turfs degradation.
The S Street Dog Park was built in 2009. Aware that the park would be a popular place for dog owners to set up their pet play dates, developers utilized a dog friendly K-9 synthetic turf. This artificial grass replaced natural grass that would gradually turn brown, patchy and muddy. While it may have been the perfect solution at the time, The Wash after some investigation discovered that the turf that was installed over ten years ago, only had a seven-year warrantee. The current tears are evidence that the artificial grass has outlived its lifespan.
For Shamitz Bounds, the holes are the least of her worries. As a self-pronounced germaphobe she finds herself more focused on wondering about all the years of pee and feces she and her chocolate lab, Mocha, are walking on.
"All I keep thinking is, thank goodness for the downpour of rain we just had from that tornado watch this past week. That's really the only reason you even see me here right now today," Bounds said. "It finally got a good cleaning! A lot of times I'd walk all the way over here and then think, nope, can't do it, and we turn right back around because there are days that you can actually smell the pee. You should not be able to do that. "
While a hose is provided for park users to be able to hose down the area where their dog uses the bathroom, Bounds says that she never sees anyone utilizing it. Because of this, she says that she keeps paw wipes handy so that whenever they return from the park, she can wipe off Mocha's feet before going inside. Bounds says that while she is more than grateful for the park, she simply wishes there was a cleaning and maintenance schedule in place to ensure everything is being sanitized of regularly.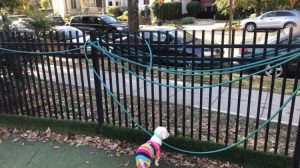 Commissioner Silverstein reassures The Wash, the dog park is not a health concern. Along with free doggie poop bags being supplied by D.C.'s Friendship Hospital for Animals year round, he adds that even in the winter months when the hose has to be shut off, owners will bring their own water jugs to rinse the area their dog uses the bathroom. He said the park was specifically built in its current location because of the area's topography. Slightly on a slant, the landscape along with the infill underneath the artificial grass, allows for easy and sufficient waste drainage.
The Wash emailed the Capital Project Manager to find out which specific company installed the synthetic turf and get specifics on its warrantee, but never heard back. Larry Phillips is a representative from ForeverLawn. While this company is not the one who installed the park's turf, The Wash contacted him to get his take on this K-9 grass situation. According to Phillips, infill such as sand or mulch can hinder drainage entrapping the liquid and smell underneath the turf and cause it to accumulate. ForeverLawn says the best maintenance plans are set up dependent on how many dogs go there everyday. Phillips said some places need weekly sanitation.
In response to ANC's letter complaining about the maintenance conditions of the dog park, the Department of Parks and Recreation sent a letter back promising to review the complaint and have a member of the Capital Projects team reach out. That was October 25, and now almost two weeks later Silverstein said that they have yet to hear from someone.