A marketplace cropped up at the Nationals Park gate in the hours before the fifth World Series game.
Desperate fans huddled around each other, holding up fingers showing from how many tickets they needed.
A vendor zipped over, offering a pair of tickets for $500 each right before the first pitch. Another seller hawked two tickets for $400 feet away.
Ticket resale, or scalping, exists in a legal grey zone in D.C. A Metro police officer told The Wash before Game Five that ticket scaling is "not illegal" and "not written up as a primary offense."
However, D.C. law sets up strict parameters around scalping in 2016, establishing scalping is illegal from any street, sidewalk, or other public space.
"MPD takes all crimes seriously and scalping ticket scams is no exception," wrote a spokesperson for the Metropolitan Police Department in an e-mail to The Wash.
The World Series has been especially difficult because of high demand, according to scalpers. The online ticket exchange StubHub claims that ticket sales for Game 6 increased by 142% since Saturday.
The cheapest World Series tickets were more than $800 on StubHub, an online ticket exchange, a for the Saturday evening game. On Saturday afternoon, ticket prices for the next day started at nearly $1,000.
A representative from the website stated that tickets sold for as much as $16,500 for the 6th game in the Series.
A man holding a cardboard sign strode up and down the street that leads to one of the Nationals Park gates. In bold letters, it read "I need tickets."
Anthony — who didn't provide his last time because of his work reselling tickets — finds it hard to connect buyers and sellers during the Series. To supplement sales, he peddles ticket holders as well.
He has scalped tickets for all events for most of his adult life.
"I've been doing this since I was fourteen," Anthony said. He gets tickets from brokers, season pass holders, and sometimes other fans on the street before flipping them for more money.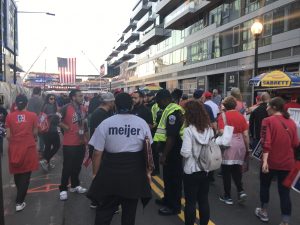 Law enforcement eventually shooed Anthony and his two other colleagues from the Nats Park entrance.
The Metropolitan Police Department warns fans against buying tickets from scalpers like the three street vendors.
Earlier in the World Series, local police arrested a scalper for selling $2,000 in counterfeit tickets near Nats Park.
"They prey on people's passions, knowing many regard the chance to see their favorite artists or teams as priceless," wrote the police department in a press released before Game Four.
To avoid ticket fraud, MPD created Safe Exchange Zones in early 2019. The department hopes these zones will prevent robberies linked to online ticket exchanges, like the ones near the ballpark.