Jonathan Snyder spent Good Friday rolling eggs in dye-filled shaving cream with his fiancée and her daughter in their Cumberland, Md. home. Last year, this would have seemed unusual for Snyder. As a production specialist at the nearby Hunter Douglas window blinds plant, he worked Monday through Friday and sometimes even overtime on Saturdays. But about six months ago, that started to change. 
"People aren't buying enough to keep the plants running," Snyder said. "We were working two days a week, three days a week. We weren't getting full paychecks."  
He began to notice other signs of trouble too. The company tore down equipment to send to their facility in Monterrey, Mexico. A group from Monterrey traveled to the Cumberland plant to learn how to make certain products. Then in March, Hunter Douglas's director of operations flew in from Salt Lake City for what workers were told was an inspection.  
"And then towards the end of the shift, they brought all the people from all the departments together, and then they announced that they were going to be closing this plant," Snyder said.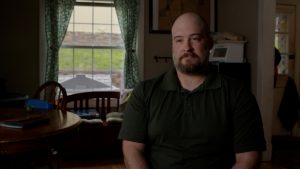 Hunter Douglas declined to be interviewed for this story but provided a press release that said they "decided to close its fabrication facility in Cumberland, MD and consolidate with other out-of-state company-owned facilities." The release also mentions they'll retain about 120 customer support and credit analyst employees, who will work remotely. The other around 240 workers, like Snyder, will need to find new jobs when the plant shutters this summer. 
"It's not a big deal to make a window shade or anything like that," Snyder said. "But I actually have a finished product that I can look at and take pride in the work that I'm doing. So, I love doing what I'm doing." 
When the company first opened a factory in Allegany County in 1990, it joined a long history of manufacturing. Cumberland is located on several historic thoroughfares, from Native American paths to the B&O and C&O railroads to the first federally funded road.  According to historian Albert Feldstein, this made the city an opportune spot for manufacturing goods that could travel from the East to the frontier in the West.  
The city became full of tin mills, glass, factories, and breweries. In 1888, a large paper mill opened in nearby Luke, Md. Later, Kelly Springfield Tire Corporation opened in Cumberland in 1916, followed by the Celanese Corporation in 1924. Feldstein said more than 13,000 people once worked in that plant. According to census data, Cumberland's population peaked in 1940 at just shy of 40,000 residents. 
Today's economic landscape looks much different. All of those big factories have closed and data from the state's Department of Labor show a 47% drop in manufacturing employees in the county between 2002 and 2021. The city's population has also decreased by more than 50% from its peak.  
"I'd say in terms of what's happened over the past maybe 50 years in manufacturing—and it's not just a Cumberland story, it's a national story—we've lost much, the majority of our manufacturing and industrial base," Feldstein said. 
Allegany County's Board of County Commissioners is working to help lessen the blow of the Hunter Douglas plant closure. Dave Caporale, board president, said they'd had a strong working relationship with the company, and he was "really disappointed" to see them go. Caporale even called the governor's office when he heard the news, but they could do nothing to help. 
"A lot of those jobs are moving to Mexico," Caporale said. "So, I mean, there really wasn't a leg for us to stand on as far as trying to keep them here." 
Caporale said the board is working to find a new business to move into the Hunter Douglas site and they've partnered with the state's Department of Labor to set up a job fair for employees in May.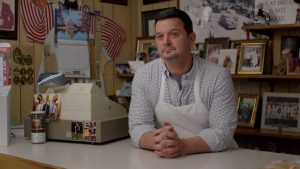 "There'll be more jobs at that particular offering than there are positions at Hunter Douglas that will be being lost, so that's good," Caporale said. "For some folks, maybe it might be a different fit, but there are enough jobs available to absorb all of the employees." 
Another resource for the laid-off workers is Western Maryland Works, a workforce development facility and makerspace that's part of Allegany College of Maryland. One of their focuses is retraining laid off employees in skills like welding, carpentry and machining, like they did when the Verso Paper Mill closed in 2019, and almost 700 people lost their jobs.  
Dave Smarik, the makerspace manager at Western Maryland Works, said they're ready to help the Hunter Douglas employees with the same kinds of intensive training programs that can help the workers find new jobs. 
"There's some folks that would say in our area here that manufacturing production is dying off," Smarik said. "In our area, yes, jobs have been lost. Employment has been lost. But new employment, new employment opportunities have been created through the use of technology, the use of innovation." 
There are still companies in the area, like Northrop Grumman and National Jet, that are looking to hire workers with these skills. 
"We have a lot of demand for high-skilled machinists, tool, die and gauge makers, engineers that really know manufacturing, technology skills and such," Smarik said. 
As for Jonathan Snyder, the Hunter Douglas production specialist, he's planning to attend the job fair and wait and see what opportunities come his way after the plant closes mid-summer. He'd like to stay around Cumberland, where he and his family have made their home. 
"I don't have any plans to go anywhere," Snyder said. "I've seen a lot of job offers in other areas and I haven't really looked at it." 
For Snyder and the other employees that are losing their jobs, choosing to stay or go is just one of the many choices they'll need to make as they head into an uncertain future.