Maryland residents are voting on a constitutional amendment to legalize recreational marijuana on Nov. 8, which advocates say is long overdue to address racial injustice. 
"The overwhelming feeling for me is just it's so, so far past due," said Lawrence Grandpre, director of research for a grassroots think tank, Leaders of a Beautiful Struggle.
As is true nationally, Marylanders of color are disproportionately impacted by the criminalization of cannabis. 
Black residents are more than twice as likely to be arrested for marijuana possession in the state despite roughly equal usage across racial groups, according to the amendment's racial equity impact statement. 
If the amendment is approved, residents aged 21 and older can legally use and possess cannabis up to 1.5 ounces. Possession of larger amounts up to 2.5 ounces would be punishable by a civil fine instead of jail time. The amendment would go into effect on July 1, 2023. 
A majority of Maryland voters support legalizing recreational marijuana, according to an October poll conducted by The Washington Post and the University of Maryland. Seventy-three percent of Marylanders favor the amendment, with 23% against and 4% with no opinion.
"As I talk to people in my district, the broad feeling is we don't want to put people in jail for possession of cannabis," said Luke Clippinger, a state delegate representing District 46 in Baltimore.
Marijuana decriminalization
The Maryland General Assembly already passed legislation to address the criminal justice impact of legalizing cannabis. The Cannabis Reform bill revises marijuana related penalties, expunges certain criminal records and establishes funds for both community reinvestment and business assistance. 
If the constitutional amendment is approved by voters, the reform bill will automatically expunge prior convictions for simple marijuana possession, which could impact hundreds of thousands of convictions, said Clippinger, who sponsored the bill. 
The law also creates a new pathway to expunge intent-to-distribute convictions, as well as marijuana-related charges embedded in unrelated sentences. 
"We've tried to really open the door pretty widely to allow people to get those convictions expunged to allow people to move forward," Clippinger said.
Advocates weigh in
Some advocates say the law is not enough to address the financial impact of cannabis related convictions. This includes Eric Sterling, a member of the Maryland chapter of the National Organization for the Reform of Marijuana Laws.
Sterling said the state's current plan is "inadequate" because people cannot recover court fines, attorney fees, lost wages and other expenses from being prosecuted and incarcerated. 
The Cannabis Reform bill does include a community repair fund, which would provide money to local organizations across the state that serve populations disproportionately impacted by the criminalization of marijuana. Some of these funds would come from taxes on Maryland's incoming recreational cannabis industry. 
Leaders for a Beautiful Struggle advocated for this provision in the bill. Grandpre said the repair fund could have a substantial impact because it addresses the harm done to entire communities.
"It's not just the individuals who went to jail that were impacted by the war on drugs," Grandpre said.
The fund maximizes local control and lets communities address their unique needs "because every community is different," Grandpre said. 
"The people who were impacted by the harm need to have the power to choose for themselves the mechanism to redress the harm," Grandpre said.
The funds would be dispersed across the state based on the percentage of people who were jailed for cannabis related convictions in each county over the last 20 years. 
New business sector
State policies over what would be the newly created recreational market are not fully developed yet, with no current policy for licensing or taxing the legal sale of marijuana. Clippinger said this would be addressed in the 2023 General Assembly session.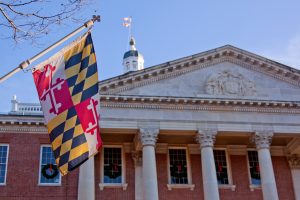 "We want people to be able to take advantage of opportunities to be able to sell cannabis," Clippinger said. "And that's the next piece of our story."
The state delegate said the most challenging aspect is ensuring communities negatively impacted by the war on drugs will be able to compete in the state's recreational marijuana market. Existing markets are dominated by white executives in other states that have legalized cannabis. 
"That's where the profits are going and yet, at the same time, in our prisons and in jails, we have people who are disproportionately Black and Hispanic, still serving long sentences for doing the same kind of thing before it became legal," Sterling said. 
To address this, the reform bill also establishes a business assistance fund. It would offer grants and loans to new businesses and help with license applications. 
Maryland would prioritize awarding these funds to populations disproportionately impacted by cannabis criminalization and individuals with marijuana-related convictions.  
The fund would also create cannabis-related business programs at historically Black colleges and universities in the state to assist minority entrepreneurs seeking to participate in the industry.  
Maryland's vote comes a month after President Joe Biden pardoned simple marijuana possession offenses under federal and D.C. law while urging all governors to do the same with state offenses. 
Nineteen states and the District of Columbia have already legalized recreational cannabis use for adults. Voters in Missouri, Arkansas, North Dakota and South Dakota will also vote on legalizing recreational marijuana this Election Day.