When a petty thief slinks into Foggy Bottom to steal a BMW that its owner carelessly left running, the neighborhood has 40-some cameras and 45 businesses watching their every move. The area's homey security network is so effective, in fact, that other neighborhoods want to design something similar to clamp down on crime in their regions. 
West End Watch, a massive email chain designed to alert the area's stakeholders of suspicious activity, was conceived and put into place by Jeri Epstein, the neighborhood's ANC commissioner, shortly before the onset of the pandemic, with the help of the Ritz-Carlton DC. 
Epstein, a teacher-turned-consultant-turned-retiree, has lived in Foggy Bottom since 2001 and spontaneously filled her friend's seat on the local board in 2019. Since then, she's made neighborhood safety one of her top priorities. 
She said that unlike Nextdoor or other online neighborhood forums, West End Watch is a system that requires all members to prove their security credentials to the group.
"This is not going to be like a Facebook page, where everybody gets to visit," Epstein said. "It's an invitation-only situation."
Security managers of businesses in the neighborhood opt in to the group and agree to share collected surveillance footage. From there, the 45 or so member parties share videos and pictures of suspected wrongdoers. If an incident like a theft or assault occurs, others in the immediate vicinity are notified with a BOLO ("be on the lookout") alert, helping them provide police (or each other) with more accurate information on how to find and report assailants. 
Epstein said crime has plummeted since West End Watch was established, and that the Brookland and Anacostia neighborhoods have approached her to develop something similar in their respective corners of the city. The Ritz-Carlton did not respond to multiple requests for comment on their involvement in the creation of the network. 
John George, president of the community group the Foggy Bottom Association, said most crimes in the neighborhood are so-called "crimes of opportunity" — like serendipitous car thefts and various other types of petty theft — that aren't targeted to anyone or any group in particular. While dependable nationwide data on criminal intention is difficult to ascertain, crimes of opportunity have been the subject of bulletins by police departments from D.C. to the tiny town of Shelton, Wash., in recent years. 
A Wisconite who has lived in Foggy Bottom for 26 years, George, 62, has been at the helm of the FBA since 2020 and sees awareness as the group's biggest challenge to stopping crime.  
"I think a lot of it boils down to awareness and education," George said.
According to the Metropolitan Police Department, ANC2A — which encompasses both Foggy Bottom and West End — has recorded 172 crimes over the past six months, most of them thefts. Overall, it remains one of the District's safer neighborhoods, per recent lists by Only In Your State, Atlas Lane and Upgraded Home.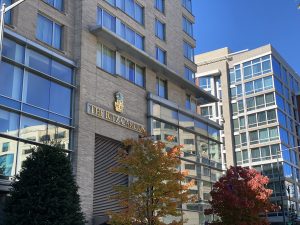 The nearby George Washington University is also partnered with the ANC on this project, and the initiative has helped "solve" several local cases that troubled the community, Epstein said. 
Joel Causey, a D.C. construction executive and the chairman of Ward 2's ANC, praised the system's efficacy and impact, noting that the neighborhood was not all that ridden with crime to begin with.
"Foggy Bottom is like an oasis, an anomaly," Causey said. "I think part of that has to do with that we're not overwhelmed given the fact that we do have people who are so vigilant here." 
Overall, Epstein hopes that West End Watch will contribute to a safer and more secure Foggy Bottom for all of its residents and business owners. Ultimately, she wants to remain omnipresent in the community, but not pervasive or controlling.
"So, I always say, I'm allowed to watch, but I do not contribute," Epstein said. 
D.C. residents in all wards will elect members of their ANCs on November 8, the same day voters nationwide will cast their votes for members of the U.S. House of Representatives and the Senate.