By Jane Fusco
PHILADELPHIA —  Over the past few days, both parties held rallies in the Philadelphia metro area featuring some political heavy hitters.
As the campaigns push to the finish line, the races are closely followed by the entire nation. While the Democratic gubernatorial candidate, Josh Shapiro, has an 11-point lead over Republican rival Doug Mastriano, Pennsylvania's U.S. Senate race is considered a toss-up.
The battle between Democrat John Fetterman and Republican Mehmet Oz will help determine the balance of power in the U.S. Senate. Both candidates are spending millions of dollars on their campaigns and traveling hundreds of miles to see voters in the days before the election.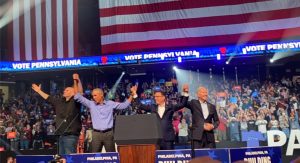 The weekend's biggest and most star-studded event was the Democratic rally held at Temple University's Liacouras Center on Saturday. The crowd of 7,500 rose to its feet as Shapiro and Fetterman joined hands with President Joe Biden and former President Barack Obama.
In his speech, President Biden focused on the challenges his administration will face if the Democrats lose their majority in the Senate, calling Fetterman "the one more vote" in the Senate he needs to pass legislation.
"Your right to choose is on the ballot. Your right to vote is on the ballot. Social Security, Medicare are on the ballot," President Biden said.
Obama echoed President Biden's remarks and stressed the results the current administration has already achieved.
"If you help Democrats keep the House and get a few more seats in the Senate, you can guarantee he'll make more progress on the issues you care about," Obama said. "You've seen what he's accomplished with the barest of margins. If you vote, he can do even more, but it depends on you."
The Democrats' message resonated with supporters such as Anthonio Dawkins, who believes this election has serious consequences for America's future.
"It's just not about keeping the gavel out of Mitch McConnell's hands," Dawkins said, referring to the Republican leader. "But also getting more meaningful legislation passed. Putting more meaningful legislation on the floor."
While Democrats are proud of the progress made over the past two years, Republican Senate candidate Mehmet Oz attacked the Biden administration's record at a rally in Montgomery County on Monday evening.
Speaking to a crowd of 1,500 supporters, he asked, "How many of you think Washington is getting it wrong?"
He was joined at the outdoor event in Pennsburg by Nikki Haley, the former governor of South Carolina and U.N. ambassador, and Republican National Committee chairwoman Ronna McDaniel.
"One in six Americans can't make their utility payments right now," Haley told the crowd. "And everybody in D.C. is spending like drunken sailors."
One of Oz's top priorities is the economy, and voters nationwide seem to share those concerns. About 59% of Americans are worried about the economy, including some Pennsylvania voters who attended Monday night's event.
Joe Gelasgow said that while his family has been lucky enough to "weather the storm" of the economy in recent years, many Americans haven't been.
"We wanted to get behind a candidate that can make changes for people that aren't as fortunate, and that's what we're hoping for," Gelasgow said.
In stark contrast to these large-scale events was an intimate rally held by Republican gubernatorial candidate Doug Mastriano at a catering facility in South Philadelphia on Sunday evening. Mastriano was joined by Mercedes Schlapp, the former White House director of strategic communications during the Trump administration.
Mastriano walked the audience through his agenda, which includes plans to remove transgender children from sports and to make Pennsylvania a "law and order state," with a stronger police presence and tougher crime laws.
Mastriano's supporters were receptive to the message, occasionally chiming in with comments of their own in the style of a town hall. Attendees called out "Communists!" whenever the Democratic party was mentioned.
While most polls show Mastriano significantly behind Shapiro, Schlapp's message was to continue the fight in the campaign's final days: "We have a chance to win this in this moment in time, and you're going to see the biggest surprise of your life."
Matthew Worth, an attendee at the Mastriano rally, said that it comes down to a simple question of whether Pennsylvanians want to keep Democrats in power for the next two years.
"If you like the current administration, vote that way. If you don't, vote the other way. It's just simple," Worth said.