In the competitive race to fill two of the four at-large seats on the D.C. Council, voters in southeast D.C. appear split between several leading candidates. The most prominent issues on the minds of voters on election day included oversight, public safety and corruption as major concerns. 
Three sitting council members and five challengers are seeking to occupy the seats elected by the District's entire voting population. Of the five fresh candidates, three are running as independents, one is running as a Republican and the other is running as a member of the progressive D.C. Statehood Green Party, the latter of which has the backing of former Green Party presidential candidate Jill Stein. 
Ann Hoffman volunteered to campaign for incumbent three-term council member Elissa Silverman and was jubilant as she courted voters outside a church in Anacostia, a historic district located east of the river of the same name. Dubbing Silverman the "Queen of Oversight," Hoffman fawned over her friendly personality and work ethic, but cautioned the race could be closer than expected. 
"She's 100% for workers; I'm 100% for workers," Hoffman, 80, said. "This is the toughest race she's had," she added.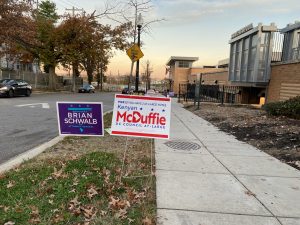 For most of the early morning, it seemed McDuffie and Silverman voters dominated polling stations in Wards 7 and 8, heeding the call from the dozens of signs that lined the streets of southeastern neighborhoods. In addition to their names, signs bearing the insignias of Karim Marshall and Fred Hill were most common. 
"I'm really excited to see what he has for us," said Honesty Henry, 22, a volunteer for the McDuffie campaign stationed near the Southern Avenue Metro station in the Shipley Terrace neighborhood. 
Elsewhere in the neighborhood, blue signs for incumbent Anita Bonds popped up periodically, with volunteers from her campaign team chatting amicably with voters in Ward 8.  
The Washington Post's editorial board endorsed McDuffie and fellow independent Graham McLaughlin in an October 26 piece. McDuffie has also garnered the endorsements of former U.S. Secretary of Labor Tom Perez and D.C. Council Chair Phil Mendelson, among others. 
Added Hoffman of Silverman: "Were it not for Elissa, we would not have paid family and medical leave," referring to a March 2022 change in council policy that Silverman orchestrated. 
D.C. law specifies that of the four at-large members elected to the council, only two may be nominated by the same political party. In this election cycle, only one of the elected at-large candidates can be a Democrat, since one of the at-large seats is already held by a Democrat.   
Polls close in D.C. at 8 p.m., and election results are expected to be released periodically throughout the week as postmarked ballots are collected.