Old Town Alexandria residents went to the polls today focused on local crime, housing affordability, education, and airport noise abatement.
Today's ballot included a fight between incumbent Rep. Donald S. Beyer Jr., a Democrat, and Republican challenger Katrina A. Lipsman to represent Virginia's Eighth congressional district in the House. But voters also were looking forward to next year's election when Alexandria next choses its local government, and these voters hope their elected will address their concerns.
Crime in Old Town has increased by 7% since the first five months of last year, according to the City of Alexandria Police.
"One of the big issues a lot of the people I spoke with is an increased crime in Alexandria, which played a major factor in whom they voted for. They want a reduction in crime and don't feel Beyer has done enough to address it," Taylor Barns, a voter and poll greeter, said.
Some voters say that, if those elected address education, violence could be contained.
"Hearing students' voices more in the community will help alleviate violence. With the right people on the board, it can make a difference," said Sheila, a poll worker who asked that her last name not be used.
These voters also said they hoped for more housing opportunities for low-income individuals. "A housing transformation from commercial to residential would help low-income individuals and provide cheaper alternatives which will curb the increased interest and inflation rates," said one voter, who requested anonymity.
"My vote counts, and I want it to count toward improved education and low-income housing," another anonymous voter said.
"It would be nice to get more support on these commercial to residential conversions, because housing is obviously an issue," Barns said.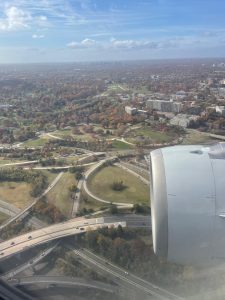 Several of today's voters noted that Old Town residents struggle to maintain serenity when helicopters, planes, and other air vehicles pass over the Potomac River. Reagan Washington National Airport (DCA) is 10 minutes from Old Town, and these community members hope their elected officials will focus on existing and future noise ordinances.
"Our voice matters as a community. We want to see less crime and a with the president and vice-president making frequent international flights and incoming national flights over the Potomac disturb the neighborhood's peace, making it hard to raise a family," Alex Door, poll greeter, said.