Mayor Muriel Bowser may be the second Washington, D.C., mayor to serve a third term, following Marion Barry who served four. 
"Every single mayor of D.C. has been a Democrat, and I think the legacy will continue in this election," said Andrew Thompson, assistant professor of political science at George Washington University.  
Here are the three opponents:  
Rodney Grant, Independent 
Rodney "Red" Grant is a retired comedian, husband to a retired police officer, and father of three daughters. Grant was born and raised in Washington, D.C., and attended Dunbar Senior High School and the University of the District of Columbia.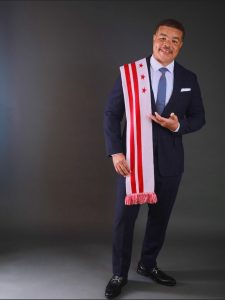 Issues Grant wants to tackle are ensuring education equality, eliminating poverty, supporting the LGBTQIA+ community, advocating for small businesses, and increasing public safety, according to his campaign website.  
"I am running a campaign based on love, care, and respect rooted in sincere concern for our youth, our residents, and our public safety," Grant said in an email.  
"For the last 18 months, I have knocked on 96,000 doors, attended hundreds of community events, spoken directly to thousands of frustrated residents, attended way too many vigils, and the theme is always the same; our city has been mismanaged by a leader who never shows up in the communities that need the most support." 
Stacia Hall, Republican  
Stacia Hall identifies as a grandmother and businesswoman, according to her campaign website. Hall is the founder and owner of a local small business Eclectic Minimalist Interior Décor and Staging located in Ward 3. Hall was born and raised in Miami and now lives and operates her business in Cleveland Park. On her campaign site, she also makes note of her faith.  
Hall's plan is to increase policing, reduce taxes, expand school choice, and incentivize local employers to hire people without housing, according to her campaign website.  
Hall did not respond to questions, after she directed a reporter via Twitter to contact her on Gmail. Hall did not respond to the email. 
Dennis Sobin, Libertarian 
Dennis Sobin is a father and convicted felon for his involvement in an escort service he founded in 1984. 
Sobin advanced as a write-in for the Libertarian Party primary in June. This is his second time being on the ballot for D.C. mayor, after first running in 2010.  
Sobin's platform is on decriminalizing what he called victimless crimes. Drugs and prostitution should be legal in Washington, D.C., according to Sobin in an interview published on his YouTube channel back in July.  
The Wash could not reach Sobin for comments, and there are no public sites for Sobin's political platform.  
The mayoral contest has several major issues  
Crime  
Crime in Washington, D.C., has grown since 2012. The homicide rate in D.C. increased from 88 homicides in 2012 to 168 this year as of Oct. 26, according to D.C. metropolitan police data.  
Bowser's approach is to intentionally focus on intelligence-led policing strategies by targeting individuals that the District knows are committing violent acts, according to a DC press release.   
Hall wants more policing. In 2011, Hall's son was a victim of police brutality in Miami. Hall still supports the police and said she wants to bring more police officers back to Washington, D.C., calling them needed and essential in a video interview with WTOP News.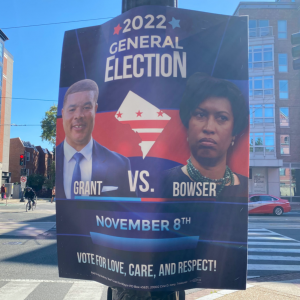 "On Miami Beach in 2011, my son was beaten by a gang of police and hospitalized," Hall said in a tweet on Oct. 16. "But we got past it through prayer and forgiveness. Despite what it looks like, we have great police officers."   
Grant takes a different approach to fighting crime. "The youth need more things to do, " Grant said in a phone interview. "Don't shoot guns, shoot cameras is one of the many initiatives I have planned to get the youth off the street."   
Homelessness  
As of January 2020, there were more than 6,000 homeless individuals in Washington, D.C., according to the U.S. Department of Housing and Urban Development.  
In 2014, Browser ran on the platform of ending D.C.'s homelessness. As of April, D.C.'s homeless rate dropped 47% since her administration implemented the Homeward D.C. program in 2016, according to her office.  
Hall used to be homeless, living in a shelter in Miami as a single mother at one point, according to her campaign page. Hall's plan to fight homelessness in Washington, D.C., is to create workforce housing, Hall told WTOP News.  
Grant's campaign literature says one of his goals is to eliminate poverty in D.C. His plan to accomplish this includes, increasing affordable housing, enhancing the partnerships with Veteran Affairs, investing in job training for the present and future workforce.   
Migrant Busloads 
Over the summer, up to 10 buses of migrants from states like Texas and Florida have been brought to Washington, D.C. Several nonprofit organizations received a total of $150,000 in grants from the attorney general to provide help for the migrants.   
Bowser in September also established the Office of Migrant Services to provide support and services to migrants being bused to the District.  
Hall said the migrants should have never been able to make it into the U.S. Hall told The Vibe Bar podcast that, if the president never flew migrants into Florida and Texas, D.C. would never have this issue. (According to Washington Post fact-checkers, the Biden flight in question was flying children to vetted sponsors.) 
Hall also tweeted saying "In DC, Sanctuary City status must end! We need to take care of our own! #EndSanctuaryCityDC".   
Grant said if he wins the election, he said in a phone interview he will continue the work Browser already started with the Office of Migrant Services.