Apple Tree Early Learning Center PCS, one of the largest providers of early childhood education in D.C., is preparing to open a public charter school for 3 and 4-year-olds in Spring Valley.
Its arrival would be beneficial for young families in Ward 3, which has no public school options for 3-year-olds or no public charter schools at all.
Apple Tree already leased the proposed site in June and engaged with local stakeholders like the advisory neighborhood commission. The Public Charter School Board has closed public comments for this school and will vote on Apple Tree's application on Nov. 21.
Some question, however, if a public charter school in Ward 3 is the best way to solve the lack of capacity for young learners in the neighborhood and in the city as a whole.
"The demand is there," said Jamie Miles, Apple Tree's chief of schools, at a public hearing held by D.C. Public Charter School Board on Oct. 17.
Apple Tree, which operates six public charter schools for pre-kindergarten children across D.C., is seeking authorization to open a new facility next August in Spring Valley. It will have seven classrooms for 3-year-old (PK3) and 4-year-old (PK4), which will accommodate up to 154 students.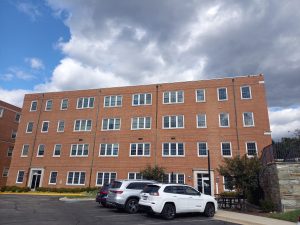 Public charter schools are run by nonprofits and have distinct curricula, in contrast to traditional public schools run by a central authority, the chancellor of D.C. Public Schools (DCPS). Public charters are tuition-free and open to all D.C. residents. Currently, 48% of students attend public charter schools in D.C.
"Absent of facilities in the area, parents of preschoolers will have to continue to invest in private schools or travel outside their ward as access to public preschool for free," Miles said at the hearing.
According to the application documents Apple Tree filed to the Public Charter School Board,  Ward 3 has eight public schools, but none offer PK3. The schools offering PK4 have a total of 326 seats, but "with an estimated 828 four-year-olds in Ward 3, that means there is a significant lack of capacity," the document said.
DCPS offers universal pre-k, allowing all parents to apply for spaces, but individual schools are not required to offer preschool classes if they don't have space.
Ward 3 Councilmember Mary Cheh wrote a letter to her constituents last July, saying, "Many principals—including those at Key, Stoddert, and Mann—have been forced to convert preschool classrooms to serve older grades" due to overcrowding. "As a result, families in the catchment area for these three schools are unable to send their preschool-age children to their neighborhood school," she wrote.
The Apple Tree application document lists some private preschools in the area along with their respective tuitions. Spring Valley Montessori Academy's morning-only program costs $11,800 a year, while Crestview Montessori School in Bethesda, Md., charges $19,365 a year for its full day program, according to the document.
Ward 3 is generally wealthier than the rest of D.C. The median household income is $128,670, versus $86,420 for all of D.C., according to the Apple Tree document. However, the document also points out that "7.6% of Ward 3's residents are below the poverty line," underscoring the need for a public-funded option.
Unanimous support from ANC
At the board hearing, Tom Keane, general counsel and chief of strategic initiatives of Apple Tree, said the advisory neighborhood commission 3D, which would host the new school, unanimously approved a letter supporting the new facility.
"The level of enthusiasm that was expressed by the commissioners was almost startling.  There clearly is a strong, strong desire among a number of commissioners with young children to have this kind of option in their community," Keane said.
Many parents in the neighborhood welcome the new school.
"There is a huge waitlist" to get into a public prekindergarten school, said Tatyana Cabrejo, mother of a 4-year-old son. Cabrejo's family moved to D.C. about 6 months ago, and she immediately started looking for a preschool for her son.
"Every house in this area costs around 1 million. Parents want at least free pre-k."
Cabrejo's son was on the waitlist for two months before getting admitted to PK4 class at his neighborhood public elementary school, Janney, which is about 1 mile from the planned Apple Tree public charter school. Cabrejo said she applied to 12 public and public charter schools in D.C., and for most of the schools, her son was "around 120th" on the waitlists.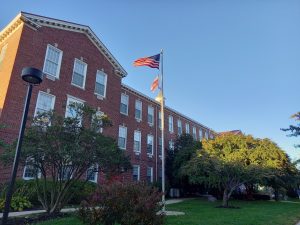 Kate Legidake, mother of three, also welcomed a new public charter school for prekindergarten students, saying "more options are better."
However, there is a caveat. Legidake has a 4th grader and a kindergartener in Janney. Her youngest son is 1-year-old. She said it would be better if she could have all her children in one school.
"People want to send their kids to neighborhood schools"
"I am not against a charter school, but if most people here want to be in a DCPS school, open a DCPS school," said Ruth Wattenberg, Ward 3 representative for D.C. State Board of Education.
Wattenberg pointed out that, if given a choice, most people in the area would send their children to neighborhood public schools. "It is much easier for the parents if the children are in the same school and have the same vacation schedules."
In Ward 3, public schools are high performing and residents are generally satisfied with sending their children to neighborhood public schools. Currently, it is the only ward in D.C. that has no public charter schools. In school year 2020-21, about 440 students residing in Ward 3 attended public charter schools, representing only about 1% of the charter school population in D.C.
Wattenberg also pointed out that neighborhood, public schools have an important role in strengthening bonds in communities. "What you want is for people to be able to start building the community," she said. Public schools are neighborhood-based and guarantee spots for all children in the area, while public charter schools accept students across D.C. through a lottery system.
DCPS announced a decision in May to build a new public elementary school in Ward 3. Foxhall Elementary School will be built in Hardy Park, in Foxhall Village, and accept students in PK4 to 5th grade. However, the school will not open until 2025 or later, "given procurement and construction timelines," the announcement said.
Fair use of government money?
Some people question the decision to put government money into a new Pre-K school in the wealthiest ward in the city.
"Government resources are very limited," said Abena Apau, who has a 4th grader and a kindergartner in Janney Elementary School. Apau sees it "unfair" that the government is financing a public charter school in the Ward 3, while other wards are in much greater need for investments in neighborhood schools.
Karim Marshall, a candidate running for a D.C. council at-large seat and who is endorsed by the Washington Teachers' Union, pointed out that the public schools in wards 7 and 8 lack resources and many parents opt to send their children to public charter schools through the lottery system.
"The idea that the quality of your education is wholly based around chance is not equitable," Marshall said.
Marshall points out that the lack of reliable neighborhood schools in walking distance has several negative impacts on children's lives. They have to get up earlier, and they cannot participate in after-school enrichment activities as they spend time commuting back and forth to school. They also lose opportunities to play with classmates that live nearby, building and strengthening a community.
"If every neighborhood had a reliable school that was public or charter that was a by-a-right school, we would have a lot less of the conflict over placement of charter schools," Marshall said.