Vinith Annam lugged a backpack full of documents to the Foggy Bottom Association's (FBA) sought-after shredding event.
Annam, a resident of six years, explained he's "always paranoid" about the potential for thieves to steal his information. He said papers tend to pile up at home, so "it's nice" having a free avenue to conveniently scrap them.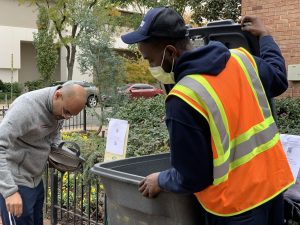 Nodding towards the trash bin, Annam said, "The documents I shred have my information on them."
FBA President John George said the shredding event emerged years ago as an opportunity to make personal document disposal more accessible to residents. At the time, D.C. offered secure document shredding at the Fort Totten Transfer Station, but "for many people, that means you have to have a car to get there," he said.
Although the district relocated document shredding to Benning Road Station this November, it remains a trip across town for residents – and a lot of papers to carry.
George told The Wash, "Just having your address and name, that's all the personally identifiable information that people can use to register themselves as you."
"Nowadays, we get so much junk mail that our information is on, and people let it stack up," he said. "I know my household does and hope we remember to go to the transfer station. Now, we're bringing that service to the community."
The last event was held in 2018 with another one scheduled for 2020, but it was canceled due to the pandemic.
This year, George said he received inquiries from many association members requesting a shredding event. The FBA hired the document destruction service Shred-it to collect and destroy documents on-site.
Residents came in waves to the mid-November event, where a Shred-it truck awaited them across from the neighborhood's triangle park, near the intersection of New Hampshire NW and I Street.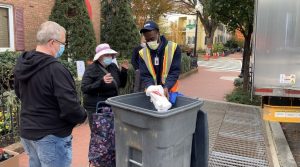 Neighbors transported years' worth of documents in cardboard boxes, grocery bags and backpacks. Some residents made multiple trips, while others managed in one go by loading their papers in shopping carts.
Residents approached the trash bin one-by-one to discard their documents, respecting each others' privacy.
But none were as cautious as Shred-It representative Allex Jackson, who make quick work of shredding residents' documents.
"I hurry up and put it up there," Jackson said of placing the trash bin in the lift without it being entirely full. He said he didn't want residents to be able to see each other's documents which would happen if he let them pile up.
Residents watched as Jackson initiated the shredder from the control panel adjacent to the lift, before placing the trash bin in the lift. The shredder drowned out the sound of morning traffic, and residents appeared confident that their documents were safely destroyed – leaving without questions after witnessing the process.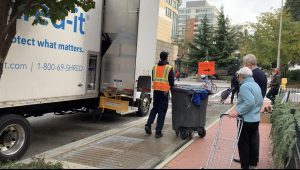 Longtime resident Janet Farbstein has previously taken advantage of these events and called them "a great service to the community."
She said personal information theft seems to have gotten worse, and shredding her documents is "one thing I can do to protect myself."
Online data theft rises as document theft declines
Rates of publicly-reported data compromises have increased by 17% nationally this year, but physical attacks have declined – especially document theft, according to the Identity Theft Resource Center.
Document theft has decreased by 75% since 2020, while cyberattack-related data breaches are up 27%, with phishing and ransomware as the top methods, according to the Center's third-quarter 2021 analysis.
Eva Velasquez, the Center's president and CEO, recommended ways residents can protect themselves against cyberattacks. It begins with "good cyber hygiene."
"Have 12-plus character unique passphrases for all your accounts. Use multi-factor authentication with an app. Don't overshare personal information, and freeze your credit," she said.
Velasquez added that it's important for individuals who receive data breach notifications or discover they are victims of a breach to "develop a clear understanding of the specific data compromised."
These details will determine the steps victims must take to prevent future breaches, she said. "The compromise of your username and password versus your payment card information will require victims to react differently."
Future measures
To increase community awareness, George said the association would likely discuss "what it means to be more secure and prevent information theft" at one of their upcoming meetings.
"Right now, we're at the document stage," he said.
He said the association would "probably" gauge community interest in another type of collection, like electronic disposal.
Even if the association included electronic disposal at the next event, statistics suggest it would not significantly mitigate data theft risk among residents.
Physical attacks represent only less than 3% of reported data compromises this year-to-date, according to the analysis, compared to cyberattacks, which accounted for 87% of compromises.
Still, events like these give residents peace of mind. Farbstein said, "It's great to be able to dispose of things I wouldn't feel comfortable putting on the curb."