The Capitol Riverfront neighborhood, also known as the Navy Yard, is home to some of Washington D.C.'s most popular attractions. From beautiful views of the Anacostia and Potomac Rivers, to Nationals Stadium, the Capitol Riverfront has become one of the most desirable places to live in the District. 
According to the 2020 Census, the Capitol Riverfront saw one of the largest population booms in the region, and developers are jumping at the opportunity to try their hand in the market. 
But Southwest D.C. native Colletta Paylor said the plethora of new development had squashed green space throughout the neighborhood, and it's become a pattern. 
"When I was growing up, we had a lot of playgrounds that were surrounded by parks and stuff. Every four blocks is literally a condo now, " she said.  
D.C.-based developer WC Smith is one company looking to add to those rows of concrete towers. They have been negotiating with the ANC 6D for months over their designs for a new residential high rise on 850 South Capitol St. SE. 
The proposed design is a 13 story, 130 ft residential development, that extends under the Interstate 695 freeway. 
But the design is centered in a unique location. The land is in the Capitol Gateway Overlay District (CGOD), which means it is exempt from Inclusionary Zoning regulations. In other words, WC Smith does not have to include any retail or affordable housing options for the neighborhood.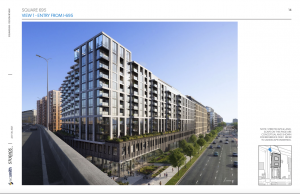 Commissioner Rhonda Hamilton vocalized her concerns about the lack of affordable housing following WC Smith's presentation during the October ANC meeting.
"I don't think it's fair that you bring a project with no real benefits to the community…and then you want us to embrace it," she said. 
Commissioner Jared Weiss said with rent prices spiking across Southwest and Capitol Riverfront, affordable housing is an issue developers shouldn't ignore, even if they're not required to take action. 
"I believe I speak for a lot of my neighbors in saying that we have no interest living in an area that is totally exclusionary to certain types of people. We want to live in a neighborhood where everyone is welcome," he said. 
In response to the attack on the plan's lack of affordable housing during the October ANC meeting, WC Smith Attorney Leila Batties of Holland & Knight said city leaders need to look at WC Smith's track record in Washington, D.C. 
"[WC Smith] has for more than 50 years been a leader in providing housing opportunities and amenities throughout the city for some of the city's most deserving communities and families," she said.
Former ANC 6D Chair Gail Fast told The Wash that legally, developers don't have to seek approval from the ANC for their final plans, but they do go through a design review process with the commissioners. During that review, the ANC can make suggestions and ask for changes.
"ANC's have what's known as great weight," Fast said. 
So while the ANC can't change the fact that the building won't include any units for lower-income individuals and families in the Capitol Riverfront neighborhood, Commissioner Jared Weiss said, the ANC asked WC Smith to add something else that would benefit the community. 
"We feel it is our responsibility to get the benefit for the community we can. But a developer such as this one is only legally required to do very little. So it becomes a negotiation," he said. 
WC Smith responded, and came back with a design for a dog park and run. The park will be placed underneath the 695 freeway in a space that would have otherwise gone un-utilized.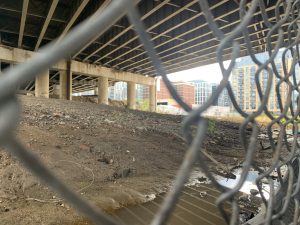 Commissioner Andy Litsky said this was a decent addition, but ultimately he told WC Smith to be more ambitious. 
"This was one of only a couple of options. It was the easy one, and that's what you went with. So I'd like to see more under the Expressway," he said. 
Locals agreed. Paylor said while the addition of a dog park might look good on paper, in her experience, accommodations added by developers only benefit a small population.
"They don't benefit the actual community that is from there; it's more so for the people who can afford to live there," she said. 
The Wash reached out to WC Smith for a comment on their design negotiations with the ANC on South Capitol Street, but did not hear back in time.
Fast said there are many ways developers can benefit the community, they just need to get creative. 
"It could be a park, it could be a playground, the community benefit could even be contributions to the schools," she said. 
Another way the commissioners get developers to accommodate the neighborhood is through what Litsky called "community serving retail."
"Community serving retail would be like a tailor, barbershop, a cleaners, something with service, versus just bars and restaurants," he said. 
An example is a project green-lighted in September by the same ANC. It is expected to bring the first full-service grocery store to the area of Buzzard Point, where a grocery store didn't previously exist. 
WC Smith is scheduled to bring their final designs for 850 South Capitol St. SE to the Zoning Commission for approval on November 8th.