Melissa McMahon commutes through Crystal City almost every day. 
She works in transportation for Arlington County, but lives in Alexandria. Melissa bikes and uses mass transit to move from home to work. 
The county employee is just one of the thousands of bikers that pass through the area annually. 
 A neighborhood bike counter installed by local government estimated more than 40,000 trips through Crystal City in 2019 alone. The same counter approximated about 37,000 trips this time last year. 
Now, a potential plan to bring overpasses down to ground level in Crystal City divides cyclists over the best path forward. 
In an email to The Wash, the Virginia Department of Transportation stated it is planning a study for traffic improvements along Route 1, specifically between 12th Street to 23rd Street.
Both the state Department of Transportation and Arlington County aim to reconstruct the segment without adding capacity. The study hopes to determine the "feasibility of different concepts for multimodal improvements that will best balance pedestrians, bicycles, buses, vehicles, and all modes of travel," according to spokeswoman Jennifer McCord.  
The county has long planned potential changes to Crystal City's infrastructure and Route 1 but action is coming later this fall, said a representative from the county. 
Deputy Director of Transportation, Dennis Leach, said that JBG Smith, Arlington's largest property owner, floated turning Route 1 into a boulevard previously.
The prospect of changing Richmond Highway arose again during the region's bid for Amazon. JBG Smith's plan surfaced again. The county ultimately drafted an agreement with Amazon that "mutually agreed upon improvements to Route 1."
Cyclists want a voice in changes for the city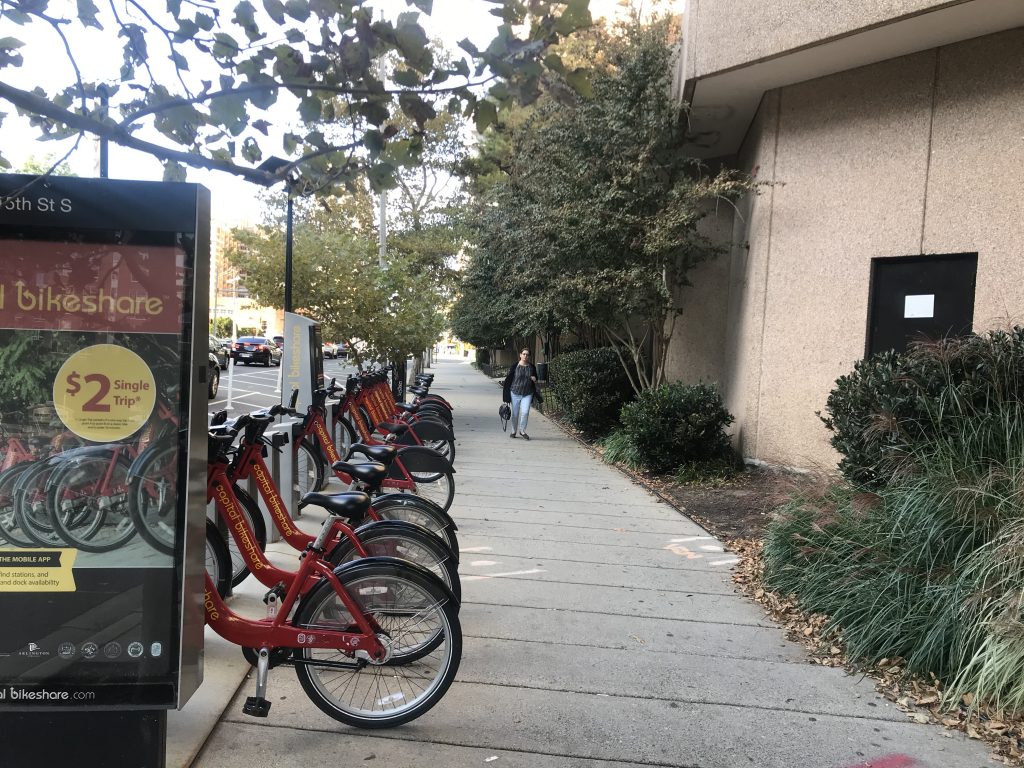 Cyclist, McMahon, loves the prospect of bringing the Richmond Highway to grade. She thinks that integrating the highway into the community would help foster a true neighborhood in Crystal City.
Integrated roads would force cars to drive more slowly and create the necessary environment for bike lanes, according to McMahon.
Colin Browne of the Washington Area Bicycle Association, or WABA, agrees that slower driving does make it possible to insert bike lanes. Still, he is skeptical of the "urban boulevard" vision. 
"You don't see a state highway administration with the the general priority of getting people out of their cars and reducing the number of people driving as a goal," said Browne. 
WABA attempts to get more people on bicycles in the Washington region through advocacy and programming, like classes. 
Browne believes that Richmond Highway plan must seriously consider cyclists and pedestrians to even be viable, especially as the current intersection at 18th Street is "low-stakes" for cyclists.  
He thinks that features like a protected intersection, similar to the one installed in Downtown Silver Spring during Jan., would be integral to keeping riders safe. The intersection at Spring St. and Second Ave. is the first of its kind on the East Coast. 
Deputy Director Leach acknowledged that accidents are a problem along the corridor where the highway is at grade now. But, a "complete redesign" of those intersections is currently fully funded by the state. 
Browne likes how Arlington has handled other bike initiatives, like the Long Bridge project. 
That effort feeds a new trail bridge directly into Crystal City from the D.C. side of the river and increases access to Arlington for bike and pedestrian traffic. 
"If we're putting them in direct conflict with those 50 thousands cars a day [that pass through the Richmond Highway], we need to make sure it's managed and solved for," said Browne.  
Browne concedes that at-grade planning is generally better from a city planning standpoint, and that the city has already taken important steps to help cyclist. 
The city identifies that "the level of comfort of a route will affect a person's desire to bicycle on that route" in its Master Transportation Plan. County officials also integrated bike lane guidelines from the National Association of City Transportation Officials into that plan earlier this year. 
Despite that, the Association wants to see the county "carving out space for folks to feel comfortable riding with their grandmothers," in the new Route 1 plan. 
"It's going to be one or the other," Browne said about the plan. "If you're building roads to accommodate existing driving administrations, you're doing it wrong. This is an opportunity that's interesting to do it right."