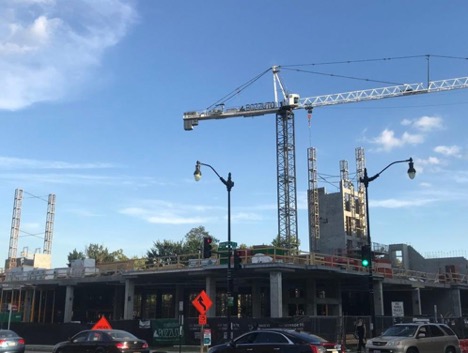 The cranes are in the sky, the permits are approved, and Brookland residents are hopeful that the new building under construction on Monroe Street will become a fresh food grocery store.
The building will be the fourth in the Bozzuto apartment complex, which was first constructed in 2013 and spans two blocks.
The permit for the building was granted last year with Pritzker Realty Group aiming to build a grocery store beneath a luxury Bozzuto apartment.
Bill Dvorak, the Vice President of Pritzker, said that they cannot comment on the leasing of the property, but added several tenants are interested in occupying the building.
"I'm guessing that it will still be several months before we have anything to announce," Dvorak said.
Right now, Brookland has one organic supermarket, Yes! Organic Market on 12th St., half a mile away from Monroe St. and the Brookland-CUA Metro stop. There is also a farmers' market held each Saturday at the Monroe St. Arts Walk, which is a part of the Bozzuto complex.
The D.C. Policy Center does not consider Brookland a "food desert" because of the presence of Yes! Organic Market. However, while Brookland has many restaurants, there are limited options for fresh food such as produce and dairy.
Several Brookland residents are looking forward to having a new place to buy fresh food.
"Bring on the Whole Foods," said Alex Miles, a Brookland resident, expressing a preference for what grocery store she wants built. "I'm for progress in the neighborhood."
Miles says that Yes! Organic Market is too expensive, too far from the Metro, and that their produce is not as fresh as the farmers' market, where she shops every Saturday morning. However, she acknowledged that a new grocery store may affect the business of the farmers' market.
"I can't imagine it would be good for this place," Miles said of the farmers' market.
Natalie Salgado, an Indiana native, moved to Brookland in August when she began her graduate business studies at Catholic University. Upon moving, she was surprised by the limited amount of places she could go grocery shopping.
"I like going to the farmers' market every Saturday morning, but then by the middle of the week, I am out of what I want," Salgado said. "Having a Trader Joe's or Whole Foods here would be really convenient."
Mikela Sheskier, an American University psychology PhD student, works at the farmers' market in a tent that sells locally grown produce. She says that many of her customers are older Brookland residents who use a voucher system from the D.C. government, Produce Plus, to buy fresh food. However, there are rules for what these customers can buy — fruits, vegetables, and cut herbs.
"People who use Produce Plus vouchers can't get things like honey, cheese, or eggs," Sheskier said. "It's pretty limiting."
The Produce Plus program concludes at the end of September, and the farmers' market closes for the winter months in December. It is unclear whether there are any current programs from the D.C. government for recipients of Produce Plus to get fresh food in the neighborhood during the winter months.
Longtime Brookland resident, Larry Wiley, said that Yes! Organic Market is not affordable for him. He often goes out of his way to go to Whole Foods, he said, specifically because of their prepared food options.
"I want a Whole Foods because they've got hot food," Wiley said. "I can't get that at Yes!, or anywhere else. That would be great for us to have on Monroe."