Old Town Alexandria's Lyceum last month opened a new exhibit celebrating Alexandria Hospital's 150th anniversary, showcasing the role of women in the development of the hospital.
The hospital exhibit was one of several the history museum offered this fall. Among others: A Civil War Symposium and the Alexandria Film Festival.
These events are part of the Lyceum's mission to help Alexandria preserve and celebrate its history.
The "Alexandria Hospital: Woman Mobilize the Community" exhibit opened on Oct. 27. it aims to present how local Alexandria organizations like "The Twig" helped fund and develop the hospital, according to the City of Alexandria and Lyceum faculty.
"The exhibit will be open for about a year, or a year and a half," said Karen, a volunteer at the Lyceum. She declined to provide a last name for privacy purposes.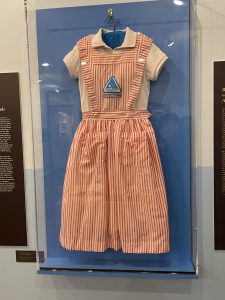 "The exhibit showed women's role in funding, advocating, supporting, and serving Alexandria Hospital, and we presented recorded interviews with former nurses, along with candy-striper uniforms and memorabilia from that era," Kristin Lloyd, Lyceum assistant director and curator, said.
On Halloween weekend, Oct. 30 to Oct. 31, the Lyceum offered "Poe in Alexandria," two live performances by actor David Keltz, recreating Edgar Allen Poe's 19th-century lectures, Lloyd said.
"For Poe in Alexandria, we considered the Halloween holiday. Edgar Allan Poe did not speak at our Lyceum, but was a Lyceum speaker and had family here. The Lyceum is an education movement in the first half of the 19th century, where communities would get together and hear lectures," she said.
The Alexandria Lyceum relies on funding from the city, local and state grants, and donations. Additionally, the Lyceum rents its lecture hall for group events, meetings, and after-school programs.
"Most of the museums throughout the country at one time were not getting the funding. Thankfully, with support and funding from the City of Alexandria and other donations, we remain open," Karen, a volunteer at the Old Town Alexandria Lyceum, said. She did not disclose her surname because she said she was not authorized to speak for the Lyceum.
The Lyceum remained operational throughout the Covid-19 pandemic with financial assistance from the Alexandria government. The Office of Historic Alexandria administers the Lyceum and other historic sites in Old Town, like Gadsby's Tavern Museum and the Black History Museum, according to the Historic Alexandria Office.
"We couldn't be open to the public for a while, but the staff would take turns coming in to address any issues with the structure's maintenance and care," Lloyd said.
Lloyd is responsible for organizing the museum's displays. The Lyceum's exhibits adapt based on season, historical anniversaries, and community interests.
"We do a lot of research for these exhibits. Sometimes we get artifacts loaned to us from other organizations or private collections, and sometimes we draw from our own collections. It depends on the direction we want, whether it be object-based or more text-based," Lloyd said. "We aim to create exhibits, performances, and speeches with a good draw. An example of something that would not appeal to today's audience is like Benjamin Hallowell, one of the founders of the Lyceum here, was 'Vegetables of Theology,'" Lloyd said.
According to the Office of Historic Alexandria, Hallowell, a prominent Quaker teacher and abolitionist, and six other locals established the Lyceum in Alexandria during the public education movement in the 1820s.
Hallowell promoted the location as a place of "adult education," which included a town library, exhibits on natural history, and life sciences, and hosted lectures on topics of interest to community members, according to Lloyd.
"The Lyceum is an essential part of this community, and I grew up going to it with my family when I was a boy. I learn new things with each changing exhibit," Elmer Bustillo, a Lyceum visitor, said.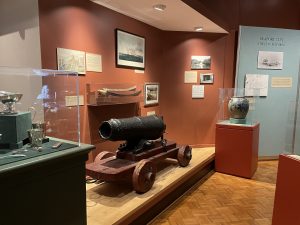 The Lyceum partners with other museums in Old Town to exchange information, research, program ideas and coordinates various events, according to Jennifer Lane, the Lyceum's education coordinator.
"With less than 100 employees in our department, we really coordinate well with other museums in DC and around Old Town. It's part of our living mission," Lane said.
The Lyceum posts monthly event. However, some community members feel the Lyceum should further incorporate the community.
"I think the Lyceum is a beautiful building, but very underused. It should have more community outreach programs," Steve, an Old Town resident, said. He declined to provide his surname due to privacy reasons.