A gun shot rang out inside the west hall at Union Station a little before 4 p.m. today, leaving one person injured.
A D.C. Fire and EMS spokesperson confirmed that the injured person was a young male with a minor gunshot injury to the foot.  The victim was taken to the hospital in a private vehicle.
The U.S. Capitol Police (USCP) released a statement confirming the arrest of the two shooting suspects. They were found near North Capitol Street and H Street by USCP officers, who also confiscated a handgun.
The west side of the main level of the station––which houses the restaurants Pot Belly, Shake Shack, and more––was cordoned off with tape for a few hours.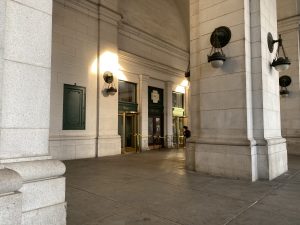 A Metropolitan Police officer at the scene said that it was an active crime investigation, while the Amtrak police officers at the station declined to comment.
The Amtrak Police Department is the lead on the investigation of the shooting, with the Metropolitan Police Department assisting.
The general manager at the eatery Chopt, also in the west hall, was a witness at the scene. She declined to give her name.
The manager said she noticed a group of five teenagers––four boys and a girl––sitting in a corner table of the store.
Soon, a fight broke out among them, she said, which eventually spilled out onto the front of the store.
"I was very scared," she said, still shaken from the experience.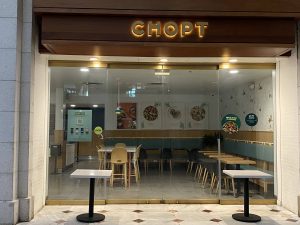 Having been in the back of the store attending a meeting at the moment the gun went off, she recalled watching the customers run towards the back in fear.  
Despite having worked in the station restaurant for eight years, this was her first time dealing with a shooting near the store, she said.
Another witness on scene was Michelle Goldchain, a journalist with WTOP.
She took to Twitter saying, "Crazy to think I was right next to a shooting today."
Goldchain heard the shot go off at around 3:50 p.m.
According to the monthly crime report released by the Washington Metropolitan Area Transit Authority, there was only one crime at a Metro facility in August and 13 so far this year.
The issue of safety at Union Station was a recent topic of discussion in Advisory Neighborhood Commission 6C's virtual meeting on Sept. 15.
The newly appointed Doug Carr, president and chief executive officer of the Union Station Redevelopment Corporation (USRC), attended that ANC meeting to address the concerns of the commissioners and their constituents.