Dealing with a loss in the family is an already difficult experience, and the last thing someone expects is to be told they have to wait for funeral services.
This is the reality for some families in southern California amid a surge in new coronavirus cases and deaths. 
A resident of Glendale, California, Annette Minassian, said her aunt passed away last week and she told The Wash they couldn't get a funeral service until after the new year.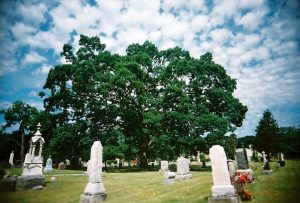 "They said we have to wait until later this month just to have a meeting to arrange the funeral," said Minassian after calling Forest Lawn, a funeral service home that has several locations within Los Angeles county. 
Not all mortuaries have such a long wait time, but it's not as simple as "shopping around" for what is available.
"We can't really go to another place, her husband is buried [in Whittier] and she would have wanted to be laid next to him," said Minassian.
The Wash reached out to Forest Lawn about the wait times and contacted Andre, a client representative within their information center. 
He said that from the time of the appointment to the soonest service date available "is usually around a week and a half to two weeks or so," but that certain locations are experiencing more delays. 
He mentioned that there are some restrictions to services in light of the pandemic. "Our chapels are actually closed," he added and that they are limited on providing any services in-doors. 
Among the restrictions, viewings are not offered where family and friends could pay their respects in a private room before the actual burial. 
"The viewings could last anywhere from a few hours to a full day, and they would be free to cater food," said Andre and that it's "unfortunate" that they cannot offer service but instead have what's called "ID viewings."
He said these "are much shorter, they're only about 15 to 20 minutes long and just immediate family members," but even that is limited to a few people at a time.
Though outdoor services are still available and without a capacity limitation, attendees are still encouraged to practice safety precautions by wearing masks and staying six feet apart. 
The longer wait times also conflict with some religious traditions. For Jewish burial tradition, the Torah says, "You shall bury him the same day… His body should not remain all night." 
Islamic funeral traditions also require the body to be buried within 24 hours of death. Minassian and her family are a part of the Armenian Apostolic Church, which follow traditions similar to other Eastern Christian Orthodox religions.
Their tradition includes memorial services or family gatherings on the 40th day after death. "By that time, it would be only a week or so after the funeral before everyone gets together again," she said. 
She said it's "a little awkward" and that it disrupts the grieving process but "it is what it is."
California had the highest death count in a single day this past Tuesday, 219, surpassing the previous single-day high of 214 which was recorded July 31st. 
Close to 1,400 Californians have died of COVID-19 in the last two weeks. Since the pandemic hit in March, over 20,300 deaths have been recorded statewide.
According to Andre, all mortuaries and cemeteries experience a sort of "busy" time period during the colder months, particularly during the winter.
"This year, I would say there's been a much less noticeable difference between the busy seasons," and that they have been "pretty busy all year around" due to the pandemic.