Freedom Plaza played host to the second Women's March of 2020, this time to address their grievances against the Trump administration and its handling of the recent Supreme Court justice nomination of Amy Coney Barrett. 
Plans for this Women's March were made public just hours after Justice Ginsberg's death was announced on Sept. 18, as people across the United States and around the world mourned the loss of a progressive icon.  
Attendees joined up at Freedom Plaza, listened to a line-up of local activists and marched to the National Mall.   
Though the march was created by and for female-identifying individuals, not all attendees were such. One man named Alan, who declined to share his last name due to safety reasons, said he's been coming to every Women's March since its beginning in 2017. 
Alan held a sign that riffed on President Trump's claim of being a "stable genius."
"My sign is multi-leveled in meaning… it's also a polite way of calling him a name," Alan said. "It also makes reference to how he treats women." 
He said he believes this March will send a strong message about what people want during this election season. 
"If you read these signs, they're all statements based on what we want out of people. We need to turn this thing around and start working for the people, not just the 1%," Alan said.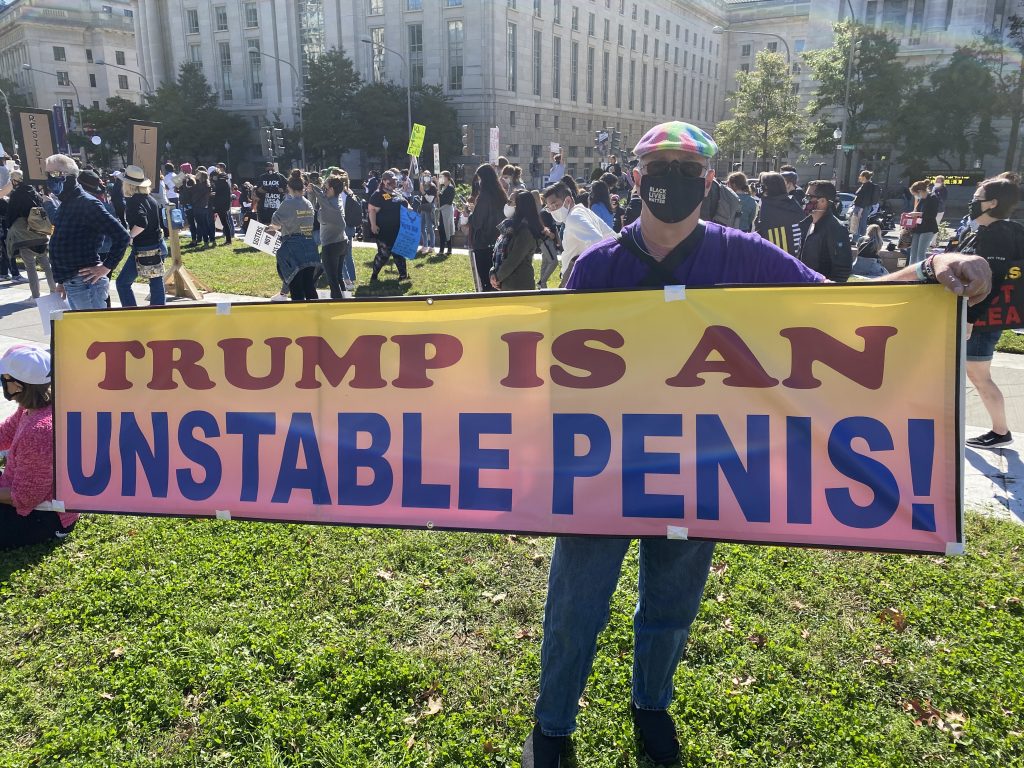 Another family of protestors sat in the plaza with their dog in a pull wagon wearing a bandana which read "I Bite Racists." 
One of the family members, a young adult named Jacob, who declined to share his last name due to security reasons, said he was attending the march to support women's rights. 
"We're focused on wanting to bring about change by speaking out, because that's really the only way good things will happen — if people speak up about what they like and what they dislike," he said. 
Some attendees came from out of town and out of state. 
Teri Rankin, of Chattanooga, Tennessee, attended the protest as a member of the Chattanooga Moms for Social Justice, a group of primarily middle class, white women who promote radical change.
Rankin said it was important, as a mother, to get to the march and show her daughter that all American people have power. "Power to the people. This is a country by the people for the people," she said. "And we have to take it back."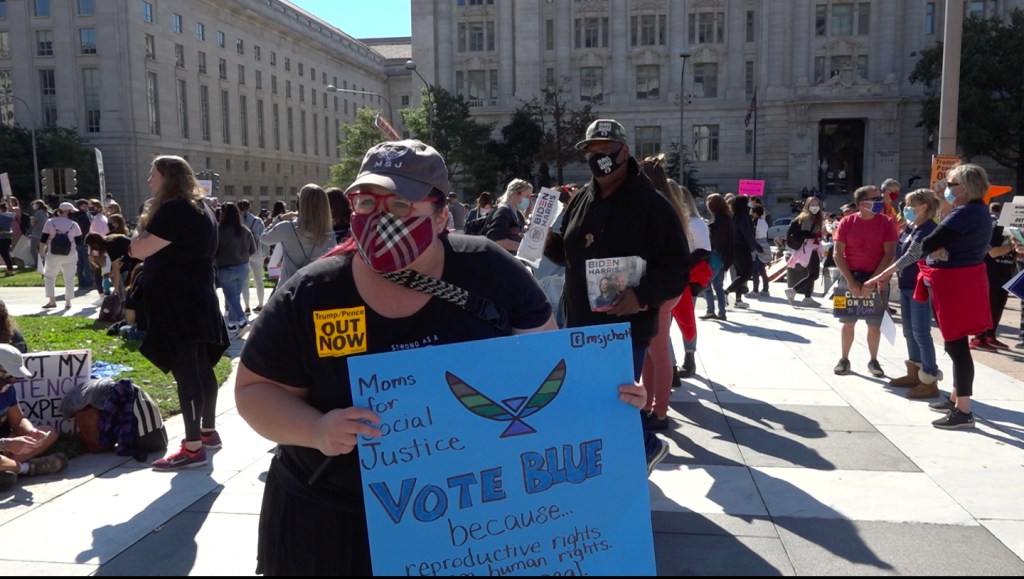 'We decide our futures' 
After milling around the plaza, hoisting up protest signs and cheering each other on with chants of revolution, protestors then listened as various speakers took to the platform to rally march attendees.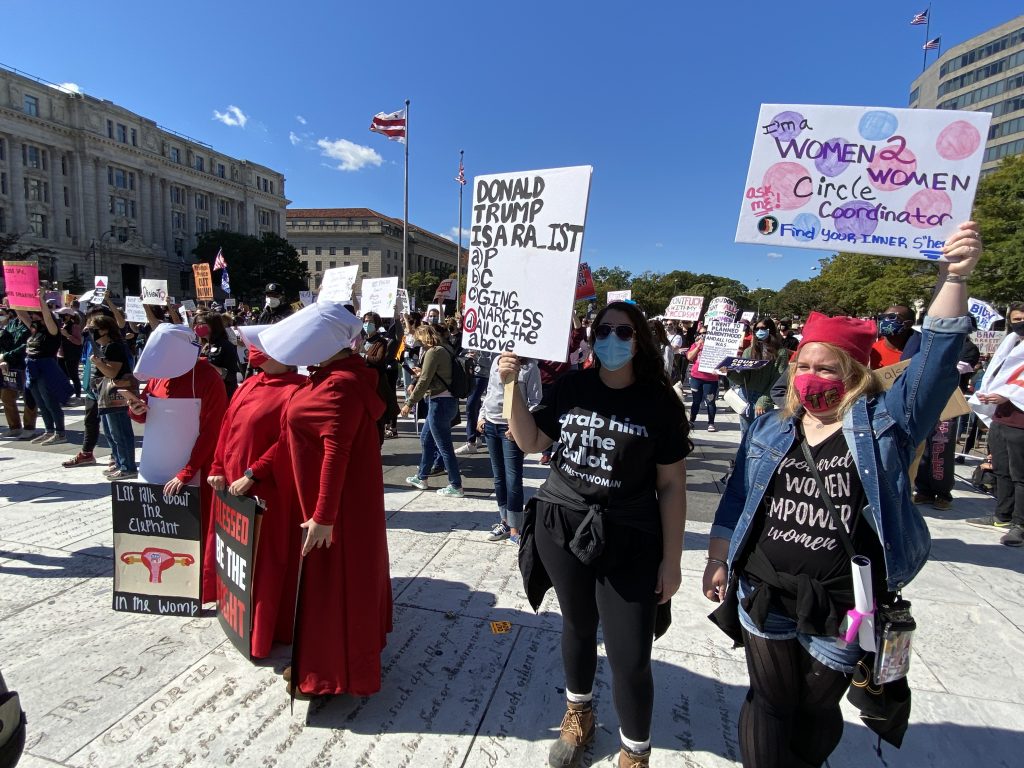 Hope Butler Khodaei, a woman of the Piscataway tribe, a Native American nation indigenous to the Potomac region, sang a welcome greeting and land acknowledgement to protestors. 
"Oh Great Eagle, King of the sky, lift our Spirit up and carry us high. Wings of strength that float along, take away the weak and make us strong. Make us strong. Strong. Make us strong," she sang.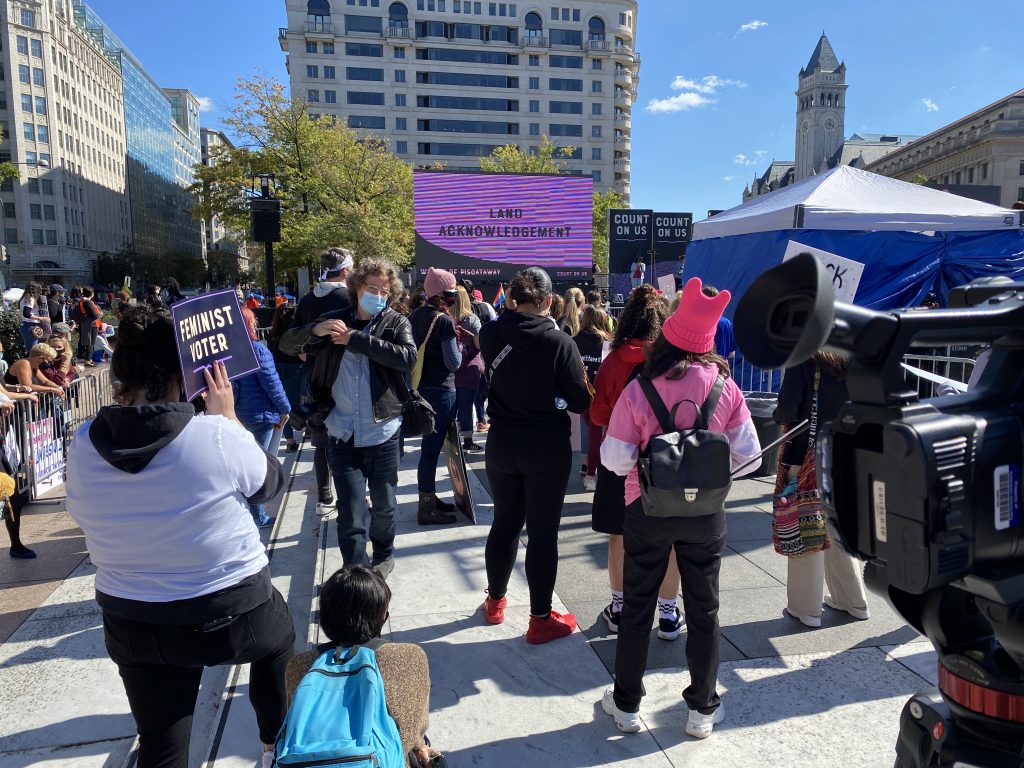 D.C. local Nee Nee Taylor, one of the core organizers for the Black Lives Matter D.C. group, demanded public police reform and statehood for the District. 
"For those that don't know, Washington, D.C. is not a state which means we lack the power to make basic decisions about our city or holding our representatives responsible," Taylor said. "D.C.'s systematic disenfranchisement comes from a legacy of racism and bigotry."
Jenny Lawson, a march organizer and executive director of Planned Parenthood, said she believed Americans could not afford four more years of a Trump administration. 
"We cannot afford four more years of this administration attacking our access to reproductive health and rights," Lawson said. "Because in this election, we decide our futures."
Since the Trump administration's nomination of Amy Coney Barrett to the Supreme Court as Justice Ginsberg's replacement, women have begun voicing their fear of losing their rights to vital women's healthcare needs should the high court overturn Roe V. Wade. The Senate will vote on Barrett's nomination on Oct. 26, and just two weeks later, America will know who its next president will be. 
Jess Morales Rocketto, director of domestic worker's protections group Care In Action, reminded those who are fearful of their rights as citizens. 
"Nobody should tell us what we should do with our bodies. We should already have a White House that actually cares about keeping us alive," Rocketto said.
Marches across the East Coast
In addition to the D.C. rally, hundreds of women's marches took place Saturday, all over the United States.
Athena Scalise Waitt was one of the coordinators for the Herndon, Virginia, Women's March, RISE UP on the Herndon Town Green, along with Brenna Danatzko and Coco Buck. 
Their event featured speakers as well such as Virginia state Senator Jennifer Boysko (D-V), Sean Perryman of the Fairfax County NAACP and others.  
"I find it imperative that all daughters, regardless of their parents' political leanings, should have a right to a more equal future," Scalise Waitt said. "I think pandemic or no pandemic, our country is going in the wrong direction."
Sterling, Virginia, Women's March coordinator Dona Dickinson said she believes it's important for individuals to use their voices in public to raise awareness about social justice moving in the wrong direction.  
"I think even if we can't all be downtown, that all over the place wherever we can be, we need to stand up and stand in public and say this is wrong and we disagree with it," Dickinson said. "We cannot stand down. We cannot cede our ground."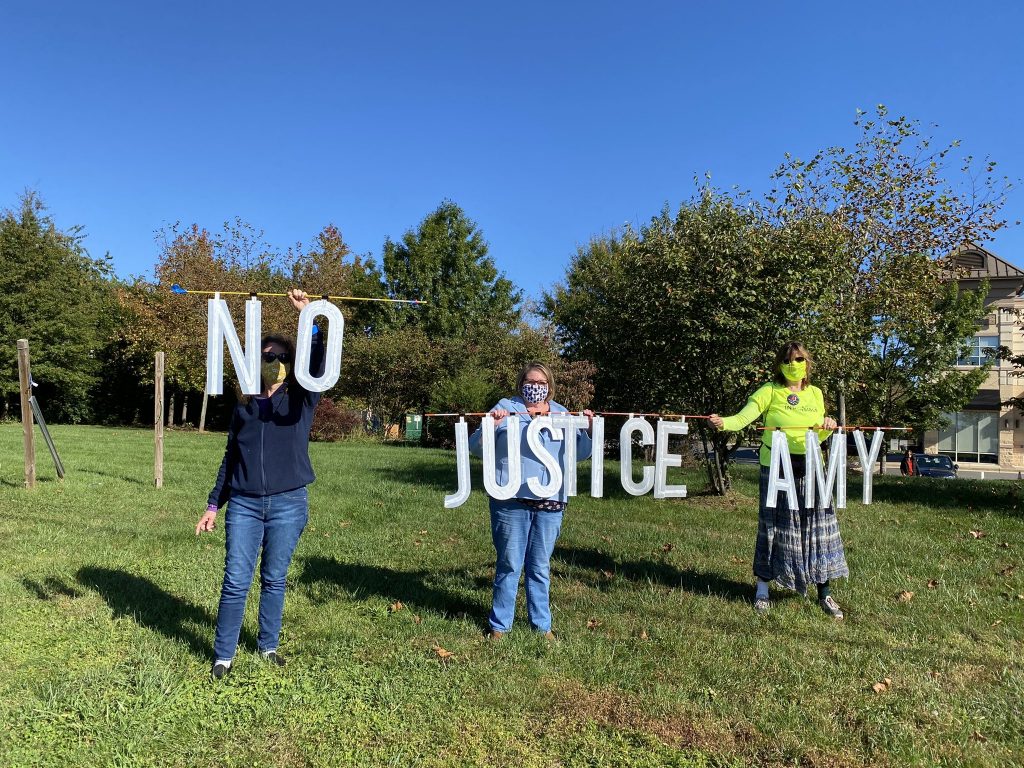 Dickinson also said she's been visiting President Trump's golf course over the past few months during the pandemic, holding up a sign with the ever-climbing death toll numbers. She said she hopes President Trump sees it as he drives to the course because she believes he should have managed the pandemic better. 
A.J. Sanchez joined the Women's March in Philadelphia. He said he felt more than obligated to participate. Sanchez also said if Trump wins this upcoming election, he expects the majority will riot against another four years. 
"As we the people, we are fed up. We are tired of the hate that the President has been spewing," Sanchez said. 
Organizers of the Women's March are planning another D.C. rally in the early spring months of 2021.