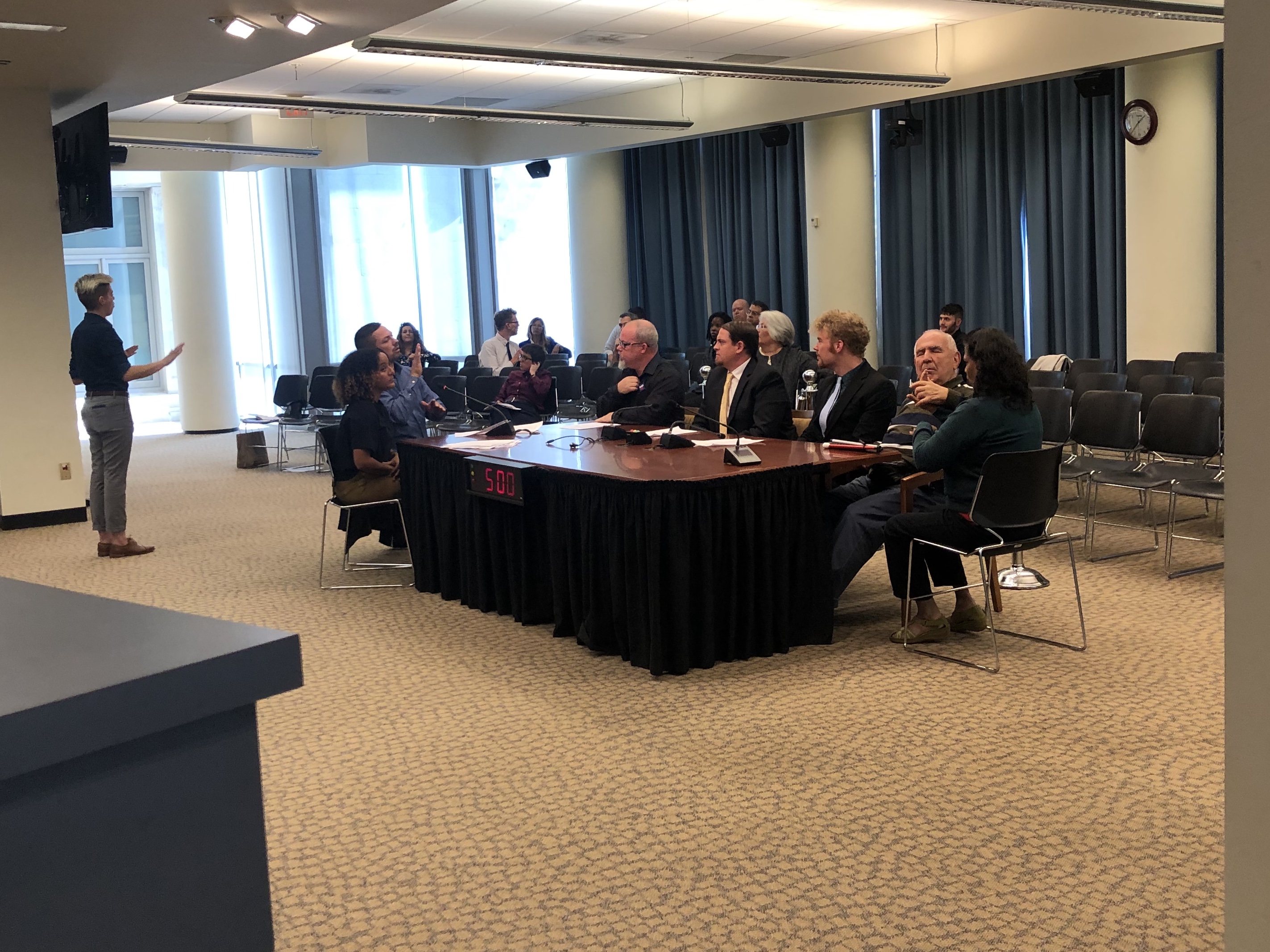 One man's deaf brother was shot by a police officer because of lack of training. Another deaf and blind man has difficulty accessing affordable housing despite his disabilities. And a deaf child could have potentially received the wrong vaccine based on miscommunication in the doctor's office.
Witnesses testified Tuesday morning in front of D.C. councilmembers Brandon Todd and Charles Allen about these and other examples of the struggles individuals of the deaf and hard of hearing community face. They were supporting a bill that would establish an Office of the Deaf and Hard of Hearing alongside the Office of Disability Rights.
The District is home to one of the largest concentrated populations of deaf and hard of hearing individuals in the United States and also holds Gallaudet University, the nation's only institution for deaf and hard of hearing students. The bill would improve these individuals' access to government programs, affordable housing, and better education by creating the official government office, according to its supporters.
According to the Hearing Loss Association of America, 38 states and territories in the U.S have an office for deaf and hard of hearing individuals, including Maryland and Virginia. But D.C. does not.
The legislation is sponsored by Charles Allen of Ward 6, who is actively working with deaf and hard of hearing advocates to draft the bill.
At Council today, young people are testifying in support of my bill to create a DC Office on Deaf & Hard of Hearing. We need to do more to elevate these voices & have the city do more to provide all residents the services & supports they need, especially better & more ASL. pic.twitter.com/FfCGFHcVJz

— Charles Allen (@charlesallen) October 15, 2019
Allen said, in part, he started this bill when a former ANC Commissioner in his ward attempted to go to two ANC meetings but was forced to skip one due to lack of American Sign Language interpretation.
"We as a city have got to do a lot more and we need to elevate this community," Allen said.
Dupont Circle's ANC 2B01 Commissioner, Matthew Sampson, who is deaf, can relate to the difficulties of getting information at meetings. In 2017 when he started to get involved in his community, he said he could only hear commissioners who used the microphones during the meetings and he would often miss a lot of information when people in the audience spoke.
"The Office of Deaf and Hard of Hearing would smoothen this process out, not only for me, but for many other people in my neighborhood and for future generations of deaf people in D.C," Sampson said.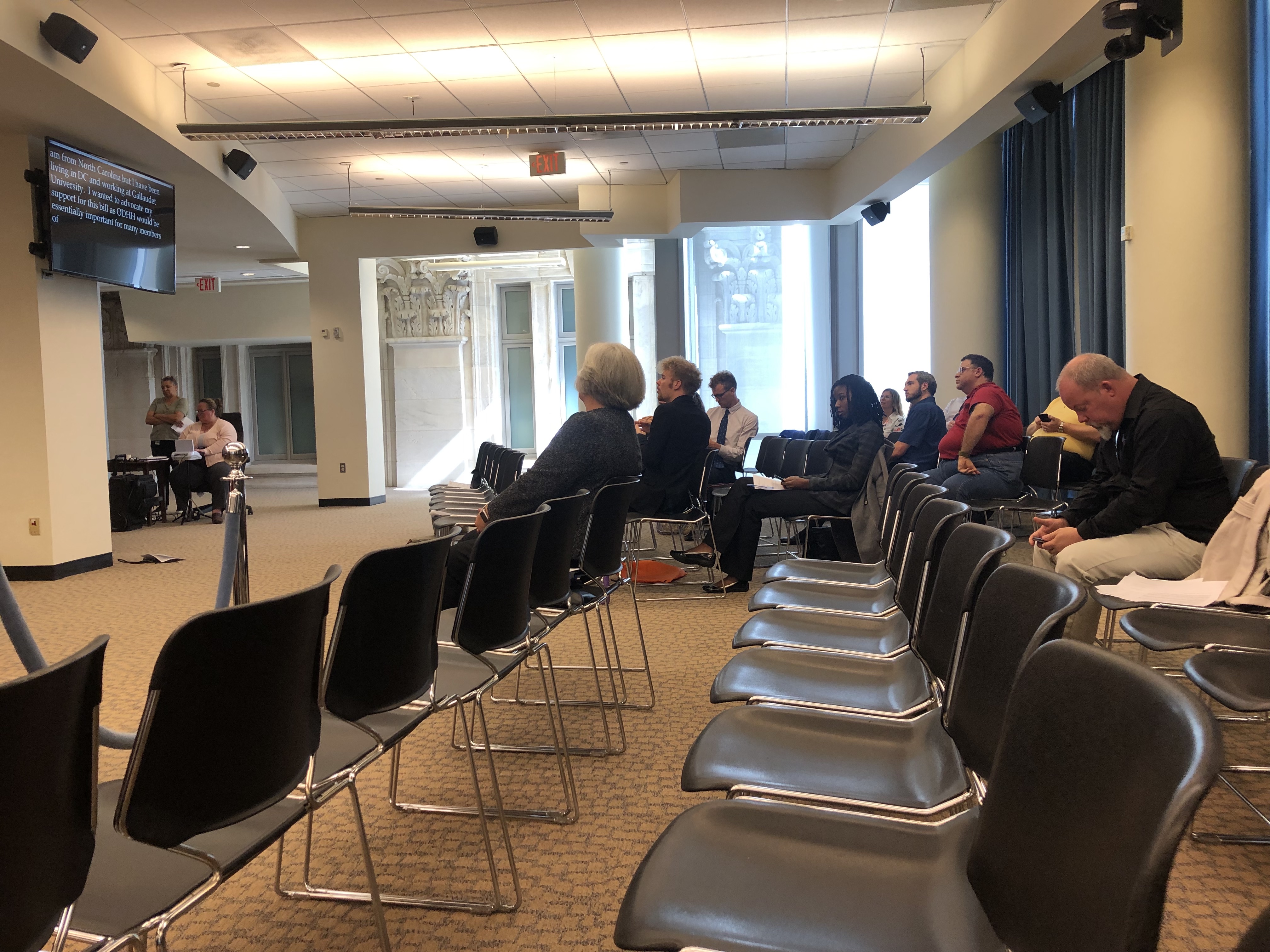 Brianne Burger is also in full support of the bill. She is a 16-year resident of D.C. and a representative of the D.C. Association of the Deaf. During her testimony, she talked about a recent meeting she attended for emergency preparedness for people with disabilities at Gallaudet University. She said the guide for emergencies left out deaf residents and had no plan to communicate with them.
"If a disaster strikes D.C. tomorrow, every deaf person needs to run for the border of Maryland immediately simply because D.C. does not even recognize or include us in their emergency planning as it exists today," she said.
Sean Maiwald, a Gallaudet alumnus and D.C resident, helped draft the bill with Allen's office.
In Maiwald's testimony, he cited statistics that show the District has one of the worst outcomes for deaf adults compared to hearing adults in regard to education and employment, according to The National Deaf Center. This study calculated data between 2012-2016 of the outcomes of deaf and hard of hearing individuals in the United States, District of Columbia and Puerto Rico.
Based on the study, D.C. is ranked at the bottom of the list at No. 50 in the United States for employment rate.  In regard to high school completion, D.C is ranked 45 out of 52 and dead last for completion of a bachelor's degree amongst deaf adults.
In order for this bill to become law, it must be passed by the D.C council and get approval from the mayor and congressional review.