Local stores in Logan Circle are confronting growing insecurities about the survival of their businesses as a new Covid variant emerges.
Changes in consumer practices, social detachment, and a stark shift in the economic landscape are posing challenges to small businesses in the area. These issues, all trickle-down effects of the pandemic, have been exacerbated by the arrival of new Covid strain BA.2.86.
"I think my biggest concern is a further break in people's day-to-day lives…visitors to the store, neighbors, Washingtonians at large, we've already dealt with years of really disassociating stuff," said Scott Abel, owner of 14th Street's Solid State Books.
Abel opened his second location in Logan Circle in May 2023 and spoke confidently about his store's ability to meet the upcoming wave head-on, his first location having already survived the initial years of Covid. 
He said he was most concerned for the increasing isolation of residents and its effect on the neighborhood and its businesses.
"My worry is that we kind of continue to disrupt the fabric of the community. If people don't want to leave their homes, it's hard to maintain and sustain third places like a punk club or a bookstore or a coffee shop," said Abel.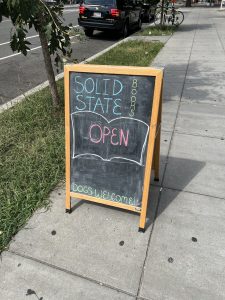 Jessica Barakat of 14th Street's Crown Pawnbrokers was worried about the culture of shopping changing altogether.
"A lot of people are moving away from person-to-person and brick and mortar. We need places to shop and touch things," said Barakat. 
Crown Pawnbrokers was opened in 1935 by Barakat's great-great-grandfather and provides cash loans to patrons, among other services. Barakat said an increasingly digital world and an aversion to germs in a post-Covid economy pose a new kind of threat to this way of operating.
"People didn't want to touch cash for a long time with Covid. [Now] there's a larger divide between the cash and credit world," said Barakat. 
She spoke about stores that have apparently stopped taking paper money.
"A lot of businesses that don't take cash, not only is it illegal, but I won't go. It's discriminatory against people who have cash. If I give my kid $5 to run over and grab a drink from the coffee shop, and they say they don't take cash, it's a strange thing. I worry because some people are unbanked," said Barakat.
The District enacted legislation in December 2019 that prohibits businesses from rejecting cash payments. The law went into effect April 2021 and aims to protect people without access to a credit card from discrimination.
Covid-induced fluctuations in the economy are a constant theme for the community.
Michele Molotsky is a main street director for the non-profit District Bridges and described what she saw as the neighborhood's two largest financial issues. Her organization helps economically vitalize the Logan Circle community by explaining grants to small businesses and organizing events that help generate customers for them.
"The current problem is workforce. The other problem would be rent," said Molotsky.
According to the U.S. Bureau of Labor Statistics, the district's unemployment rate rose from 4.7% in February 2023 to 5.0% in July 2023. 
At the same time, tipped minimum wage in the district increased in July 2023 from $6 an hour to $8, and the minimum wage increased from $16.10 an hour to $17. 
"I think staffing continues to be a challenge, attracting and keeping people when the economy seems so volatile," said Molotsky.
Molotsky pointed out that the increase in Logan Circle rent has also made it harder for small businesses to survive.
"It's a very popular area right now. A lot of landlords want top dollar, over $100 a square foot. At that rate, only a national brand is able to pay that kind of money. A lot of landlords would rather hold out and be vacant [because] you know a big chain … is going to pay rent no matter what happens," said Molotsky.