Christmas is less than a month away, but Columbia Heights is only shyly decorating the neighborhood.
Despite events organized by District Bridges, a nongovernmental organization, local businesses regret that the neighborhood doesn't have as much light as it has had in the past. However, these business owners hope to bring the Christmas spirit back to Columbia Heights. 
District Bridges organized D.C. Holiday Lights, which started in November and will stop on Jan. 8. Holiday Lights spans the District, and anyone can visit the 14 participating neighborhoods and vote for their favorite display. 
Columbia Heights has 14 participating businesses, which is a little bit less than the average compared to other neighborhoods.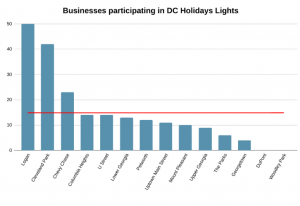 Blanca Caceres has a beauty salon and barbershop in Columbia Heights. Her business has been open over 20 years, and she participates in D.C. Holidays Lights every year. But she noticed a change through the years.
"A few years ago, our economy was better than now," she said. "So now we don't do anything exciting."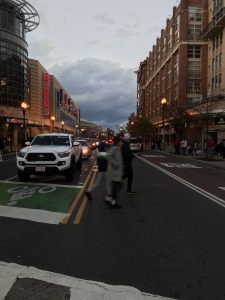 In September, District Bridges Columbia Heights Main Street asked for donations to help decorate the neighborhood, but only one person donated. However, the organization does count on several sponsors, such as Amazon.
The Christmas spirit inside these businesses is not dead. Dolores Yanes, a hairdresser, plays holiday songs and decorated a tree with chocolate Santas—she will give them away to children when D.C. Holiday Lights are finished, she said. She also wished the neighborhood had a bigger Christmas spirit.
"We have a lot of businesses here; they have to do more," she said. "Before the pandemic, they used to decorate 14th Street, they had more motivation." 
Because her business is not within the Main Street boundaries, she said that she needs to do the decorations on her own. 
Both businesses are located at Park Road, NW.
When strolling around 14th Street, Christmas lights are barely perceptible. This is in stark contrast with other neighborhoods, such as Woodley Park, with the Zoo Lights event, or Georgetown, with GLOW DC. 
Linn Mylien, who works at a nail bar located in the Civic Plaza, said  she had the responsibility to decorate her shop. 
"We are the center, so we should do something to bring it up," Mylien said.
Her business won the most colorful light display in the D.C. Holidays Lights competition of 2021. She doesn't think that the event will bring new customers, but she is doing it "for fun," she said.
In front of her store stands an undecorated Christmas tree, which was mocked on Twitter because of its small size and sad stature.
The Columbia Heights Christmas tree leaves a lot to be desired this year pic.twitter.com/TAsbGnRrJP

— Rebecca Rainey (@RebeccaARainey) December 2, 2022
Residents will have to wait until Dec. 10 to see the lighting of this tree, which some hope will revive the Christmas spirit in the neighborhood.