Taste of Bethesda comes back Saturday, Oct. 1, for the first time since the outbreak of Covid-19. Local restaurants recovering from the pandemic seek to establish and rebuild connections with customers and the community through the popular food and music event in downtown Bethesda, Maryland.
Forty restaurants that operate in downtown Bethesda will set up tents and sell samples from their menus in the Woodmont Triangle, an area located three blocks away from the Bethesda Metro station. Bands and dance groups will have live performances at five stages set on the site.
"What is unique about Taste of Bethesda is that people have the opportunity to just try so many different foods in one day," said Stephanie Coppula, director of marketing and communications at Bethesda Urban Partnership, which produces the event.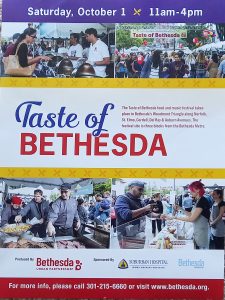 Tickets are sold on the site, and a bundle of four tickets costs $5. Food samples are offered in small portions and typically cost one-to-four tickets.
Bethesda Urban Partnership cancelled Taste of Bethesda in 2020 in the wake of the Covid-19 pandemic. It attempted to resume the event last year but gave up the plan when not enough restaurants and volunteers signed up. This year, the number of participating restaurants is smaller compared to 2019, when 50 restaurants signed up.
Restaurants welcome the opportunity to connect with customers
The participating restaurants welcome the occasion to appeal to a big crowd.
"This is the opportunity to set the tone of who you are," said Renè Martinez, operating partner of Silver. The American brasserie has been participating in the event since 2015.
Martinez said he is taking this event very seriously. He used to assign younger associates to the event, but this time he is leading "an ace team" that includes his sous-chef, lead cooks and the marketing manager.
"I want to show the guests how confident we are about what we are serving," Martinez said.
At the event, Martinez plans to distribute small cards that explain the hospital grade air purification system the restaurant installed.
"I want the community to know we are still here, the same great food, great service, and bring all the safety precautions to the table."
Taste of Bethesda is also an important opportunity to get to know other restaurants in the area, Martinez said.
"Everyone is setting up at the same time. We share business cards and start from there. We are friendly competitors. It is very important to connect to the peers."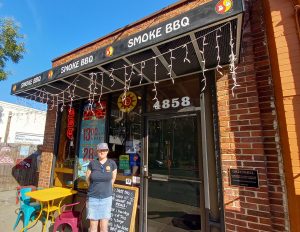 Susan Lennon, owner of Smoke BBQ, also has a high expectation for Taste of Bethesda. Smoke BBQ has been participating in the event since 2013, the year the restaurant opened.
"It is a profitable event, not so much in money you make at the event but gaining new customers as a result of that. We always had a lot of exposure because of the event," Lennon said.
According to Bethesda Urban Partnership, between 35,000 to 45,000 people visited Taste of Bethesda before the pandemic. Lennon expects "just as many people as before covid" if weather is good, which will mean larger sales for the fewer restaurants participating this year.
Fifteen out of 40 participating restaurants are new to the event, representing the turnover of businesses in downtown Bethesda. Hawkers Asian Street Food, which opened in August 2020 is one of them.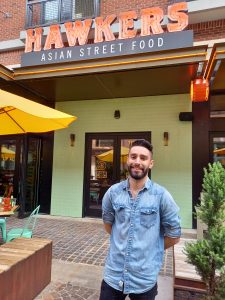 "I think we are offering a few dishes that hopefully will stand out in some way," said Asher Kline, service manager at the restaurant. "I am excited. I want everyone at Hawkers to learn a lot. The main goal is to show who we are."
"Bethesda is a wine town"
Another addition to the event is beer and wine. Jeff Burton, executive director of Bethesda Urban Partnership, said the partnership originally planned and worked with Montgomery County Alcohol Beverage Services to offer alcohol at the 2020 event but had to postpone it because of the pandemic.
Martinez from Silver expects that "alcohol will be a big sales driver," as "Bethesda is a wine town. People really enjoy meals with wine."
Jocelyn Rawat, communications manager at Alcohol Beverage Services, said in an email that restaurants are extending their annual licenses to offer alcohol at the event and are responsible for preventing alcohol consumption by people who are under 21 as well as overconsumption by the customers.
"People wishing to enjoy alcohol at the event should be prepared to show valid ID. Festivalgoers may not bring their own alcohol onto the festival grounds," wrote Rawat. Alcohol is restricted to designated areas. An officer from Alcohol Beverage Services as well as active police officers will be on site, according to Rawat.
Restaurants face new and old challenges
The comeback of Taste of Bethesda seems like a step toward normalcy, but Lennon from Smoke BBQ pointed out that several restaurants in downtown Bethesda are struggling because many office workers are still working remotely.
"Our evening business is doing well, but lunch business is completely gone," said Lennon. "I hear anecdotally from my customers that many office buildings are only 30-40% occupied compared to pre-pandemic level. We just don't have the office lunch population we used to have."
Martinez said breakfast is very slow at Silver compared to pre-pandemic. "Office people were coming to have their meetings. Now you see a lot less of that."
On top of the persistent impact of pandemic, restaurants are now suffering from staff shortages and the rising cost of inflation. Lennon said the major reason her neighbors did not sign up for Taste of Bethesda this year was "staff shortage."
Linda Hunter, events and education coordinator at Restaurant Association Metropolitan Washington, said her organization is hearing that local restaurants continue to struggle.
"Today our surveys show that while some operators have returned to 2019 levels of revenue or are exceeding it, they are falling behind financially due to the effects of rising inflation and costs of goods, labor costs, and many other challenges," Hunter wrote in an email.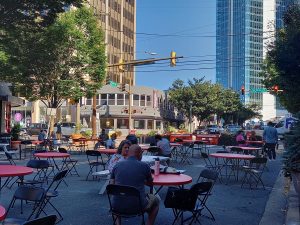 A survey of 4,200 restaurant operators conducted by the National Restaurant Association between July and August showed that 88% of respondents found their total food and beverages costs higher than in 2019, and 86% found their total labor costs are higher than in 2019.
"People have the impression that downtown Bethesda is a gold mine for restaurants, when the reality is a very, very difficult economic environment," Lennon said.